Orbit
ModernTots, 53 Pearl St., nr. Water St., Dumbo; 718-488-8293
It's heavy, a bit stiff, and all but refuses a one-handed turn. So why is the Orbit so appealing? A genuine reimagining of carriage design, it has a multifunctional dock that lets you clip on a bassinet, car seat, or toddler chair, allowing for ridiculously easy, 360-degree seat rotation. Has replaced Bugaboo as the stroller most likely to turn up in a paparazzi shot.
Accoutrements: Infant car seat (lined with soft microfiber), car-seat base, stroller frame, toddler seat with mosquito net and rain shield.
Specs: Stroller with car seat, 33 pounds; with toddler seat, 32 pounds. Rated for birth to 40 pounds. Collapses to 35 by 18 by 24 inches.
Storage: 5 yogurt six-packs (in a doctor's-bag design that slides under the seat)
Setup & Breakdown: Could not be easier.
STREET TEST
Pros: The intuitive design makes for speedy car-to-sidewalk transitions. The ride is decently smooth, but it's no Bugaboo. The car-seat carrier is narrow enough for an easy hip-sling descent of subway stairs.
Cons: Bus mount tricky; required help from other passengers to juggle car seat, stroller base, and infant.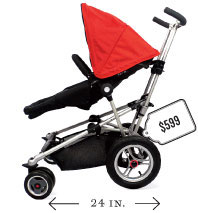 Micralite Toro
Bump to Baby 715 Ninth Ave., nr. 49th St.; 212-245-0796
This lightweight U.K. import has luxury suspension and Maclaren proportions. Better still, it stands upright on its own when collapsed. Ideal for tucking into the corner.
Accoutrements: Foot covering, zip-on rain cover, and air pump. The Toro for newborns also includes bassinet and adapters for the Maxi Cosi Mico car seat.
Specs: 18 pounds. Rated for birth to 40 pounds. Collapses to 39.5 by 15 by 16 inches.
Storage: 7 yogurt six-packs.
Setup & Breakdown: Assembled in 14 easy minutes; collapsed in 4 seconds. A quibble: Adjusting handlebar height requires an Allen wrench (it's included, but still)
STREET TEST
Pros: Practically turns itself. Narrow rear wheels make it a wonder in reverse, through doorways, and most important, up and down stairs. Buses and subways a snap; stroller is light enough for hip sling. Great for walk-up apartments, public transportation.
Cons: Found myself constantly kicking the rear wheels. The seat does not reverse.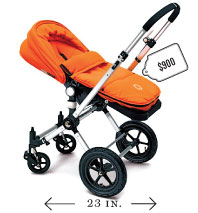 Bugaboo Cameleon
Albee Baby, 715 Amsterdam Ave., nr. 95th St.; 212-662-8902
Beyond its position as a status symbol, the top of the line from the Dutch stroller-reinventers is everywhere for a reason: It's a pleasure to drive. It turns tightly, takes bumps smoothly, and navigates easily with one hand. Negotiating public transportation with it, though, is not so hot.
Accoutrements: Frame, bassinet, sun canopy, seat inlay and bassinet apron, carry handle, mosquito net, rain cover.
Specs: 26 pounds. Rated for birth to 40 pounds. Collapses to 36 by 23 by 16 inches.
Storage: 11 yogurt six-packs.
Setup & Breakdown: Came assembled with no instruction manual; techie husband figured out how to collapse mechanism.
STREET TEST
Pros: Super-smooth ride, even on crowded Chinatown sidewalks. Glides over crags with trademark springy suspension.
Cons: Awkward moments on stairs. On bus ride, hit a passenger in the head with seat and had to ask another rider to fish MetroCard out of pocket. On subway, actually accepted an assist from a pregnant woman.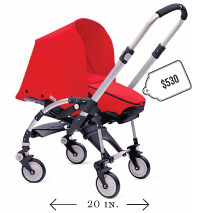 Bugaboo Bee
Buy Buy Baby
Bugaboo's spry new featherweight is a close competitor with the Maclaren and other umbrella strollers, but with a reversible seat.
Accoutrements: Frame, seat, sun canopy, underseat bag, rain cover.
Specs: 20 pounds. Rated for birth to 37.5 pounds. Collapses to 35 by 17.5 by 13 inches.
Storage: 10 yogurt six-packs.
Setup & Breakdown: Came preassembled with no manual; reversing seat required a call to customer service.
STREET TEST
Pros: Nimble but not stiff, handles bumps and sharp turns better than most in its weight class. Stairs, subways, buses a breeze.
Cons: Frame so narrow it gave our snowsuited 5-month-old zombie arms. Small wheels got stuck in cracks. The lightness is welcome, but it raises the question, is it solid enough to hold up over time?
Maclaren Techno XT
Maclaren, 150 Wooster St., nr. Houston St.; 212- 677-2700
Can this New York classic hold its own against the new names? Devotees have been complaining lately about this popular umbrella stroller's wheel quality, and they're right to gripe. More substantial wheels add some unwelcome heft to this lithe bus- and subway-hopper. Even when my dining room was stocked with state-of-the-art strollers, the nanny grabbed this one every time.
Accoutrements: Hood, shopping basket, rain cover.
Specs: 17 pounds. Rated for birth to 55 pounds. Collapses to 42 by 19.5 by 13 inches.
Storage: 7 yogurt six-packs.
Setup & Breakdown: Stroller comes preassembled except for rain canopy. Ease of collapse is excellent; it's the only bona fide one-handed folder in the pack.
STREET TEST
Pros: Takes subway stairs easily, up and down. I felt no guilt when an elderly woman effortlessly lifted the front end on descent. Ideal for shopping and subway and bus transit.
Cons: Clacks along like a train on a wooden track. Not good with one-handed swiveling or cobblestones, and its ubiquity raises fears that one might wheel away with the wrong kid.