Something Borrowed
You don't have to go into debt to buy your dream dress. The latest trend in bridal apparel can actually save you money.
By Megan Miller
Published Spring 2005
O
nce the painstaking dress search, fittings, photos, and the big day itself are over, what becomes of a bride's pricey wedding wardrobe? Sure, some gowns are passed down to daughters, and a few are remade into evening gowns. But rather than being worn again, most are carefully preserved in boxes for posterity. A groom's tuxedo, however, which could be worn over and over at formal functions, usually is returned to the rental shop. Seems like a double standard, right?
Myrdith McCormack, owner of the chic Park Slope bridal salon MyrJan (235 St. Marks Ave., nr. Vanderbilt Ave.; 718-623-3848), thought so - and she decided to do something about it. "Why should the groom get all the convenience and value?" she asks. "I saw that scarcely anyone was renting bridal gowns, so I decided to start."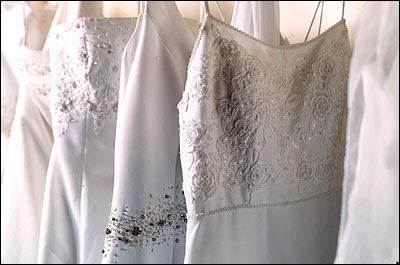 McCormack is one of a handful of New York retailers who have caught on to the fact that while today's brides are interested in looking beautiful, they're also financially savvy and not necessarily sentimental about owning their gowns. That's why, among MyrJan's custom gowns, you'll find racks of lovely bridal and maids' dresses available for rent. These gowns come from a broad range of designers (including, in the near future, top-tier designers like Vera Wang, Monique Lhullier, Carolina Herrera, and Anne Barge), and can be borrowed for just 20 percent of their retail value. So the beautiful ivory silk number with the corseted back and hand-beaded Empire waist, which normally retails for $3,000, can be had for just $600 (including alterations to ensure a perfect fit).
From the Spring 2005 New York Wedding Guide