Tipsheet: Getting the Gown
By Jo B. Hoffman
Photo by Kenneth Chen
Published Spring 2004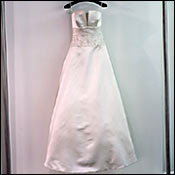 Dress by Anne Barge at The Bridal Atelier, $3,350.

ORDER YOUR DRESS SIX MONTHS to a year in advance. If you can't plan that far ahead, most salons will rush orders for an additional charge of about 5 to 10 percent of the price of the dress.

DECIDE WHICH SALONS TO VISIT by flipping through bridal magazines and scanning sites like theknot.com that feature lots of designers. You can also scan department-store racks to check out designers before making an appointment. Ask about prices before booking appointments (if your budget is $3,000, don't visit a salon where the average dress will run you $8,000).

DON'T CHOOSE ON YOUR OWN. Bring along one or two friends or relatives. They'll make the process more festive, and after seeing so many dresses, you'll appreciate their advice. 

COMB YOUR CLOSET AND PINPOINT the styles that make you feel the most beautiful (saving anything with to-the-navel necklines for the honeymoon). Bring along photographs of favorite bridal designs as well as other looks you've seen and liked in fashion magazines. And be sure to wear underwear you won't be embarrassed to be seen in by salespeople. 

YOUR CONSULTANT SHOULD ASK YOU QUESTIONS about the size of the event, time of day, and location to help you narrow down the selection. Be open to suggestions: You may arrive thinking strapless and leave with long sleeves. Many brides who don't think they want veils change their minds.

ROAM THE RACKS. After you try on the gowns that your consultant has suggested, politely excuse yourself and scan the selection solo. This will give you time to reflect on what you've seen and search for additional choices without pressure—after all, your consultant has known you for only an hour and might not realize that your dream dress is hiding in a corner.

HOW FORMAL SHOULD YOU GO? Beware of overkill, says Henry Roth of the Michelle Roth salon, a third-generation family outfit. "If you've got a beaded bodice and a full skirt, you don't need a fully beaded mantilla" (that's an elaborate veil). In this case, he'd suggest a simple, short version.

COMFORT IS CRUCIAL—if you're moving like the Tin Man, you're in the wrong dress. A bodice should not be too tight. "Buckling is a no-no," says Roth, who conducts three foolproof tests: 1. The Bend Test (pretend you're greeting a seated guest, and check how much cleavage you're showing). 2. The Sit Test (can you breathe?). 3. The Walk Test (your dress should be at least an inch off the floor). "I can't tell you how many times I've had to take scissors to couture wedding dresses," says Marcy Blum, party planner and author of Weddings for Dummies.

KEEP TRACK OF WHAT YOU LIKE. Most bridal salons will send you home with a list of your favorite dresses, along with the names of the designers, descriptions, prices, and the accessories you'll want.

BRING YOUR SHOES TO EACH FITTING. There are usually about three fittings after you order a dress, and they start six weeks before the wedding.

ASK ABOUT COVER-UPS for strapless or sleeveless dresses—particularly if you're getting married in the spring or fall, or in a church. A long coat, bolero, or a silk organza or fur-trimmed wrap are good choices. Trimmings from your train will match precisely, but decide fast if you want that look, because it can be difficult to match another fabric if your seamstress has thrown the trimmed bits away.

GET A SWATCH OF THE DRESS—your florist, caterer, and shoe-dyer will want to see it.

AND MOST IMPORTANT: DON'T OBSESS. If you've visited 30 salons, tried on 130 dresses, and wake up at 3 a.m. fretting over crystals versus crinoline—stop! Remember: "You're not getting weddinged, you're getting married," says Blum.




From the Spring 2004 New York Wedding Guide