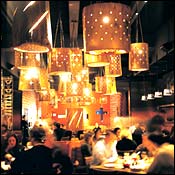 Fiesta Your Eyes On: The dining room at Dos Caminos.




Brasserie

(R) (B)


100 E. 53rd St., nr. Park Ave.
212-949-8248
restaurantassociates.com
This midtown mainstay in the Seagram building is a good bet for up to 160 people (45 more can fit in the side room). The Park Avenue breakfast buffet ($35–$44 per guest) includes smoked salmon, eggs, and applewood-smoked bacon, but you can also pick and choose from the items on their à la carte menu.

Brasserie 81/2 (R) (B)
9 W. 57th St., nr. Fifth Ave.
212-829-9577
restaurantassociates.com
The cavernous stained-glass space of this trendy bistro will accommodate a group of almost any size. The main room, flanked by a grand, sweeping staircase and an original Léger stained-glass mural, seats 250, the private room 75, and the lounge another 50. Rent one space or all three. For $45 per head, you'll enjoy chorizo omelettes, raspberry-stuffed French toast, Krispy Kremes, or a menu that you plan yourself.

Café Gray (R) (B)
10 Columbus Circle
Time Warner Center, third fl.
212-823-6338
cafegray.com
Gray Kunz, formerly of Lespinasse, brings his inventive mixture of French and Asian flavors to the Time Warner Center. Café Gray's private Lavender Room seats up to 70 for dinner or 90 for cocktails. Set menus start at $150 and can include such delicacies as wild-mushroom risotto or braised short ribs.

Café St. Bart's (R) (B)
109 E. 50th St., at Park Ave.
212-888-2664
cafestbarts.com
Follow a rehearsal in St. Bart's chapel with an elegant torch-lit dinner for 20 to 40 in the church's flower-filled, tiled cloister garden. Or host up to 300 guests on a section of the terrace overlooking Park Avenue. The café will work with you to customize a dinner of, say, mushroom ravioli and rack of lamb (four hours of dinner service ranges from $60–$80), or a brunch featuring anything from lobster rolls to waffles ($20–$50).

Café Topsy (R) (B)
575 Hudson St., nr. Bank St.
646-638-2900
cafetopsy.com
Homey, rustic tables add to the warmth of this cute Village spot, which is sure to appeal to any Anglophiles in your group. They do a buffet for parties up to 50, starting at $35 per person with classics like beef and Guinness, bangers and mash, and cottage pie.

The Capital Grille (R)
155 E. 42nd St., nr. Lexington Ave.
212-953-2000
thecapitalgrille.com
Top-notch steak and friendly service set this power-lunch spot apart from its midtown neighbors. For about $90 per person (or $45 for lunch), you can rent the wine vault, which holds 24; the Chrysler Room, which holds 36; or a third area that can house up to 80. The dramatic Chrysler Building setting can't be beat.

Capsouto Frères (R) (B)
451 Washington St., at Watts St.
212-966-4900
capsoutofreres.com
A raised platform accommodates semi-private parties of up to 35, and you can rent the whole place with 85 to 105 people. Either way, you'll enjoy passed finger foods, entrées like filet mignon with wild-mushroom Madeira sauce, and an open bar ($100 a head, depending on menu). Brunch is a deal, too; a three-course prix fixe is $20 per person with delectable dishes like poached chicken breast with ginger velouté sauce and apple tartine.

City Hall (R) (B)
131 Duane St., nr W. Broadway
212-227-7777
cityhallnyc.com
Chef-owner Henry Meer is a native New Yorker, and this Tribeca power-lunch spot oozes Old New York charm. The Rose Room can handle up to 30 guests for a sit-down meal and 45 for cocktails ($2,000 food-and-beverage minimum for dinner), and the Granite Room fits 100 seated and 200 standing ($3,500 dinner minimum). The prix fixe menu is $90 a head for dinner and $55 for lunch, and private-dining director Summaiya D'Adamo will help you craft the perfect menu from herbed halibut, Delmonico steak, and nine other entrée options.

Compass (R) (B)
208 W. 70th St., nr. Amsterdam Ave.
212-875-8600
compassrestaurant.com
Chef John Fraser's Upper West Side space features two rooms that fit 50 people each—a chef's room with kitchen viewing and a semi-private lounge with its own bar—plus a glass-enclosed wine room for smaller groups. Dine on modern-American delights like wild king salmon and double chops of Colorado lamb for $90 to $150 per head, or have a brunch featuring their toothsome caramelized brioche French toast ($40 to $50).

Crispo (R)
240 W. 14th St., nr. Eighth Ave.
212-229-1818
Crispo's eclectic décor of antique lamps, dark wood, and steel is the perfect backdrop for the restaurant's simple but scrumptious Italian dishes. The enclosed rear patio can accommodate twenty for semi-private dining, and the canvas roof can be opened in the spring and summer. Three-course menus start at $45. Don't miss chef Frank Crispo's spaghetti carbonara.

Daniel (R) (B)
60 E. 65th St., nr. Park Ave.
212-288-0033
danielnyc.com
Gourmands treated to a rehearsal dinner by Daniel Boulud will be talking about it for a long time. The menu features terrine of foie gras with apple-and-fig chutney, black-angus beef tenderloin with glazed root vegetables, and a walnut-pear frangipane. A wedding cake and madeleines follow. The Bellecour room, with gold-leafed sconces and taffeta curtains, seats 30 to 80. You'll pay $115 per person for dinner, plus $500 for the room.

Devi (R)
18 E. 18th St., nr. Broadway
212-691-1300
devinyc.com
Indian cuisine goes upscale in Devi's bright dining room, accented with indigo and saffron-tinted lanterns and white tablecloths. The upstairs dining room holds up to 39 and the restaurant can accommodate groups of 10 to 15 for semi-private dining downstairs. A seven-course tasting menu includes mung-bean chaat, grilled scallops, Parsi halibut, and tandoori stuffed chicken ($60).

The District (R)
130 W. 46th St., nr. Broadway
212.485.2999
Fans of rich, sumptuous fare would do well to check out this upscale theater-district spot, located in the Muse Hotel, which offers great event menus that mingle roasted Long Island duck in drunken cherry sauce with butter-poached lobster with warm citrus-fennel foam. But beware: Renting the entire space will set you back $2,000—and that's not including food or beverages. Their smaller conference rooms start at $1,000.

Dos Caminos (R) (B)
373 Park Ave. So., nr. 26th St.
212-294-1000
brguestrestaurants.com
Toast your marriage with potent prickly-pear margaritas and Mexican specialties like avocado-leaf-crusted big-eye tuna in one of three private or semi-private spaces, holding from 15 to 75 people. It's a great value (from $48 a head, not including alcohol) and lots of fun in a nonstop-fiesta setting.

Eleven Madison Park (R) (B)
11 Madison Ave., at 24th St.
212-889-0905
The mezzanine-level private rooms here overlook the restaurant's Deco-style main dining room and historic Madison Square Park. Invite 10 to 54 guests to dine on wild-mushroom soup followed by pan-seared arctic char with salsify and truffle oil, or côte de boeuf with potato-fennel gratin ($90 to $130 a head).

Etats-Unis (R)
242 E. 81st St., nr. Second Ave.
212-517-8826
If having your own cozy restaurant sounds appealing, you can book this 32-seat gem, or its even smaller wine bar, for $50 to $150 per person (rental fee $2,000 to $5,000). Your guests will enjoy seasonal creations like Niman Ranch pork shoulder with dried fruits and poblano peppers, or beer-braised beef short ribs with horseradish mash. Save room for the fabulous date pudding.

Photographed by Kenneth Chen.