What is the best sports bra that will keep you supported and feels comfortable and fitted — all while preventing chafing and the unexpected wardrobe malfunction? Well, that depends, of course, on both your activity of choice and bra size. Here, New York fitness instructors share their picks for runners, yogis, dancers, movement trainers, cyclists, and circuit trainers across the bust spectrum.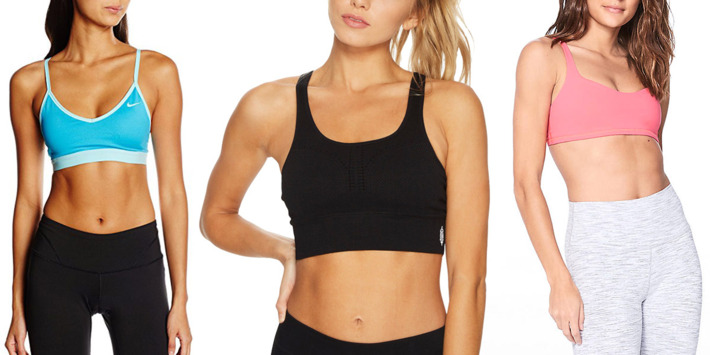 Small
"This is the best bra when going from studio to street! The cut is just low enough that you get a little cleavage when wearing a tank top over it. It won't disturb the look of your outfit, and it will keep you covered during class; you get the best of both worlds!" —Katia Pryce, founder and CEO of DanceBody
Medium
"This bra always adds a little texture to your workout ensemble. The straps on the back create a beautiful design when worn under a tank top, and the bra still has enough support for jumping around. You don't have to sacrifice your fashion sense or comfort with this bra." —KP
Large
"This bra holds everything in the right place without making you feel claustrophobic. The neckline comes up a little higher than a traditional cut, so it's ideal for high-impact workouts. This is a great bra to wear when you don't want to be worrying about anything spilling out." —KP
Free People Movement Method Bra
Small
"The back of this bra is super detailed with a really cool cutout design, and I like how the front is a very plain, simple deep V. Not a lot of support, but for small-chested women, this is a great bra for cycling, since it's super breathable and moisture-wicking." —Sydney Miller, SoulCycle senior instructor and SoulAnnex instructor
Lululemon Raise the Barre Bra
Medium
"This is my all-time favorite bra to wear at SoulCycle (I own it in a few different colors!). I love how thin the material is for how supportive it is. No matter how sweaty I get in class, it dries really fast because of how sweat-resistant the material is. Plus, the mesh V in front allows more air to come through, and looks sexy without feeling like you're going to fall out of it." —SM
Large
"I'm obsessed with crop-top bras, and this is the perfect one for larger-chested women, since it's super supportive and feels substantial. I love the slash back, and it comes in amazing colors!" —SM
Outdoor Voices Slashback Crop
Small
"This feels like a second skin. It washes and dries well, holds shape and color, and is so soft, yet supportive. I love the skinny straps. It's best for someone who's muscular, but has small breasts." —Maryam Zadeh, owner and founder of HIIT Box
Under Armour Seamless Bra
Medium
"Fire up the burpee brigade — this bra can handle it! It has a beautiful front design and is very, very well made. If you have a bony back, the metal clasps in the back may hurt when you lie on it, but that is the only complaint." —MZ
Nike Women's Pro Rival Sports Bra
Large
"Solid as a rock, but it does have underwire, which I am not crazy about, but I am also small-chested and rarely need it. I know if you have a bigger breast size, underwire can be quite supportive, so this can be a good thing. It has tons of colors, it's easy to order online, and goes up to a J cup." —MZ
Panache Women's Underwire Sports Bra
Small
"Although it would be considered 'low impact,' it still gives that fitted-to-the-body feeling, so you get a nice lift without the squeeze effect. Even if this isn't your go-to sports bra for your workout, it is one of my favorites to wear to and from the gym or when I am teaching." —Christi Marraccini, training manager at Tone House
Under Armour Low Triangle Back Sports Bralette
Medium
"They somehow figured out how to create the lightest sports bra ever while still providing support. The spacer pad feels great on the body when moving and sweating. The neckline is the perfect height, too; just high enough so your girls won't pop out when doing any bear crawls." —CM
Adidas Crossback Sports Bra
Large
"This is a great updated version of a basic sports bra. The built-in padding along with the built-up straps provide great support.The mesh panel in the back adds extra breathability, but also a cute detail." —CM
Note: This exact style is no longer available, but here's a similar printed bra with a mesh panel in the back.
Small
"I abuse my bras. I wear them every day. They're in the washer and dryer. This one holds up. I'm a 34B, but I wear an extra small in Nike. I used to run in their small but it caused a lot of chafing issues. It fit most of the time, but after sweating the fabric would stretch, and the band moved around." —Elizabeth Corkum, owner of Coach Corky Runs, running coach
(Note: This exact style is no longer available, but Nike does have a similar version here.)
Medium
"They offer them in cup sizes, and the back of the bra connects, which makes it more supportive for high-impact activities like running." —EC
Sweaty Betty Ultra Run Bra
Large
"I have a lot of clients who have larger busts, so we have the bra discussion a lot. They love this brand. It's very supportive but comfortable. I know it can be hard to find the right size/color combo in this one. I'd say test one out to make sure you like it, then stock up if you do." —EC
Maia Bra Moving Comfort Bra
Small
"I recommend this V-cut in general for smaller breasts; it gives the illusion of bigger boobs. Plus it's breathable and comfortable." —Tamara Pridgett, Division 1 All-American Sprinter and trainer
Medium
"Not everyone knows about this bra. For a sports bra, the price is really cheap. It's sized like a regular bra. And it's available in really cute colors." —TP
Lightweight by Victoria's Secret Sports Bra
Large
"It's sweat-wicking. The material hugs you — it holds everything in. The best part is the front pockets. You can put keys, a credit card, all your goodies in there, so you don't have to carry a bag." —TP
Lulu Run: Stuff Your Bra III
(Note: This specific bra is no longer available, but here's a similar curve-hugging bra made for running, that's also equipped with front pockets.)
Small
"I see so many wardrobe malfunctions when people are, say, doing a twist. I like these bralettes, which are cute, comfortable and layerable, but this one has a higher neck which provides more coverage to prevent nip-slips. It was designed by hot-yoga instructors so it's light — you can easily wring it out and throw it in your bag." —Bethany Lyons, owner of Lyons Den Power Yoga
Medium
"This is a new favorite of mine. The higher neck makes this almost like a crop top. It also allows for a fun open back. It feels fashion-y. And for someone who spends a lot of time in spandex, anything that has more personality is exciting." —BL

Athleta Printed Movement Bralette
(Note: There are only a few of these left, but here's a similar style with a fun print and a high neck.)
Large
"Once I got it on, I was like, 'Oh, I'm strapped in this thing.' But it doesn't look like that. It doesn't have ginormous straps or thick padding — it's seamless and doesn't look heavy duty." —BL
Athleta Stealth Bra
$68, Athleta
(Note: This style is no longer available, but there's a strappier version of the same bra here.)
The Strategist is designed to surface the most useful, expert recommendations for things to buy across the vast e-commerce landscape. Some of our latest conquests include the best workout leggings, gym bags, workout gear, flattering sweatpants, running shorts, and compression pants. We update links when possible, but note that deals can expire and all prices are subject to change.
If you buy something through our links, New York may earn an affiliate commission.