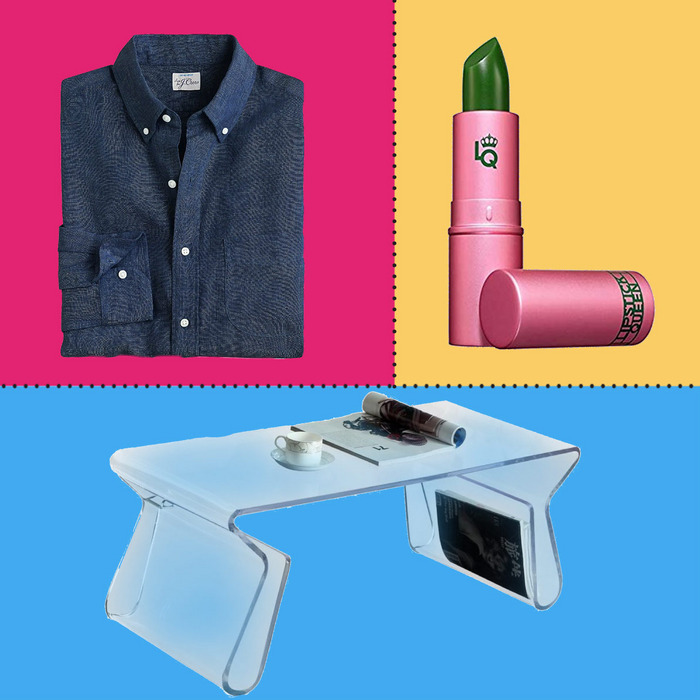 Photo: Courtesy of the retailers
If you follow our biweekly feature Your Shopping Cart, you know that we have some eerily good intel on what you all are buying. Which led us to think that, as Strategist editors, we could turn the tables and highlight all the things we've been buying ourselves. As you'll notice, it's both a blessing and a curse to be a Strategist editor; we're picky, but sometimes we just have to get on with it (it's online-shopping expertise meets IRL needs). Below, what we all bought in April.
Dominique Pariso, writer
Alison Lou Small Jelly Hoops
These Lucite hoops are magic: every single time I wear them, I am showered with compliments. I love the dusty rose pair I chose, but I think these mossy green ones are even better.
VersionTECH Mini Handheld Fan
As a member of the sweaty person club, I begin prepping for the hot summer months to come as soon as the first day of spring arrives. I bought this rechargeable, folding fan to keep me cool on sweltering subway platforms from now until Labor Day.
Anthony Rotunno, senior editor
Bamboo Bath Mat Shower Floor Mat
The sisterhood of the traveling bath mat continues! Weeks after joining the Strategist team, I purchased what has become its de facto bath mat — which Katy first wrote about in a roundup of bathroom-transforming mats, inspiring Jason and then Alexis to buy it. And I am as satisfied a customer as each of my colleagues: The bamboo feels far more luxurious to step out of the shower onto than any fabric mat I've owned, and even though it has slats, the mat somehow does not manage to create puddles on the floor.
Baird McNutt Irish Linen Shirt
I always preferred cotton Oxford to linen shirts, but my brother gave me one of these button-downs as a birthday gift last June, and to my surprise, I loved the look. I quickly bought a few more that same month and, now that they're back in stock, recently got three new ones (in black and white, in addition to this denim-looking "ink" color). I'm not a linen expert, so I can't say if this particular brand of Irish linen is softer than others (though J. Crew claims Baird McNutt is the country's finest). But I can say that the shirts feel good against my skin (they're not scratchy at all), and are light without feeling insignificant — I'll wear them underneath a heavier overshirt on cooler spring days, and just take that outer layer off when warm temperatures officially set in.
Maxine Builder, managing editor
Set: The Family Game of Visual Perception
This month, I visited a friend who lives in western Massachusetts, where there's not much to do besides cook and drink and play card games. And though I love to both cook and drink, I hate to play card games. The one exception to this rule is Set, the pattern-matching card game. So I bought a deck to bring along on this weekend trip; that way, if we did play a card game (which of course we did), I knew it'd be a card game I actually enjoy. Turns out my friend already had a set, but I don't feel like I bought these in vain. I've been practicing on my own, usually after work as a way to unwind without looking at a screen, and it turns out that Set is a rare game that's just as fun to play solitaire as with a group.
Madewell Cali Demi-Boot Jeans in Lucille Wash
Something about the warm weather inspired me to clean out my closet. And after going through my jeans, I realized that all of the pairs I owned and actually liked to wear, were super faded or ripped or stained or weirdly baggy. So I took one of the old pairs of jeans and dropped it off at Madewell and got a coupon for $20 off a new pair of jeans and bought these high-waisted, boot-cut jeans in a beautiful dark wash.
Lori Keong, writer
Modway Clear Magazine Acrylic Table
Tax season is vexing, but worth it. I tend to get fast and loose with my money post–tax return, so I finally pulled the trigger on this coffee table I've been talking about getting for ages. I was backed into a corner with it a bit because the price kept rising (it's very popular these days), but I found a good deal at Home Depot, of all places. It's indulgent, but as a magazine person, I've lusted after it for so long because it has these built-in magazine slots to display your back issues — I really, really love it.
Urban Renewal Remnants Organza Mock Neck Top
Jenny from the Wearilive blog tipped me off to the existence of Urban Outfitter's Urban Renewal line of upcycled things recently. It's sort of hit-and-miss on quality, but one thing that caught my eye was this sheer organza top. It's a bold choice for someone who spent the winter cycling through dark turtlenecks, but it reminded me of Hannah Kristina Metz's sheer tops, and was on sale, so I had to — and I did.
My colleague Mia and I have had a running DM conversation on Instagram about barrettes for months — they're very in right now. Valet Studio makes some of the best and had a big spring sale this month, so we decided to make a move. Mia did the legwork of pulling together a bulk order to split fees since everything ships from Australia, and eventually more and more Strat writers got wind of it. One Slack thread later, and five of us have our own clips. I chose furry barrettes (to match my alpaca shoes) and a dreamy cloud clip. The furry ones are comically large, but that hasn't stopped me from wearing it.
Karen Iorio Adelson, writer
Valet Studio Sophie Clips in Tortoiseshell
I also hopped on the Valet Studio group-order bandwagon and got this pair of tortoiseshell clips with gold hardware. I was initially skeptical about the high price for hair clips, but they feel solidly well-made and look gorgeous. I'm currently growing out my hair and I know I'll get a lot of use out of these as I go through the process.
Lululemon On My Level Tote Large 15L
I've been on the hunt for a new gym bag for months now as my old one was starting to look a little worse for wear. I knew it had to be lightweight (for lugging around sneakers, books, a change of clothes, and more), have lots of pockets (for keeping all of those things separate), and not look too much like a gym bag. My old one was also Lululemon, and while I really wanted to branch out and try something new, I looked at a ton of options and still felt this was the best one out there. Aesthetically, it definitely leans athletic but in basic black it can pass as a regular tote bag. There's room for everything I need and even when fully packed it's not all that heavy.
Lululemon On the Fly 7/8 Pant
And because I can't walk inside Lululemon without feeling like a kid in a candy store (but with a credit card), I also picked up these pants that are incredibly comfortable and totally pass as acceptable work pants. As a short-legged person, it's so hard to find pants that aren't too long or weirdly proportioned so that they won't even look good hemmed, but these are perfectly ankle-grazing. The best part is I've machine-washed and dried them a few times now and they never get wrinkled.
Dream Pairs Women's Greek Platform Wedge Flat Sandals
Writer Fiorella Valdesolo's rave review of these $15 sandals that get mistaken for Margiela convinced me I needed to try a pair. They're just as comfortable as Fiorella says and the rest of the Strategist team agrees they look way more expensive than they actually are.
Simone Kitchens, senior editor
Ancheer Rebounder Trampoline
This was a birthday present from my best friend. We both follow the account @doingwell, and there was a recent post that mentioned a rebounder, which we didn't realize just meant mini exercise trampoline. Curious, she ordered one, then Primed me one for my birthday. This was earlier in April, when things were still very grim and cold, and the idea of jumping around a little was incredibly appealing. I was looking at all the Amazon reviews, and, understandably, people with bad knees love it, but jump around for one song and you will actually feel incredible. Decor-wise, it doesn't add much, but you can take off the legs in two seconds, and just slide it under the bed.
Lipstick Queen Lipstick, Frog Prince
Another friend whipped this out recently. The lipstick bullet is kelly green, so I was shocked to see her lips instantly turn this perfect shade of pink. It works sort of like a mood ring, adjusting to your body temperature. On me, most lip color just disappears in about half an hour, this stuff, however, has a nice stain-y effect that seems to last for hours. And it gives my lips, which are the same color as my skin and just fade into my face, this natural pinkness.
CyberDerm Natural Every Morning Sun Whip Facial Sunscreen SPF 25
Just a really nice zinc-based physical sunscreen that smooths on so evenly, does not make my darker skin look ashy, and does not give me a million tiny little pimples. Now that there is some sun to be had, I keep the skinny tube in my bag and slather it on in the morning before I walk to the subway and then again before I grab lunch.
Jason Chen, deputy editor
It's nice when you can rely on a brand to make something that fits and feels good and will last a long time, which is what COS has become for me. I picked up two different denim shirts.
Bucky 40 Blinks Contoured Eye Mask
I bought the eye mask that Maureen recommended ages ago, and it is game-changing. It's lighter and less rigid than I thought it would be (which would be a good thing in case), and after breaking it in during a red-eye, I now use it at home for afternoon naps. Heaven.
Alexis Swerdloff, Strategist editor
Little Bot Ofie Round Mat
An update in the playmat department. My baby needed something a little more sturdy, non-slippery, and foam-based, now that he's crawling about (and often falling), so I referred back to our extremely handy guide to the best of the best, and got the mat that had caught my eye in the beginning: the Little Bot Ofie round mat that is decidedly nice-looking (and nontoxic) and doesn't muck up the living room given that it's "out" most of the time. It's a nice bonus that this mat looks very nice in photos.
Lou & Grey Fluid Cupro Joggers
As I noted here, I recently found a wonderful pair of elastic-waist black pants via my friend Laura. They're from Lou & Grey, which she insists is a more millennial-friendly Eileen Fisher (in that the prices are a bit more Madewellian, and the styles are a little more modern, but still quite drapey). They're so soft and machine washable; I didn't take them off all weekend, and have even worn them to work a few times.
Converse Jack Purcell CP Canvas Low Top
Also noted in an earlier post: just reordered some Jack Purcells, and they are as comfortable and versatile as I remembered.
Belei Oil-Free Micellar Facial Cleansing Wipes, Fragrance Free, Alcohol Free, 25 Count
So, full disclosure, last month the Strategist got a box of Belei beauty products in the mail that we dispersed among us editors. I tried out the micellar cleansing wipes and enjoyed them so much (they've just made my face feel … soft?) that once I ran out, I ordered myself a two-pack.
David Notis, writer
Chef's Choice International Cordless Electric Glass Kettle in Brushed Stainless Steel
My old electric kettle broke, and while I love the look and idea of that Stagg kettle we often write about, sometimes one needs to spend $50 or less on an electric kettle, and that's why I went with this one instead. Maybe I'm a little rosey-eyed because after holding onto my malfunctioning kettle for over a year now, it feels so fancy to have one that shuts off automatically when boiling, but I really like this kettle. It boils water fast. It's actually a little smaller than my previous one, but it's still plenty big. It shuts off automatically with a little "ding." I was worried about the glass body at first, but it actually feels really strong, and it's fun to watch the water boil.
Brooklinen Luxe Sateen Core Sheet Set
I've been loyal to Bed Bath and Beyond's sheet sets for many years, but I felt it was finally time to upgrade. A quick tip for anyone in need of a little confidence boost: Start Googling things like "best linen sheets" and "brooklinen vs parachute," and within about five hours you will start getting bombarded with targeted ads from every bedding company you can imagine; I felt very popular. I ended up going with Brooklinen because I had heard good things from friends, and they were a little less expensive than some of the other options. I had a hard time deciding which material to go for. Linen kept tempting me even though I had a feeling I wouldn't actually like it. I went with the "luxe sateen" and I'm glad I did. It's really soft, but it doesn't have the shiny look other sateen sheets sometimes get.
Liza Corsillo, writer
Muji French Linen Washed Stand Collar Dress
I'm a big fan of Muji's linen collection because of their softness right off the rack, unlike Uniqlo's linen shirts and dresses that can be scratchy before they're worn in. This shirt dress is feminine without being frilly. I like that it looks like a farm uniform, but that also means it can come off a little dowdy buttoned all the way up. So I'll probably wear it more like a long shirt jacket over a T-shirt and jeans.
Nylabone Advanced Oral Care Senior Dog Toothpaste
If you own a dog you probably know what a pain in the butt it is to keep their teeth clean. And if, like me, you have a small dog, you know how hard it is to maneuver around their tiny chompers. I bought this senior dog toothpaste as a complement to the daily wipes I use on my nine-year-old toy poodle. It's bacon-flavored so she's more likely to let me put it on her teeth, for now at least.
Valet Studio Amelia Clip in Marble
I would not normally spend $40 on a hair clip (full disclosure: I only spent $34 on this clip). But this month, thanks to a sale at Valet, the Strategist team got swept up into a barrette-buying frenzy. I had my eye on several of the small shell clips, but later decided that this trapezoid-shaped clip was more wearable. It came in a sweet velveteen pouch and makes me feel fancy in jeans and a worn-out tee.
Katy Schneider, associate editor
The Strategist is designed to surface the most useful, expert recommendations for things to buy across the vast e-commerce landscape. Some of our latest conquests include the best acne treatments, rolling luggage, pillows for side sleepers, natural anxiety remedies, and bath towels. We update links when possible, but note that deals can expire and all prices are subject to change.