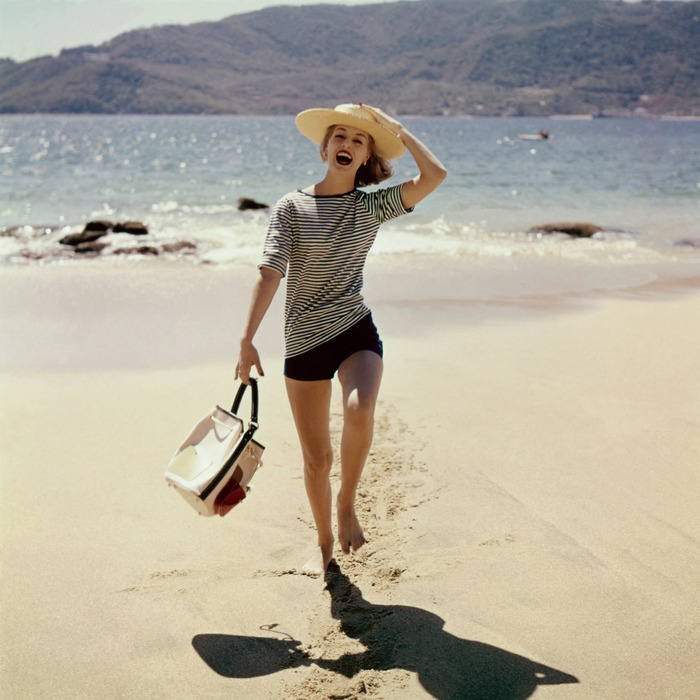 Photo: Sante Forlano/Conde Nast via Getty Images
Here at the Strategist, we like to think of ourselves as crazy (in the good way) about the stuff we buy, but as much as we'd like to, we can't try everything. Which is why we have People's Choice in which we find the best-reviewed products and single out the most convincing ones. (You can learn more about our rating system and how we pick each item here.)
And while we've written about lots of things you can bring to the beach — including the best one-piece swimsuits, beach towels, and sun hats — here we've rounded up the best beach bags, as praised by the most enthusiastic reviewers on Amazon.
Best-rated beach bag
Rockland Luggage 19 Inch Tote Bag
Made of heavy-duty nylon and absolutely brimming with pockets, this bag was loved by reviewers because of its "roomy" interior and its ability to hold everything from sunscreen to large beach towels. "Never thought I'd find the perfect bag, but here it is!" says one reviewer. "I was able to pack my whole two-week vacation in it (minus my ukulele)." Also, if you're flying to your beach vacation, several shoppers commented that it makes a perfect carry-on bag. One says that it "fits under the seat on Delta flights." Another reviewer, who even found the bag, which comes in several cheery patterns, to have mood-lifting qualities, writes, "I have received compliments and this cute little bag helped bring smiles in a hard situation. Not saying that a bag can change a bad situation to a good situation, but a little light heartedness bringing grins from people who see it, makes me smile."
Best-rated (less expensive) beach bag
Mesh Beach Tote Bag Black
"This is a beautiful mesh bag — large, and roomy. The semi-wide handles are nice because you can carry them in your hand, on your arm, or across your shoulder," writes one reviewer. Many reviewers praised the bag's long straps, which make the tote versatile and comfortable to carry. "When we were walking or shopping I was able to strap it across my body and carry it almost like a backpack instead of out to my side. I felt like this was more comfortable for me but also I didn't hit people with my large bag in more crowded places." And despite the low price, the bag is well made. "Sturdy mesh construction with great zipper enclosure," one commenter writes. Another says, "Sturdy handle, lightweight bag." You might even call it the Goldilocks of beach bags. One shopper describes it as, "Not too large not too small. Just right for a day at the beach."
And now for some micro-picks of every type of beach bag you might be looking for.
Best big beach bag
DALIX 23" Premium 24 oz. Cotton Canvas Shopping Tote
Reviewers praised the size of this bag: "Look no further, this bag is huge! … I'm using it as a beach/pool bag for a family of four. This will hold towels, toys, snacks, water, swimsuits, flip-flops, and anything else you need to haul to the beach/pool. It is heavy duty canvas. A strong zipper. It is a great price for what you get. I am so happy I found it." Several consider it a less expensive version of L.L. Bean's popular Boat and Tote bag: "Really nice quality bag comparable to my L.L. Bean bag for a fraction of the cost," says one shopper. Another says, "I have both L.L. Bean's and Land's End bags … This bag is the same quality but one third the price."
Best all-in-one beach bag
Breezy Convenient Mesh Beach Tote Bag with Lightweight Fold-Up Beach Blanket Mat
"Has so far lasted through 26 continuous days of use in Tahiti, simply amazing bag and value. We packed the mesh with fins, masks, snorkels, frisbee, you name it, and it has survived!" writes one reviewer about this mesh bag, which comes with a beach mat and built-in cooler. "We love going to the beach and lake, and I've been looking for something that I can combine my needs in, without having to bring a beach bag AND a cooler. This totally works!" says another satisfied shopper. Reviewers loved that the cooler kept their food and drinks cold — and by separating their cool beverages from their clothes and towels, the bag protected dry items from the dampness of a "sweating" cold water bottle on a hot day. One reviewer even suggested using the cooler to keep your cell phone from overheating.
Best striped beach bag
DALIX Striped Boat Bag Premium Cotton Canvas Tote
Several reviewers hailed this as the "perfect beach bag" for its size, sturdiness, and looks. "Super cute!" says one reviewer. Another writes, " It's sturdy and stands up nice and tall when empty, which is just what I was looking for." And if you're into monograms, this is the bag for you: "Great quality, very large, perfect for adding embroidery to the front pocket area! I purchased this to add a monogram for my daughter's school counselor as a 'thank you gift for helping her out so much this year, and it turned out perfectly," says one shopper.
Best (smaller) striped beach bag
Canvas Tote Bag with Multiple Pockets/Zipper Closure
"It's the perfect size," says one commenter. "Big enough to use for the market, beach, shopping every day, but not cumbersome or awkward to carry." Reviewers praised the quality of the bag's construction: "This is exactly what I wanted — a durable, high-quality beach tote in a nice heavyweight fabric," says one. Another says, "It's very durable, with heavy duty canvas, well sewn, and roomy."
Best waterproof beach bag
ZOOEASS Large Tote
This sleek bag was a favorite of reviewers, and though it has a minimal design, several praised its number of pockets. One shopper sums it up: "Why do I love this bag so much?! It's light enough. It's pretty enough. It's roomy enough. It's affordable. But most importantly, it's functional. So many pockets to hold my items." The waterproof material makes it a practical choice, and reviewers praised its handle, which is wide enough to fit comfortably over your arm. "This bag is perfect for the beach. I used it on a vacation in Mexico. It has lots of room and stands up to sand and sea," writes one commenter.
Best "beachy" beach bag
Odyseaco Baja Beach Bag Waterproof Canvas Tote
Several reviewers lauded the "beachiness" of this beach bag. "I love this bag," says one. "I was looking for something with a 'beachy' design and colorful for the beach and pool. This is perfect." Others write, "Nice retro-looking beachy striped material" and "Super cute and great beachy colors." Shoppers also loved that the bag is made of thick, waterproof Ripstop fabric. If you're wondering what that means, one happy shopper explains: "I had to look up Ripstop to see what type of material it is and here is what I found: Ripstop fabrics are woven fabrics, often made of nylon, using a special reinforcing technique that makes them resistant to tearing and ripping! That won me over with the 'resistant to tearing and ripping.' All my other beach bags either tore or ripped and ended up in the trash!"
Best clear beach bag
DALIX Clear Shopping Bag
This bag is ideal for those who want to keep their things dry, while avoiding having to dig through the black hole of a deep tote. "I bought two as beach totes for my family of eight. We have two little ones in diapers and two on formula. So, we used one bag at the beach for diaper stuff — formula, bottles, burp cloths, etc. It was great knowing that none of that stuff would get wet or sandy!" says one reviewer. "We used the other one as a snack pack. Being clear, it was great that we could easily see what we wanted to find." Another reviewer noted the quality of the plastic: "Unlike some other clear plastic bags this Dalix is nicely designed to hold items easily because of its curvature. It is comfortable to carry because of its generously sized straps and has pockets inside and out. It is reasonably priced. I ordered a few extra so I could store seasonal items and be able to easily identify them when I need to access them. The plastic is thick but pliable and is quite durable."
Best beach bag with plastic lining
Large Beach Bag With Zipper
"Handled lots of weight and has a nice plastic lining to keep things dry. Sand dumps out easily, too," writes one shopper. Many other reviewers enthused about this bag's plastic lining, which keeps wet towels and bathing suits away from smaller items, like phones and keys, that are best kept dry. "The lining is waterproof or at least resistant, so if I put my wet towel in, it won't ruin whatever is in the pockets," one shopper comments. "It's very handy, and, besides all the great functionality, it's aesthetically pleasing."
Best mesh beach bag
Dejaroo Mesh Beach Bag
This bag stands up to even the toughest bag critics: "I'm a bag snob and I LOVE this bag," writes one reviewer. "I searched for a month before I finally committed to this bag, and I'm so glad I did. It's VERY large and holds towels, swimsuits, snacks, whatever you need. The number of pockets is perfect if you want everything in its place for the beach or pool trip. Outside pockets can be used for sunscreen, goggles, water bottle, toys, whatever. And there is an inside pocket to place keys, your wallet or phone." Many other reviewers loved those pockets and the mesh body. One writes, "The outer pockets are roomy and deep enough to keep things like sunblock from falling out, and the bag itself has tons of room without being bulky. The mesh material keeps your things in, but helps you get rid of the sand so you don't bring home half of the beach. The straps are the perfect length and very comfortable, even when the bag is loaded down."
Best beach bag with rope handles
Malirona Large Beach Bag with Cotton Rope Handle
Reviewers found that this beach bag's handles weren't uncomfortable when carrying a heavy haul. "The rope handles fit over the shoulder and made the bag more comfortable to carry than a bag with flat handles that can dig into your shoulder," says one. "This is especially great when 20 pounds of stuff gets packed into a 15 pound capacity bag." Another reviewer comments, "Really love the rope handles because they do not cut into my shoulder or arm like other bag handles do." And for those looking for style as well as functionality, one shopper writes, "The rope handles are too cute."
Best open top beach bag
SCOUT Original Deano Tote
Reviewers love these bags so much that some even collect them. One writes, "Glad to add another SCOUT bag to my collection. Bought this to use at the pool and beach and it did not disappoint. I was able to put four beach towels, sunscreen, magazines, and more." Another comments, "This is my third large Scout bag." Part of the appeal is in the ease of the open top: "The open top makes it so easy to grab stuff from and put stuff back." The sturdy, easy-to-clean material of the bag is a draw, too: "It is so versatile and wipes out easily from being at the beach, pool, or just hauling a bunch of stuff," says one reviewer. Another writes, "Sturdy wipe-able fabric."
Best Cult Gaia dupe
Miuco Womens Bamboo Handbag
We've written about Cult Gaia dupes before, but our past pick had one caveat — a "VINGTA" logo on the handle, announcing that the bag was not actually from the buzzy brand. This logo-free choice resolves that issue, and reviewers laud it as an alternative to the original for a fraction of the price. "I really wanted the Cult Gaia Ark bag, however starting at $150 for a bag I probably won't use that often it just wasn't worth it to me! I came across this on a blogger's site and couldn't believe my eyes," says one shopper. "I got the small and happy I did because it is the perfect size for me, it will fit a book, sunglasses, phone, lipstick, and some other tchotchkes, the large would've been just too big for me. I highly recommend this, looks just like the $150 purse, no one will know the difference!" Another writes, "The Cult Gaia handbag is the real knockoff. They took an old design, and increased the price by 100 percent. I absolutely love that I can get the exact same bag for a much more reasonable price. In your eye, Cult Gaia, lol!" And practically speaking, the bag's slatted design works well for the beach. "No sand in my car since it all falls right out!" says one reviewers. Another notes its durability: "It is very sturdy. It held up in the rain, sand, traveling through busy airports, etc."
Best beach bag for collecting shells
Colorful Mesh Sea Shell Bags with Adjustable Carrying Straps (4 PC Set)
"These bags are perfect — great size, great price and great quality. We purchased these to use on our trip to Sanibel Island, Florida, one of the top shelling beaches in the United States. There are thousands of shells on the beach and these bags made it so easy to collect and carry. The adjustable strap was perfect," writes one commenter. The bags come in a pack of four, so your whole group can collect shells together — and parents will be spared carrying duties. "Now for our beach trip each child can wear their own bag to the beach and collect shells instead of storing them all in my pockets," says one satisfied shopper. And if you collect a lot of shells and rocks, the bag will hold up: "Very strong bag, carried 19 pounds of rocks over 10 miles and the bag held up, no issues or problems!"
The Strategist is designed to surface the most useful, expert recommendations for things to buy across the vast e-commerce landscape. Some of our latest conquests include the best acne treatments, rolling luggage, pillows for side sleepers, natural anxiety remedies, and bath towels. We update links when possible, but note that deals can expire and all prices are subject to change.