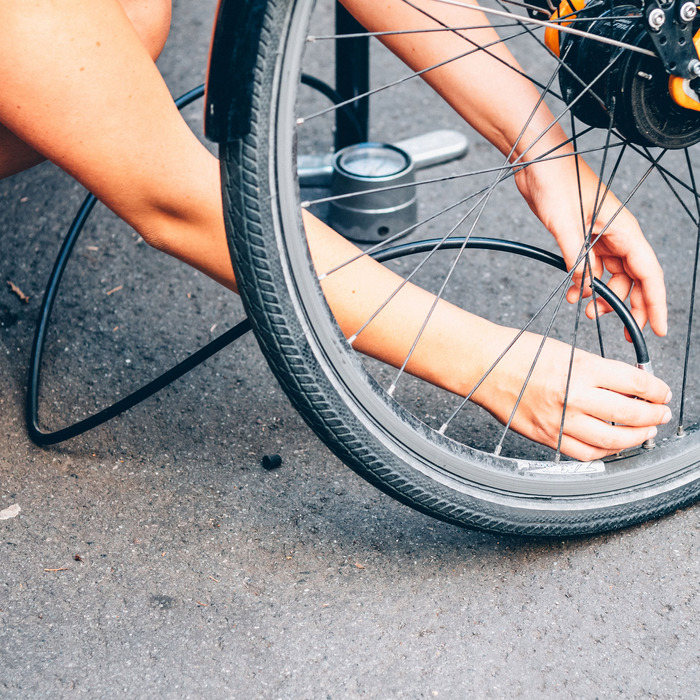 Photo: Adam Kuylenstierna / EyeEm/Getty Images/EyeEm
Here at the Strategist, we like to think of ourselves as crazy (in the good way) about the stuff we buy, but as much as we'd like to, we can't try everything. Which is why we have People's Choice, in which we find the best-reviewed products and single out the most convincing ones. (You can learn more about our rating system and how we pick each item here.)
And while we've written about biking gear before — including the best bike helmets, bike locks, and bike lights — here we've rounded up the best bike pumps, as praised by the most enthusiastic reviewers on Amazon.
Best-rated bike pump
Performance Bike Floor Pump with Gauge & Glueless Puncture Kit
Reviewers love this pump because of its dedicated Presta and Schrader valve pump heads. "The Vibrelli pump has a two-headed pump connector, one side for the Presta and the other for the Schrader. The key feature is a toggle lever that you rotate to the appropriate head you need and apply to your tire's valve stem to get a secure, leakless connection," said one reviewer who also likes the pump's efficiency. "This pump really delivers. I only needed a few strokes to bring my rear tire pressure from about 60 lbs to 110 lbs." Another reviewer mentioned that this pump is a favorite among true bicycle nerds and that the company offers customer service through their social media accounts. "It's a favorite of a lot of bike geeks, and also of several gear-head websites. On social media, people's concerns are addressed and their questions are answered by a company rep, usually a guy by the name of Mike. I seldom saw that from other companies."
Best-rated (less expensive) bike pump
EyezOff GP96 Alloy Mini Bike Pump
"I am giving this five stars because I am amazed what this can do for the price!" said a reviewer who likes that the pump is small and lightweight enough to put in his backpack. "This thing is tiny. Super light, but feels sturdy with nothing rattling and the metal main body. I am not hooking it up to the bike with the provided mount because we are in the city and I don't want it to get stolen, but throwing this in a backpack takes hardly any space and virtually no added weight." Other reviewers mentioned how smooth the pumping action was and how easy it is to use. "I was amazed at how easily it locks onto the tube and how much air it pushes in with such a short handle and chamber. Very impressive pump."
Best carbon dioxide-powered bike pump
Pro Bike Tool CO2 Inflator
Of the over-one thousand reviewers for this pump, many mentioned being more satisfied with a carbon dioxide pump than a hand pump. "This is my first carbon dioxide tire inflator. I replaced my compact hand pump with this and I am never going back." One reviewer noted how fast this pump works, saying, "I managed to inflate one tire in less than 3 seconds, not realizing how fast the contents of the cartridge came out. I subsequently took care of opening the valve slowly and it worked like a charm. I liked this inflator so much, I am buying another one as a gift." Another reviewer likes how compact yet powerful this tool is while being mostly non-plastic. "This is the valve you get if you want to make other bikers feel guilty with their monstrosities of plastic. I think the cartridge sleeve is somewhere in my saddle bag but it's all about the discreet little valve. The fact that these guys were able to make such a small and useful product with a variable geometry handle and still be smaller than most other valves is great."
Best portable bike pump
Vibrelli Mini Bike Pump & Glueless Puncture Repair Kit
"This little guy was easy to use, came with a standard mount so I was able to attach it to the bike and now it goes with me everywhere," said one satisfied reviewer. Another happy shopper mentioned the helpful double functionality of this little pump. "For fast inflation, you unlock the collar on the pump and the pump extends twice as far. This allows much more air per pump. Once you get to a higher pressure, you lock the collar back down and then pump with shorter strokes. This is not a replacement for your full-size pump, but seems like it'll be great when needed on the road." Another reviewer likes knowing he'll never be without a flat tire fix when he's out on long rides. "This little pump is the best insurance I have ever bought for long bike rides. I have it mounted under my water bottle holder on the left side of my bike so it is completely out of the way and hardly noticeable."
Best bike floor pump
BV Bicycle Ergonomic Bike Floor Pump with Gauge & Smart Valve Head
Reviewers love the sturdiness of this floor pump compared to smaller portable pumps. "I had been using a small, handheld pump for my bicycle tires. It was hard to keep the tire steady while I wildly pumped this little cylinder trying to fill the tire to full pressure. This however is a nice solid pump. It attaches quickly and securely to the valve stem, and has a nice solid, stable hand feel. Your foot holds the pump securely in place, and each thrust of the plunger delivers a good burst of air." Other reviewers like that you can easily pump hands-free and that the PSI gauge helps fill tires to correct capacity. "The pump is well made, it can pump both standard tire stems and European. It comes with a quick release air chuck that makes filling the tires hands-free easy. It also has a pressure gauge to let you know when you have reached the proper amount of air."
Best air compressor bike pump
EPAuto 12V DC Portable Air Compressor Pump, Digital Tire Inflator
Although this pump is mostly used for car tires, many of the over-five thousand reviewers use it as a bike pump as well. "We just leave it in the trunk just in case. This can inflate bike tires and balls in a jiffy." said one reviewer. "It was relatively fast getting my bike tires from 5 up to 65 PSI, maybe two minutes or less, and it does shut off at whatever preset PSI you have designated," said another reviewer who liked the digital gauge. Also impressed with the speed and ease of this pump, this reviewer said "Talk about knocking it out of the park! This is the best purchase I've made in a long time. I connected it to an ATX computer power supply, and filled up my bike tires in a couple of minutes."
Best bike pump with needle
Schwinn 5 in 1 Bicycle Tire Floor Pump with built in pressure gauge
Excited reviewers love that this pump is efficient and reliable. "I use this pump at least weekly on my bike tires and it makes quick work of them." But they also loved the extra attachments for balls and even air mattresses. "Also located in the head is an attachment for air mattresses and balls. Storage is great as the hose fits into slots so it does not flop around. I use this for my wheel barrow tires, snow-blower tires, lawn tractor tires and everything else I do not want to drag my big compressor out for." And another reviewer likes the dedicated slots to hold all the different nozzles. "The nozzle to inflate balls is a great bonus, I always lose these nozzles and end up buying more, it's awesome to have a dedicated place to put it and know it will be there."
Best mini bike pump with gauge
Pro Bike Tool Bike Pump with Gauge Fits Presta and Schrader
Reviewers love the flexibility of this micro-pump and especially like that it includes a pressure gauge. "Bought this after checking out all of the pumps at my local bike shop. I move a lot so having a full-size wasn't an option. The mini pumps they had were alright but none had a gauge." Other reviewers like that the pump can stand up to off-roading easily. "Very solid construction, made from aluminum and still lightweight. Should stand up to the abuse of mountain biking very well."
Best bike pump for dummies
AerGun X-1000 Bike Pump – Unique AerTight Pump Head
"My bike is my work horse, and I don't want to have to know how to do more than absolutely necessary. With my old pump, I felt like I could not get a good connection, and the tire would end up flatter than I started. With this, I simply pop it on, flip up the switch, and pump until I hit my desired PSI. I flip the switch back, and take it off. That is it," said one reviewer who does not consider himself an expert and was looking for a simple and good pump. Another reviewer liked that this pump works well for both Presta and Schrader valves and that it encouraged her to exercise. "I came to dread pumping, which caused me to avoid my sweet new ride. So this spring I did a lot of research to find a pump that would work with my husband's Schrader as well as my Presta without a lot of fuss, and that wouldn't require too much manpower to get up to the higher pressure needed on my new bike."
The Strategist is designed to surface the most useful, expert recommendations for things to buy across the vast e-commerce landscape. Some of our latest conquests include the best acne treatments, rolling luggage, pillows for side sleepers, natural anxiety remedies, and bath towels. We update links when possible, but note that deals can expire and all prices are subject to change.