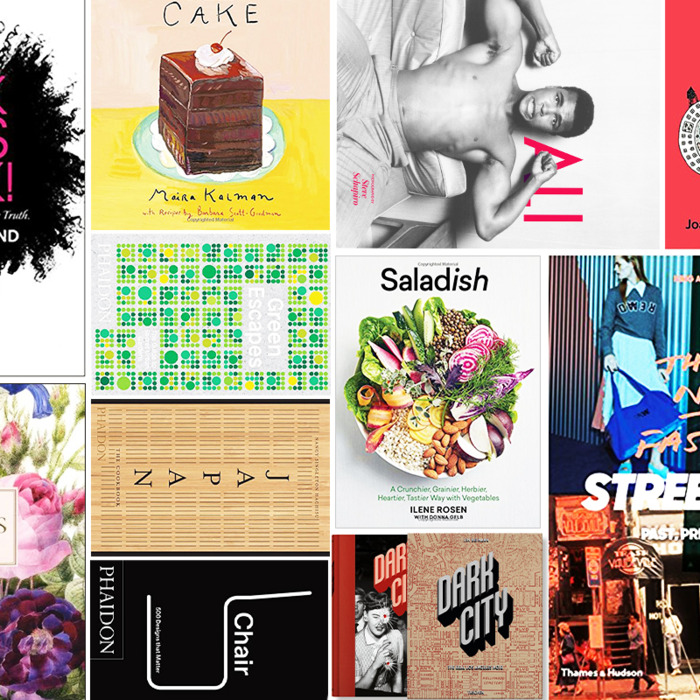 Spring has sprung, and with it, coffee-table-book season. The coffee-table-book-sphere is a large and unwieldy one, so we weeded through them all and rounded up the best and most giftable ones of the year (at least so far). You'll find something for everyone on your list here — the hypebeast, the Maira Kalman fan, a healthy(ish) salad eater, and movie buffs who want to know all about the Stanley Kubrick film that was never made. In case you're still looking, lots of these would make good Mother's Day gifts, too.
Saladish: A Crunchier, Grainier, Herbier, Heartier, Tastier Way With Vegetables by Ilene Rosen
As the chef at Flatiron stalwart City Bakery, Ilene Rosen elevated the weekday salad with the notion that almost anything could be an appropriate salad topping — not just greens, but crunchy, indulgent, surprising ingredients like chrysanthemum leaves, chorizo, and yuzu kosho. They're not salads strictly, but saladish.
The Street Philosophy of Garry Winogrand by Garry Winogrand and Geoff Dyer
A collection of photographs from famed 1960s street photographer Garry Winogrand, whose images of city streets, rodeos, airports, and animals in zoos captured the pulse of a fast-changing America. Each picture is published beside a written response by novelist Geoff Dyer, a longtime admirer of Winogrand's work.
The New York Pigeon: Behind the Feathers by Andrew Garn
Photographer Andrew Garn visited a pigeon coop in 2008 and quickly became obsessed with New York's most maligned bird; he's been both rehabilitating and photographing them ever since. In this book, he documents the entire spectrum of these highly intelligent birds' development, from just-hatched to full-grown, in intimate, sometimes even glamorous studio portraits.
River Cafe London: Thirty Years of Recipes and the Story of a Much-Loved Restaurant
Published on the 30th anniversary of the still-hard-to-get-into River Cafe, River Cafe London is as much art book as it is cookbook, with mouthwatering full-page photographs of risotto and spaghetti and other classic Italian dishes mixed in with original artwork by Damien Hirst and Cy Twombley. And it's all wrapped up in hot pink page edges.
Robert Crumb Sketchbook, Vol. 3: 1975-1982
Counterculture cartoonist Robert Crumb (a.k.a. R. Crumb), who credits LSD for much of his inimitable satirical and hypersexualized work, gained mainstream cred with the record-breaking $717,000 sale of the original 1969 cover art for his "Fritz the Cat" comic. The third in a series that peeks into his sketchbooks (see volumes one and two), this 444-page anthology of his work features a period in his career marked by autobiographical themes, punk influences, and probing existential angst.
Dark City: The Real Los Angeles Noir (Multilingual Edition)
Through newspaper clippings, rare reproductions of tabloid magazine covers, and hundreds of haunting photographs, Dark City chronicles the gritty world of scheming con men, ruthless mobsters, and crooked cops that underscored Los Angeles's emergence from the 1920s through the 1950s.
Birds of the Photo Ark by Noah Strycker
Since 2005, Joel Sartore has photographed 7,885 different animals — and counting. The photographs will ultimately comprise a "Photo Ark" that Sartore is creating to document 12,000 species in zoos and wildlife centers, especially those on the brink of extinction. This volume collects the elegantly photographed (and brilliantly plumed) birds of the project.
Favorite Recipes From Melissa Clark's Kitchen
If you've ever followed a recipe from the New York Times that was easy to make but still looked impressive, there's a good chance Melissa Clark wrote it. This new cookbook (her 40th!) is a collection of over 100 of her favorites, pulled from her Times column. You'll find classics like olive oil granola and braised pork shoulder with tomatoes, cinnamon, and olives, all organized by occasion: family meal, weekday staples, meals for two, etc.
In 1988, Nancy Singleton Hachisu moved from California to an organic farm in rural Japan, where she continues to live and write about artisanal Japanese ingredients and food. Her newest cookbook gives a bird's-eye view of the cuisine and breaks down the basics of Japanese home cooking with over 400 recipes, organized by region.
Hit the Road: Vans, Nomads and Roadside Adventures
Hit the Road chronicles the journeys of people who have decided to leave their regular lives behind via Volkswagen campers, refurbished Airstream trailers, and fully-equipped 4x3 Adventuremobiles. The trips covered in these 272 pages range from the deserts of Africa to the mountains of Mongolia, and also includes tips for an on-the-road lifestyle in case the images are tantalizing enough to convince readers to pack up and, well, hit the road.
In 1963, when Muhammad Ali was all of 21 years old (still going by Cassius Clay), photographer Steve Schapiro spent five days with the boxer, capturing the private Ali at home with his family in Louisville, Kentucky, and an early glimpse at the Greatest stepping into his larger-than-life persona.
Redoute: The Book of Flowers XL
You're going to want to rip pages out of Redouté and have them framed: the book, out from Taschen, is filled with the precise and vibrant botanical watercolors that French artist Pierre-Joseph Redouté painted during the late 18th and early 19th centuries. A favorite among the aristocracy (Napoleon's wife was a customer), Redouté's roses and lilies are still classics.
This Is Not Fashion: Streetwear Past, Present and Future
Author King Adz and artist Wilma Stone connect the dots between the disparate tribes of punk, prep, hip-hop, and high fashion that all combined and led to the explosion of streetwear. With more than 500 illustrations and photographs as the authors traverse the worlds of Trash & Vaudeville and Harlem to the rise of brands like Carhartt and Stussy.
Chair: 500 Designs That Matter
Few forms excite a designer's mind more than a chair; some architects even say a chair is as difficult an undertaking as an entire building. Phaidon's squat little compendium of chairs includes some of the hits — the Eames molded plastic RAR chair; the woven metal Bertoia chair from Knoll; a hard-edged Donald Judd one — as well as some lesser known experimental designs, like a plastic blow-up armchair and ones made from ghostly Lucite.
Aska by Fredrik Berselius
Though this cookbook — the first from Fredrik Berselius, the Swedish chef-owner of the two-Michelin-star restaurant Aska in South Williamsburg — contains about 85 recipes, it's more of a looker than a cooker, filled with essays that give insight into Berselius's philosophy on food alongside photography of the warehouse turned restaurant, and the urban garden and upstate farm that service it.
Farmlife: From Farm to Table and New Farmers
Farmlife captures, through a series of pictures, short essays, and even recipes (such as, of course, bone broth), the beautiful though often unglamorous day-to-day lives of young, modern farmers, many of whom wear thick glasses and have (equally thick) beards.
D C-T! by Molly Young and Joana Avillez
Writer and frequent Strategist contributor Molly Young (and noted lover of beef jerky and orthopedic boots) partnered up with illustrator and Strategist also-contributor Joana Avillez (she of the perfect mom earrings) to pen and draw this modern-day homage to cartoonist William Steig. The book is ostensibly about life in New York but otherwise slightly uncategorizable: it's part comic book, part ethnography, part love letter.
Loulou & Yves: The Untold Story of Loulou de La Falaise and the House of Saint Laurent by Christopher Petkanas
By now, the story of Yves Saint Laurent has been told several times (of his partnership with Pierre Berge, fictionalized onscreen twice in one year), but less has been dedicated to his relationship with longtime muse Loulou de la Falaise, who died in 2011. This 500-plus page book tells the story of de la Falaise's life through oral history, featuring interviews with more than 200 people including Cecil Beaton, Diana Vreeland, and Robert Mapplethorpe.
Sally Mann: A Thousand Crossings
Photographer Sally Mann has been taking haunting images of the American South for more than four decades. This 320-page volume collects the sweep of her work through portraits, still lifes, and landscapes. For anyone who doesn't know the work of the Lexington, Virginia, native who's part documentarian, part provocateur.
You might not know Mark Seliger's name, but you know his work: the celebrity portraitist largely defined the images seen on Rolling Stone from 1992 to 2007 — celebrities in this volume include Kurt Cobain, Nelson Mandela, Leonardo DiCaprio, Barack Obama, Jerry Seinfeld, and Jay-Z, but it also includes some never-seen personal documentary work. For photo buffs, Seliger also shares behind-the-scenes stories in an interview with Judd Apatow.
Black Girls Rock!: Owning Our Magic. Rocking Our Truth
In 2006, former model and DJ Beverly Bond created the mentorship organization Black Girls Rock! to celebrate and encourage the achievements of black women. Her new book captures that same spirit in print, collecting the first-person stories of grit and determination from contributors like Michelle Obama, Shonda Rhimes, Misty Copeland, Maxine Waters, and Rihanna, among many, many others.
Cake by Maira Kalman and Barbara Scott-Goodman
Maira Kalman has illustrated many a New Yorker cover, and her wry takes can make even the most mundane subjects interesting (hello, Elements of Style). In this tiny 96-page book, she tackles the fluffy subject of cake, working with food writer Barbara Scott-Goodman to illustrate recipes for everything from coconut layer cake to mit schlag.
The Bridge: How the Roeblings Connected Brooklyn to New York
The Brooklyn Bridge is as much a feat of engineering as it is a familiar sight, as this graphic novel by Peter J. Tomasi and illustrator Sara Duvall reminds us. The construction of the iconic bridge became a family affair for designer John Augustus Roebling after his death. The comic — one part drama, one part history — reimagines the story of how Roebling's son Washington single-handedly oversaw the bridge work in his father's stead and how Washington's wife assumed the role of chief engineer.
Green Escapes: The Guide to Secret Urban Gardens
This book could work like a travel guide, but with a twist: instead of charting the monuments and museums that fill the world's cities, it maps out hidden — or at least, less-trammeled — public parks and garden nooks. You'll find guides to a terra cotta garden in Chiang Mai, a palazzo in Venice, and the green spaces of a Brutalist performing arts center in London.
What has more defined streetwear, and the current state of the business of fashion along with it, than the drop? This book delves into the spirit of all those lines and why the hell people wait on them, with photos of product launches for brands like Supreme, Off-White, and Vetements in New York, Los Angeles, Paris, Seoul, and more.
Luis Barragán/Fred Sandback: The Properties of Light
In 2016 the American sculptor Fred Sandback installed works throughout four of the Mexican architect Louis Barragan's buildings and here, in this book, they're presented as photographs for the first time. Come for the millennial pink (Barragan's influence), stay for the wild ways you'll learn to appreciate light and color.
Mother and Child by Claiborne Swanson Frank
Mother, photographer, and former assistant to Anna Wintour, Claiborne Swanson Frank explores the meaning of modern motherhood in this collection of portraits that spans 70 famous mother and daughter relationships, from Beverly Johnson and her daughter Anansa to Carolina Herrera and her four daughters. To cap off the series, Frank urges each to woman to pinpoint what it means to be a mother in a question-and-answer series.
Stanley Kubrick's Napoleon: The Greatest Movie Never Made by Alison Castle
Diehard Stanley Kubrick fans know that shortly after debuting 2001: A Space Odyssey, plans were underway to start production on an epic about Napoleon Bonaparte, titled Napoleon, but the film was never green-lit by studios. This Taschen retrospective covers the many years of extensive research that went into the film and Kubrick's obsessive preparation — Kubrick's notes, set stills, and the final draft of his script.
Alaïa: Livre de Collection
There was hardly a runway that was more of an event in the '90s than Azzedine Alaïa's, with Supers strutting the runway in curve-hugging silhouettes that are still being copied today. This Assouline reprint excavates all the little moments that went into his summer 1992 couture show — from the colors and the setting to the models and (of course) the clothes.
The Strategist is designed to surface the most useful, expert recommendations for things to buy across the vast e-commerce landscape. Some of our latest conquests include the best women's jeans, rolling luggage, bed sheets, coffee makers, and bath towels. We update links when possible, but note that deals can expire and all prices are subject to change.

Every editorial product is independently selected. If you buy something through our links, New York may earn an affiliate commission.