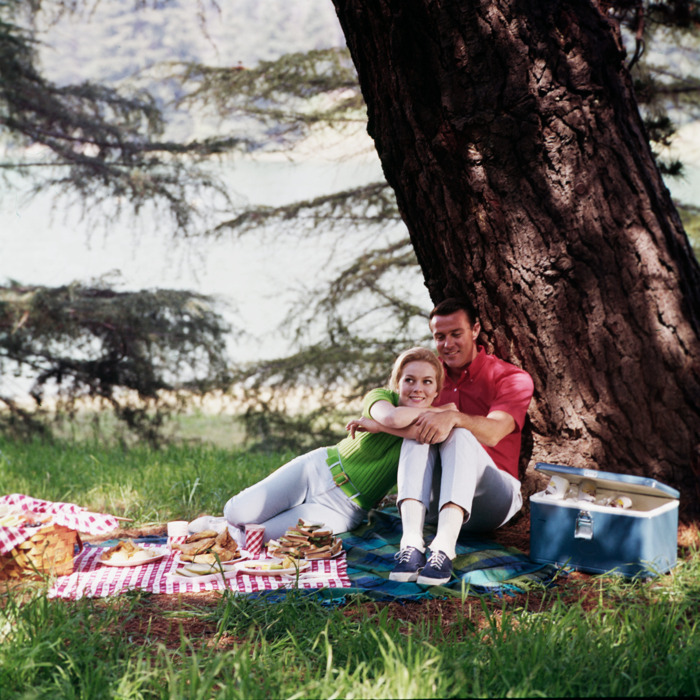 Photo: tom kelley - 1968/Getty Images
Here at the Strategist, we like to think of ourselves as crazy (in the good way) about the stuff we buy, but as much as we'd like to, we can't try everything. Which is why we have People's Choice in which we find the best-reviewed products and single out the most convincing ones. (You can learn more about our rating system and how we pick each item here.)
While we've written about plenty of things to keep drinks cool, including an insulated Japanese water bottle, a white-wine-cooling icicle, and the best ice-cube trays, here we're going deep into the best coolers that you can buy on Amazon.
Best-rated cooler
Coleman 16-Can Soft Cooler With Hard Liner
Our pick for the best-rated cooler on Amazon is a soft-sided, easy-lugging, Coleman that hundreds of reviewers use as a lunchbox. "I bought this for the purpose of a lunch box and cooler to bring by the pool [or] go fishing. It's perfect for both," says one satisfied customer, adding, "My food for the day fits perfectly with the hard liner taken out. Six beers with plenty of ice and a sandwich fit with the hard liner in." Well-made is another word used to describe this cooler. "This cooler is gorgeous, well made, looks exactly like the picture, perfect size for one or two people, and plenty of strap to wrap around over my head against my neck and hangs comfortably on opposite side of my 6'1", 220-pound body," sums up one.
Lots of reviewers talk about how it's great for kids and journeys. "We got this for a trip to Disney World, to stick in our stroller for the babies milk, drinks, and snacks for the rest of the family and it was perfect," says a vacationer. Another argues for its utility by saying, "I expect 90 percent of the time I'll be using this in my car when I'm on day trips and don't want or have time to stop at a restaurant. The cooler is big enough to fit two meals for two people and keep cold what needs to be cold." People say the removable hard liner, outside pouch, and mesh pockets make it especially adaptable. A wife writes, "My husband uses these coolers as his 'purse.' He works outdoors and stuffs the thing with drinks, nuts, cheese along with his wallet, cell phone, knives, papers. He literally can't be without it."
Best-rated (less expensive) cooler
Coleman FlipLid Personal Cooler, 5 Quarts
Reviewers love this lunchbox-sized personal cooler for porting everything from bait to breast milk to insulin to blood samples (per a registered nurse) to phones (for extended battery life) to, of course, snacks and drinks. A reviewer says, "The snap lid is good, the cooler is sturdy, the lid flips over and slides to make a little tray table. Would recommend for all tiny cooler enthusiasts." And though it is small, according to one reviewer, "It holds three sandwiches and fruit or a large burrito or a small six pack of beverages." Users like the rigidity: "The soft coolers tend to sweat or even leak, getting the rest of your 'stuff' wet. This one stays dry. It's perfect." And over a dozen reviewers say that they like using this for making clear ice: "I bought this cooler solely to make clear ice like in the great watering holes of America and it does a great job."
And now, some micro-picks for every type of cooler you might be looking for.
Best soft-sided cooler bag
Yeti Hopper Flip 12 Portable Cooler
"I have no idea why some people aren't impressed by what this cooler can do," wonders one reviwer, who explains, "I put a relatively thin layer of ice over six beers and played in a golf tournament a few weeks ago on a 95 degree day. This cooler sat in the back in direct sunlight for about 75 percent of our time on the course. Got to the last tee and went for my last beer. There was still ice in the cooler and the beer was freezing cold." A couple of reviewers note that this soft-sided cooler can keep food as cold as it would've been in the fridge. One reviewer's friend drove from one end of Washington state to the other with food in this cooler: "She said that it worked great, keeping the seafood she'd brought as cold as if it had been in a refrigerator." Another reviewer, who's often moving milk and other perishables from one home to the other, writes, "In the past we had a standard soft-sided cooler which just didn't keep the ice packs cold during the trip. Bought this Yeti cooler and no problem. The icepacks feel as cold as when they're pulled from the freezer before the trip in either direction." (Former Strategist writer Lauren Levy also deemed this the best cooler, back in 2016.)
Best (less expensive) soft-sided cooler bag
AO Coolers Canvas Soft Cooler With High-Density Insulation, 12-Can to 48-Can
"Keeps things cold over 24 hours if not in direct sun," writes a user about this easily portable, largely leak-proof soft-sided cooler by AO that reviewers for both grocery shopping and day trips. A mom says, "This cooler kept a month's worth of my breast milk frozen during a move from the U.S. to South Africa which lasted about 3 days. I didn't lose any of the milk and I am so thankful for this cooler." And a motorcyclist fan who apparently is riding through hell-like conditions adds, "I rode in 100-107 degree weather for a full day's ride (8 hours or more) many times on my 3500-mile ride on my Harley and by the end of the day the ice packs were still very much frozen and my water bottles icy cold." A number of users caution that the strap is not as strong as it could be, and while this doesn't impede functionality, one aesthetically-minded user observes "that the logo could use some work and definitely has a long way to go to inspire the kind of lifestyle this is geared toward. Seems like a logo of a company that sells industrial shelving."
Best tote-bag cooler
Rachael Ray Jumbo Chillout Thermal Tote
"This is HUGE," writes a reviewer. "You know those bags pizza deliverers carry, that fit three large pizzas and a side of breadsticks? That's this. It actually has instructions for how to use it to carry pizzas." Well over a hundred reviewers, especially those dealing with Southern summers or long hauls to the store, love it for groceries. "I have an hour commute from the grocery store to home. These bags are fantastic, kept ice cream frozen on a 90 degree summer day. Also well made, with a nice bonus feature of Velcro on the bottom to keep your bags stationary in the trunk," says one. Another notes, "I am able to stop at the library or do other things until I head for home, put the groceries away and don't have warm milk by then." Though this is more general thermal bag advice, one user advises, "Once you've put seafood in a bag like this, it will always need to be a seafood bag."
Best backpack cooler
Coleman C003 Soft Backpack Cooler
Reviewers express affection for this backpack cooler because it's comfortable and unobtrusive to carry, has useful pockets and a bungee cord, and keeps things cold. One enthusiast, who describes this as "amazing," offers this proof: "We have used it on day trips to the beach, walking around Savannah with it carrying beer, and on trips. It doesn't leak for over 24 hours! It also looks so discreet, almost like a normal backpack and not a cooler. The straps are comfortable so I can carry it even when it is full and heavy." Nearly fifty users say it was a stalwart (and money-saving) partner on trips to Disney. "Perfect for our Disney trip. We used the freezer packs and carried sandwiches, snacks and drinks in this. It fit on all the rides easily and kept everything cool," writes a typical park-gooer. Everyone seems impressed with the build for the price ("The zippers are not too large yet sturdy and work smoothly"), though many note that the pack works better with Cooler Shock packs rather than ice.
Best stainless steel cooler
Coleman Steel-Belted Cooler
Reviewers love this cooler for its simplicity, effectiveness, and its "old school" style, as described in dozens of reviews. As one verified buyer put it, "Took me back to my childhood when I saw it! In Florida at the beach in 90 degree weather, it held ice just as well as a Yeti that was also in our group." The consensus is it will keep ice for a weekend. "On a typical camping trip in the summer, it will keep 2 bags of ice about 36 hours. It is well made and performs about like we thought it would," says a user. "This is a three-day cooler that is of a size that can be filled with food and ice and still be lifted by an old geezer," is another camper's assessment. Users appreciate the metal hinges and handles, like one who writes, "I was tired of dealing with a floppy lid and decided to invest in something with metal hinges." As far as small drawbacks, some note the lack of trays, and one reviewer advises, "There are no trays in this cooler, so make sure to double bag anything that will be affected by water as the ice melts." And, as a popular review adds, "Also is a sturdy seat option for when your idiot cousin steals your chair at the campfire."
Best heavy-duty cooler
YETI Tundra 45 Cooler
"Worth the investment," writes one reviwer, and several note that you get what you pay for with this Yeti cooler. "Okay, do you really NEED a $300 cooler? I mean, really? I guess you could also ask the question does anyone really NEED a Mercedes when a Volkswagen will still get you from point A to point B," asks a reviewer, who goes on to say, "I recently put 20 pounds of ice in my Tundra 45 for a picnic. Four days later there was still ice in the cooler, and I don't just mean a few cubes floating around in a bunch of water. The design is simple but extremely sturdy. This is something that will get passed down." Another says, "I use half the ice of my friend's Coleman and it lasts twice as long. Theses are worth every dollar you spend." Plus, another reviewer says it "Keeps your drinks ice cold not just cold." And its devotees like its style and that it's available in a lot of colors, so much so it "Looks like a piece of art," according to one.
Best cooler for hunting and fishing
Igloo Quick and Cool 150 Qt. Cooler
This Igloo counts lots of hunters as fisherfolk among its fans. "I wanted a large size cooler to turn into a portable live well for walleye," writes a fisherman. "The huge advantage of this one is the smaller hatch on the top which can access the inside without lifting the whole lid every time." And a hunter shares, "The cooler is definitely built tough, and handled a 400 mile round trip to North Carolina, wild boar hunting. I got a 325 pound hog and after dressing, the ENTIRE ANIMAL fit into this cooler, along with 40 pounds of ice." Another, who says ice lasts 7 days, writes, "Thanks for making this extended cooler for us guys that want to spend our time hunting instead of driving into town every few nights for more ice." Even if you're not the field and stream type, this is, as one reviewer puts it, "a great size for our outdoor parties and holidays when we have many guests on not enough fridge space for all the beverages." A few users do note they're not keen on the plastic hinges, and some have replaced them with sturdier metal ones.
Best hard-sided cooler with wheels
Igloo Ice Cube Roller Cooler (60-Quart, Ocean Blue)
Reviews like this cooler for its mobility and upright shape — and, of course, cooling abilities. Testifying for its cold-retention powers, one says, "Start with cold items, keep it out of the sun, and it will hold ice for 3 or 4 days." But the wheels are the main feature of this cooler. A reviewer who bought this to replace some non-wheeled Igloos says, "It makes a WORLD of difference. It pulls like a suitcase, and the wheels are rugged enough to go over rough ground without a problem." In contrast to the more usual trunk-shape coolers, this more cubical model has other advantages. A camper points out, "I picked this one for its compact and space saving shape. It will fit on one seat instead of taking up the whole backseat. On occasion we use it as a mini camping table and the holders come in handy, not only for drinks but small items or phones as well." And while it's table functionality is evidence of its versatility, users caution that this cooler is not made to be used as a seat. As one reviewer explains, "over time the lid will crack if it is sat on. However it still functional with the top lid cracking."
Best soft-sided cooler with wheels
Coleman 42-Can Wheeled Soft Cooler With Hard Liner
Many reviewers are enamored with the hard liner that comes with this soft cooler, with dozens expressing appreciation for how it helps keep things upright and clean. As one user who uses it for golfing and family trips says, "Having the hard liner in place is a plus if you are using ice to keep your food and drinks cool because it keeps all the melted ice contained so it will not seep out of the fabric part of the cooler. It also is super easy to clean and doesn't take up too much room to store it." Fans of this cooler point out that has a lot of pockets for inner and outer storage, and the wheels maneuver well. "The large pull-handle at the back retracts easily and the wheels roll nice and smoothly," one explains, adding, 'The design of this cooler allows it to be stored in more compact areas (think, between poolside chairs), and makes everything easily accessible." So it's great at the pool, and nearly as good at the beach. As one mother puts it, "I have three kiddos and going to the beach alone is no fun with so much stuff. I was able to pack lunch, drinks, snacks and ice to keep everything cold and roll it around with ease. Well, except over sand. Because, well, it's sand."
Best floating cooler
Intex Mega Chill II Float Cooler
Hundreds of reviewers talk about bringing this inexpensive but seaworthy cooler raft on river trips, from the Delaware to the Niagara to the Platte to the Hocking to the Comal. Users are divided on using it as is, or using it to ferry a separate cooler. One writes, "It is definitely a float for a cooler and not a cooler float." Another rafter writes, "I had 8 adult friends including myself attach to this cooler tube with my RTIC 45 sitting in it while we went tubing down a local river. There were several rapids and it held up like a champ. This tube is very robust. I was more than suprised considering the torture it went through." And it's well build-enough to hold a person as well as drinks (though this is not recommended): "Went over several cascades, and even spent a part of the trip riding on top of the cooler that I kept on this float, and everything was still stable." But you don't have to be a white water rafter to use this! Over fifty reviewers cite its pool-worthiness. One writes, "We're kind of lazy and often leave our pool floats in the water and this poor thing has even been blown up into trees and hasn't popped. The kids like to treat it as a boat sometimes and climb all over it and it still great!"
The Strategist is designed to surface the most useful, expert recommendations for things to buy across the vast e-commerce landscape. Some of our latest conquests include the best women's jeans, rolling luggage, pillows for side sleepers, ultra-flattering pants, and bath towels. We update links when possible, but note that deals can expire and all prices are subject to change.
Every editorial product is independently selected. If you buy something through our links, New York may earn an affiliate commission.