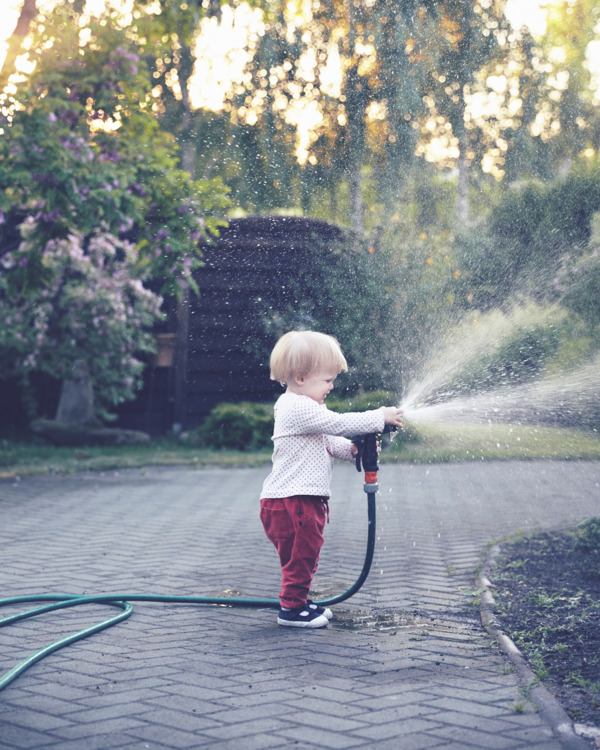 Photo: Filip Warulik/Getty Images/EyeEm
Here at the Strategist, we like to think of ourselves as crazy (in the good way) about the stuff we buy (like pillows), but as much as we'd like to, we can't try everything. Which is why we have People's Choice, in which we find the best-reviewed (that's four-to-five-star reviews and lots of 'em) products and single out the most convincing. While we've written before about the best plants to buy on Amazon and the best pots and planters to store them in, here we've rounded up the best garden hoses to water them with. Plant parents, rejoice! (Note that reviews have been edited for length and clarity.)
Best 25-Foot Hoses
Apex Commercial All Rubber Hot and Cold Water Hose
"I like rubber hoses and I really like this hose — it is flexible, it is easy to maneuver around in the garden, and it is easy to handle when rolling it up. Plus, for a rubber hose, the price was right. I have lost count of the number of nonrubber hoses that I have replaced in the past couple of years. I have had them burst and/or leak on me after what I consider to be an unreasonably short amount of time. However, I have never had a rubber hose with any of those problems. The rubber hoses are not stiff, they are not overly heavy, and they are easy to coil on the ground or wrap on a hose reel."
Glayko Expandable Garden Hose
"I've tried many expandable hoses with bad results in the past. They typically break within the first five uses, leak, etc. So far, this has been a really great hose. Here are a few reasons I like it:
- It is extremely lightweight and easy to carry around
- The rubber washer included kept the connections tight and leak-free
- The sprayer is high quality and has great settings
- The sprayer pressure is really high. I can clean off my back deck really well with the powerful spray
- It expands when you turn the water on, and contracts when all the water drains out after shutting off the water
- It takes up far less room than my traditional hose
- It is easier to wrap up and hang up
The true test will be how long it lasts, but if it holds up to heavy use for an entire summer, this will be worth twice the price. Lugging a heavy hose around is an annoyance. Glad I found this!"
Best 50-Foot Hoses
Hospaip Garden Hose
"It actually works well. I am pleasantly surprised since I questioned how well it would compare against a regular rubber hose. The hose itself seems very durable, and the ends seem to be attached as well. I feel the water pressure is a little less than a traditional hose, probably due to a smaller inside diameter, but that is overrode by the convenience. I have been using it during the winter to wash my car rather than using a big bulky hose, which I would have to drain to keep it from freezing. I usually don't write reviews unless I am very happy or very displeased. In this case, I am very happy."
Best 75-Foot Hose
Gilmour Flexogen Garden Hose
"I bought this because I needed another hose out by the garden area. I don't know a lot about garden hoses, but I know that I wasted money buying really inexpensive ones that were nothing but a pain to use with kinking and leaking issues. It is hard to say anything more than all the other customers have said … so I will simply say it's a good hose, it works perfect for me with no leaks, and I would not hesitate to buy it again. I do think it is a bit heavy compared to my old cheap hoses, but the quality may come with the weight, and I love the ease in rolling it up without having to stop and unkink it. All in all … thumbs-up from me."
Best 100-Foot Hoses
3KM Expandable Garden Hose
"I have bought flexible hoses from retail stores before, but they seemed to always fail after a few months. The flexible garden hose by 3KM is made of better materials. My first day of using, I forgot to disconnect from the spigot and it froze that night. The next day, I checked it and found no damage. The flexibility of the hose expanded to compensate for the freezing water. When it thawed out later that day, it worked like brand-new. I really appreciate the spray nozzle. It has nine different settings that we can use for different purposes. Great product."
Best Rubber Hose
Craftsman Premium Rubber Garden Hose
"Hands down the best hose I've used. I'm in the landscaping business and have used all kinds of 'professional' hoses. I've found nothing better. We buy these for clients as much as possible. Very nice hardware, great feel to the hose, even when wet, and they are remarkably difficult to get to kink."
Best Vinyl Hose
Teknor Apex Neverkink
"This is undoubtedly the most heavy-duty, best-built hose I have ever used. The connections are substantial, and I can't imagine them ever failing. The spring at the end helps protect the hose better than the extra bit of rubber that most manufacturers put there. The hose itself is very sturdy. It has the largest outside diameter of any three-quarter (inside diameter) hose that I have ever used. You get some amazing flow through the hose improving flow rate and reducing pressure loss."
Best Polyurethane Hose
Water Right Polyurethane Garden Hose
"There are many things I love about this garden hose. It is so lightweight, it's a breeze to use, and doesn't hurt my hands, arms, or back. This is actually the second one I've purchased. I speak from experience when I tell you that, yes, this hose is expensive, but it's extremely durable. My purple hose has not faded. It looks as good and performs as well now as it did on day one. Some people have complained about the water pressure, but I don't find it to be a problem. No, it's not a power washer, but with a good hose end sprayer, the pressure is high enough to clean and sweep away loose debris. This lightweight hose is easy on the hose reels that are attached to exterior walls of my house, which I certainly appreciate."
Best Stainless-Steel Hose
Tiabo Metal Garden Hose
"I have purchased a number of these kink-proof expanding hoses. I liked them because they are light and easy to move around. Up to now, all of them have been a total waste of money. They all sprang leaks or came apart within a month or two. And you could not store them outside, as the sun would make them deteriorate faster. I have had this hose for about six months now and it is holding up well. I even accidentally left the water turned on all night with the nozzle closed and the hose did not burst or leak. I guess they finally got it right."
Best Flexible Hose
Flexzilla Garden Hose
"We have very high water pressure, and this is the only brand that hasn't busted yet. We live on a farm and always need garden hoses (barn, shop, home, etc.), but until now every garden hose we have tested lasted maybe three years. This brand has survived my husband, water pressure, animals, southern heat, etc. The first one we bought, we dragged it all over the farm because we didn't expect it to last, and we didn't want to invest in another $40 garden hose. This hose, after six-plus years, is still being used at the shop with NO complaints. We now have one at every location on the farm with two extras saved for the future.
Thank you for making a GREAT product!"
Best Commercial-Use Hose
Gilmour PRO Commercial Hose
"This is as good of a 'red rubber' hose as I have used. Compared to other 'red rubber' commercial hoses, this one seems to be a little stiffer and kink-resistant, while still being reasonably flexible. My only gripe with this type of hose is that the outer covering isn't as 'slick' as Gilmour's premium gray Flexogen hose. If you were reeling the hose in and out a lot, I'd spend the extra for the Flexogen. For general use, this one is fine, and for hand-watering a garden, might even be better, as it is more flexible.
The hose ends are top-notch, made from heavy brass. On the three-quarter-inch hose, they use an O-ring instead of a flat gasket for less flow restriction. When it needs replacing, be sure to use an O-ring-style gasket, as the flat style will not seal as well."
Best Lightweight Hose
Best Industries Expandable Garden Hose
"This has revolutionized the watering of my front yard. I have lots of perennials, plants in pots, and stairs to navigate. This hose is so easy to stretch out and drag around or lift over whatever is in the way. Turn the water off at the spigot and this hose pulls itself back to a nice compact shape that is easy to store. We will see how long it lasts."
Best Coil Hose
Water Right Professional Coil Garden Hose
"It has been three years of regular use with this hose. It has been outside since purchased, which means a temperature range of 15 to 112 degrees. It has battled sun, snow, sleet, rain, stretching, relocating, etc. The hose still coils about 95 percent as well as it did on day one. It has only lost a little 'elasticity' or 'memory.'
The only item that has shown wear is the black plastic coil near the spigot connection. This is meant to prevent kinking when fully extended. This snapped fairly early on. This wasn't really a big deal to me, though.
So, with three years of use, I would confidently still give this a rating of five stars."
Best Expandable Hoses
TheFitLife Expandable Garden Hose
"After one week of effortless watering without the strain of dragging my old heavy-duty hose from the back to the front yard, I wish I would have discovered this hose years ago! My wrists and arthritic hands are also pain-free with this light hose, even with the water streaming from it. It doesn't kink or get tangled as it moves like silk, yet has pretty good water pressure."
Best As-Seen-on-TV Hose
Forever Steel Hose Stainless Steel Garden Hose
"Really solid construction and surprisingly light. My mom ruins garden hoses — she kinks them, can't roll the heavy-duty hoses on the hose reel, and she went through two expanding hoses in one month. So far, this hose has survived, and she loves it.
I also added the Garden Hose Quick Connect connectors, so she can change her sprayer and move the hose to different valves at different ends of the garden without having to twist them off/on from the spigot and the sprayers. Which is especially great for her arthritic hands.
Even though I didn't need a new garden hose, I loved them so much that I bought another one for myself."
The Strategist is designed to surface the most useful, expert recommendations for things to buy across the vast e-commerce landscape. Some of our latest conquests include the best acne treatments, rolling luggage, pillows for side sleepers, natural anxiety remedies, and bath towels. We update links when possible, but note that deals can expire and all prices are subject to change.
Every editorial product is independently selected. If you buy something through our links, New York may earn an affiliate commission.