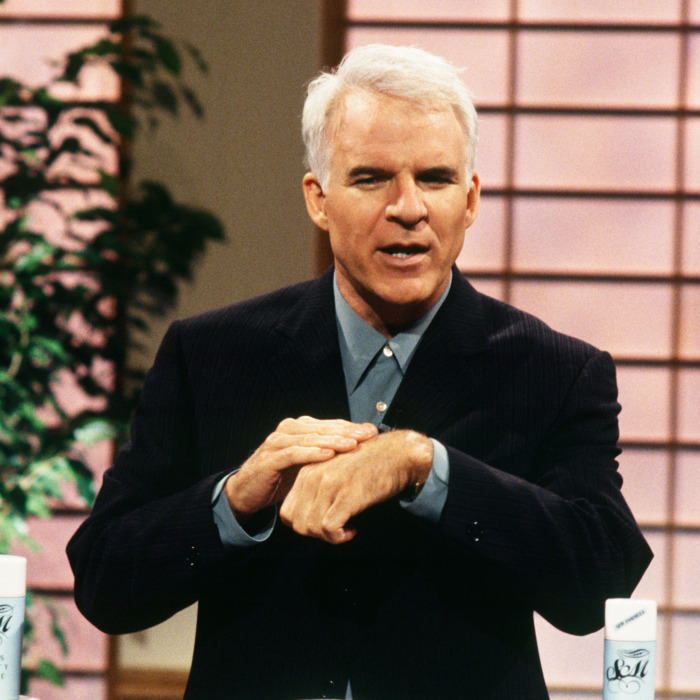 Photo: NBC/NBC via Getty Images
Here at the Strategist, we like to think of ourselves as crazy (in the good way) about the stuff we buy, but as much as we'd like to, we can't try everything. Which is why we have People's Choice, in which we find the best-reviewed products and single out the most convincing ones. (You can learn more about our rating system and how we pick each item here.)
And while we've written before about products for dry hands — including a nail cream meant for horses and a hand cream that comes in a fruit-shaped container — here we've rounded up the best hand creams as praised by the most enthusiastic reviewers on Amazon.
Best-rated hand cream
O'Keeffe's Working Hands Cream
Reviewers who struggle with extremely dry and cracked hands say this hand cream is a "miracle worker." As one happy purchaser puts it, "I just hope they never stop making it. It works where nothing else did." One of the over 6,500 five-star reviewers adds, "Does this need another five star review? Nope. But I had to. This is truly a miracle product! I have the driest skin in the winter. To the point I will look down at my hands to notice they are bleeding from all the various cracks. This made a major difference after just one use! Here I am weeks later and my hands have no cracks, look younger and are no longer red. Can O'Keeffe's fix potholes too?!" Another writes: "Do you want to know how a lumberjack's hands feel after he's run his fingers through an angel's hair? USE THIS AND WONDER NO MORE. I've been using this stuff for a few weeks, and it's helped my hands out drastically. I've gotten compliments about how soft my hands are from men and women, through handshakes of course (a lot of hand shaking at work)."
Best-rated (less-expensive) hand cream
Neutrogena Norwegian Formula Hand Cream, 2 Ounce
Eighty-five percent of this product's reviewers give it five stars, with many saying this works much better than the more expensive options out there. "I was somewhat skeptical having tried so many hand creams, from expensive to drugstore-priced variations. But this Neutrogena Norwegian Formula is amazing and I've never had a hand cream that has worked so well." Another purchaser calls it their "go-to disaster hand cream" and says, "Our home is full of a variety of lotions and creams, but when my hands are really chapped and bleeding, I use this hand cream to save the day. What sets this hand cream apart is that it's wonderfully waxy and protective. Rub it on and you've got protection for hours. I especially like slathering it on before bed because it keeps in the moisture and helps my poor mom hands to recover from the worst of winter and house cleaning."
And now, some micro-picks for every type of hand cream you might be looking for.
Best fragrance-free hand cream
Eucerin Advanced Repair Hand Cream, 2.7 Ounce (3 Pack)
Eucerin hand cream gets high marks from reviewers who want a fragrance-free option: "I depend on this to repair my dry cracked skin in the winter. And one of the best features is that is has no fragrance! You can use it continually, and not smell like some kind of flowery lotion." "It's truly unscented unlike many that claim to be," says one reviwer, and many others appreciate that it's "non-greasy." As one reviewer explains, "I'm always concerned when I purchase a new hand lotion because I cannot stand the overly slimy feeling lotion some lotions leave on my hands. I can't even count how many times I ran straight to the sink to wash lotion off (which sort of defeats the purpose). This lotion feels very rich and creamy and after just a few seconds feels velvety … Not greasy at all."
Best hand cream with shea butter
L'Occitane 20% Shea Butter Hand Cream, 5.2 fl. oz.
"I first discovered this hand cream at a little shop in Paris, long before there were L'Occitaine stores in the US. It was much less expensive back then (in the 80's!) and every time anyone I knew was headed to France I would hand them $100 and say, 'Get as much of this as you can!' If memory serves, that would buy 10 tubes," writes one longtime reviewer who's still using it: "I have tried other Shea Butter moisturizers but none get close to how great this one is!"
And though several reviewers note that this hand cream is expensive, they say it's "worth it" because the "giant-size tube" will last a long time. "This is the best hand lotion I've ever owned. I've been using this product now for over a year, and this is only my second tube as a little goes a long way," one satisfied customer writes, adding, "Living in the dry climate of Colorado, a good lotion is essential, and this product fits the bill perfectly! It doesn't leave an oily residue, and rubs in effortlessly. As a bonus, my husband loves the scent as well!"
Best hand cream with SPF
Eucerin Daily Hydration Hand Cream with SPF 30, 2.7 oz.
Reviewers say this is a great hand cream, especially if you're looking for something with added sun protection. "It does smell like SPF for a few minutes," admits one reviewer, who adds, "but the scent goes away. I'd rather smell that for a couple minutes than have wrinkly hands!" Another purchaser writes, "I wear this lotion every single day on my arms and hands. I put it on in the morning as I am getting ready for work. I also wear it year round, as sun damage happens not only in the summer but also in fall and winter. It goes on very nice and rubs in easily. I've tried other lotions with sunscreen and they just don't apply as easily as Eucerin." A third uses this hand cream especially when driving: "I like to keep one in my car to apply before driving because this has sun protection and I try to avoid getting sun spots on my hands and arms. It absorbs into the skin so nicely and doesn't leave it greasy while moisturizing so nicely."
Best anti-aging hand cream
-417 Anti-Aging Hand Cream
"I'm a housewife with young children, which means I do lots of cleaning on a daily basis. After I hit my 30s my hands really started to show some wear and tear. I've tried a number of products to help with the dryness and age spots, but everything either left my hands super greasy or didn't hydrate at all," writes one reviwer. "This stuff was just what I was hoping to find. It's thick and luxurious with a mild and pleasing scent." Another reviewer says, "I definitely see a difference in my hands," and mentions finding less "brown spots" and "little wrinkles." One happy purchaser writes: "I'm 72 years old and never found a hand cream I liked — until I bought this one. It's the bomb! The outside of my hands isn't wrinkled and crepey anymore. Neither are my arms. My hands and arms look 30 years younger."
Best hand cream for age spots
ROBANDA Anti-Aging Hand Treatment with SPF 15, 3 oz. (pack of 2)
Reviewers say this anti-age hand cream is great for treating and preventing age spots, and many mention its key ingredient combination of "retinol and sunscreen." As one purchaser writes: "Truly amazing results! I have used this cream for only one day, and already see a huge difference in my hands. Sunspots are even noticeably lightening! It absorbs well and smells delightful. I keep staring at my hands in disbelief of what I am seeing." Many more credit this hand cream with helping treat and minimize sun spots, including this reviewer who says, "I'm a 66 year old woman. I've used this lotion about 10 years and love it. I use it for a sunblock and it works great for that. It helps to fade my age/sun spots and helps to protect from getting more of them." Another adds: I've been buying this for years and always go back to it because it really works. I live at the beach and get age spots, so I really need this and am glad I found it."
Best non-greasy hand cream
J.R. Watkins Aloe and Green Tea Hand Cream, 3.3 oz.
J.R. Watkins' aloe-and-green-tea-scented hand cream gets high marks from reviewers for its use of "almost all natural" ingredients, "fresh smell," and good price. More than anything, however, reviews praise this hand cream for its "non-greasy" application. Says one reviewer: "This hand creme is very smooth and thick, and NOT sticky one bit! A friend of mine let me try some and I had to buy my own right away, I was obsessed. I love the aloe and green tea fragrance, it smells so fresh. Sometimes I'll dab a bit on my arms and elbows when I need a little afternoon scent pick-me-up. My hands get dry and scaly, and I need a hand cream that will sink in and last. This cream does the trick; it is my new go-to lotion!" Another celebrates this cream for similar reasons: "It smells so good and fresh. But the best part is that your hands feel deeply moisturized without greasiness and it lasts a long time."
Best scented hand cream
Camille Beckman Glycerine Hand Therapy Cream
Over 1,300 verified buyers give Camille Beckman hand cream five stars, with many citing the unique fragrance options as their favorite aspect of the product line. Of the wide variety of available scents, Signature Camille appears to be the most popular scent among reviewers. "In love with the Camille scent," writes one. "It's soft and floral. I've been using it all day and my hands are already incredibly soft, more than they've been in months. I've tried Nivea cream, Pacifica cream, a Lush hand mask, coconut oil, olive oil, and even my hyaluronic face moisturizer in an attempt to soothe my cracked knuckles and nothing has worked. One day of using this and my hands are finally happy!" Purchasers love this hand cream's fragrance. "Feels nice, smells divine," one writes, while another adds, "I feel so relaxed just rubbing this into my skin — like I am in a spa." Reviewers also love the small 1.35-ounce tube it comes in because it's "just the right size for even a small handbag." And the overall quality of the lotion gets high praise as well: "So much yes to this hand lotion! Not greasy, not slippery, absorbs quickly and my hands haven't looked or felt this good in ages. Definitely buying again."
Best natural hand cream
The Naked Bee Moisturizing Hand and Body Lotion, Orange Blossom Honey, 8 oz.
Reviewers who seek out beauty products with natural ingredients really like Naked Bee brand hand and body lotion. "LOVE this hand lotion," writes one reviewer. "I love scented lotions but am very sensitive to synthetic fragrance … this product is natural and smells amazing. I have no issues with it. It also absorbs well and doesn't stay greasy. I have eczema on my hands as well and haven't had any problems with this product irritating it or making it worse. It helps to moisturize and nourish. I would buy again and again." Another adds: "Love the scent and the natural ingredients!" One purchaser also mentions appreciating the fact that the brand does not use animal testing.
Best aloe-vera hand cream
Miracle of Aloe Hand Repair Cream with 60 Percent UltraAloe, 8 oz.
"There is nothing to compare to this hand cream. The main ingredient, aloe, helps to heal and soften dry, cracked hands," raves one reviewer. "We can't live without it!" Other purchasers praise this hand cream's moisturizing abilities and love its key ingredient, aloe vera: "This is my favorite hand cream. The aloe formula works very well at keeping my hands from drying, flaking and cracking at the fingernails. It is very neutral smelling which I appreciate." One review says, "I cannot say enough about how awesome this lotion is. I work in health care and use hand sanitizer at least every 10 minutes. This lotion has kept my hands from drying out and getting chapped and bleeding. This is amazing. Light scent, smells like aloe (the plant, not the gel). Absorbs well and dries without being greasy."
Best hand cream for dry and cracked hands
Burt's Bees Ultimate Care Hand Cream, 3.2 oz.
Reviewers with extremely dry, damaged, and cracked hands say that Burt's Bees Ultimate Care hand cream offers healing relief. "Love this lotion! Helps my dry hands and cracked cuticles like no other hand cream," one writes. Another purchaser calls it "a must for dry weather and winter months" and adds, "This cream absorbs pretty quickly, doesn't leave that sticky/tacky feeling on your skin, and has a pleasant fragrance (the best way I can describe it is as green and lightly grassy). It's not offensive, smells natural, and keeps my hands from looking horrendous." Another writes: "This is the ONLY thing that works on my dry, cracked hands. I tried everything. Coconut oil, lotions, etc. Nothing worked. I worked in a bakery and was washing dishes a lot. This saved my hands!"
Best hand cream for soft hands
Ahava Dead Sea Mineral Hand Cream, 3.4 oz.
Dozens of five-star reviewers mention how "soft" their hands feel after using this mineral hand cream. One purchaser writes, "Absolutely the best hand cream I have ever used! It leaves a wonderfully soft, almost velvety feel, not greasy at all. And I play a lot of piano, so greasy hands are a big no-no." Many note that while this hand cream is expensive, it's "worth it" because of how nice their hands feel afterward. "I go through several hand creams every winter, many of which claim to be the best and most restorative. I have many hesitations about trying higher-end hand creams, but this is worth every penny. It has a beautiful texture, absorbs very quickly, and leaves hands feeling soft and moisturized, but without the greasy or oily feeling." Another reviewer lays it out simply: "It doesn't leave my skin feeling greasy, just soft and smooth."
Best hand cream for gardeners
Crabtree & Evelyn Gardeners Ultra-Moisturising Hand Therapy, 3.5 oz.
"I'm gardening 3-4 days a week. Pushing the mower, weeding, trimming, planting … I don't like to wear gloves and my hands look and feel like they belong to a corpse, buried for 2 weeks," writes one reviewer, who is excited that this Crabtree & Evelyn hand cream is a solution to their problems. "I put this cream on two hours before I make dinner and a second application as we sit down for dinner. My husband can't tell if I've been working in dirt all day. I love the soothing scent and the 'invisible glove' feeling it gives me." One gardener calls this "a workhorse of hand creams" and says, "I've used it for more than ten years to help after heavy, glove-free yard work. I love this product!" And while gardeners are certainly fans of this hand cream, many purchasers point out that "it's not just for gardeners." As one reviewer says, "It's an excellent moisturizer for anyone who works with their hands."
Best oil-free hand lotion
Corn Huskers Oil-Free Hand Lotion, 7 oz.
One reviewer calls this lotion "hand magic," and many say it's the best oil-free hand moisturizer around. Another writes, "I was looking for an oil-free hand lotion and a colleague recommended this. I had never heard of it before but with my dry and cracked hands becoming a problem, I tried this and really liked it. It absorbs very quickly and does the trick for me." Another says, "Corn Huskers does a better job of softening rough skin and keeping it moisturized than the oil-rich creams I previously used." And since it's "oil-free," reviewers say it doesn't leave behind a "greasy" or "slippery" feeling. One reviewer notes that this makes it particularly useful for pole dancing and acrobatics: "I started doing pole a few months ago and bought this because it was recommended by my classmates and instructors. It really helps to keep your skin moisturized but provides a slightly tacky or sticky surface, which is great for gripping the pole."
Best hand cream for men
Jack Black Industrial Strength Hand Healer
"Hubby likes it," writes one reviewer. "He's a maintenance man. Fixes things 13 hours a day. His hands were rough! [But now] they call him 'baby soft' at work because of how soft his hands are." While this hand cream is marketed towards men, many women like it, too. As one man reports: "I bought this hand cream for myself, but my girlfriend stole it from me. She loves it! Now, if I can only steal it back." Men mention trusting this hand cream because of the company's reputation in men's skin care. "I am a big fan of Jack Black products," says one purchaser. "It's so hard to find good skin care products made for men, and like their other products, this didn't disappoint." Another writes about having dry hands "all year": "I keep a bottle at home and at work. Non-greasy, smells manly. I put it on my feet too (I'm a rebel). Keep it up, Jack Black!"
The Strategist is designed to surface the most useful, expert recommendations for things to buy across the vast e-commerce landscape. Some of our latest conquests include the best women's jeans, rolling luggage, pillows for side sleepers, ultra-flattering pants, and bath towels. We update links when possible, but note that deals can expire and all prices are subject to change.
Every editorial product is independently selected. If you buy something through our links, New York may earn an affiliate commission.