Here at the Strategist, we like to think of ourselves as crazy (in the good way) about the stuff we buy, but as much as we'd like to, we can't try everything. Which is why we have People's Choice, in which we find the best-reviewed products and single out the most convincing reviews. (You can learn more about our rating system and how we pick each item here.)
While we've written about the best travel coffee mugs, the best water bottles, the water bottles with the most status, and the best wineglasses (stemmed and stemless), here we've gone deep on the best insulated tumblers you can find on Amazon.
Best-rated insulated tumbler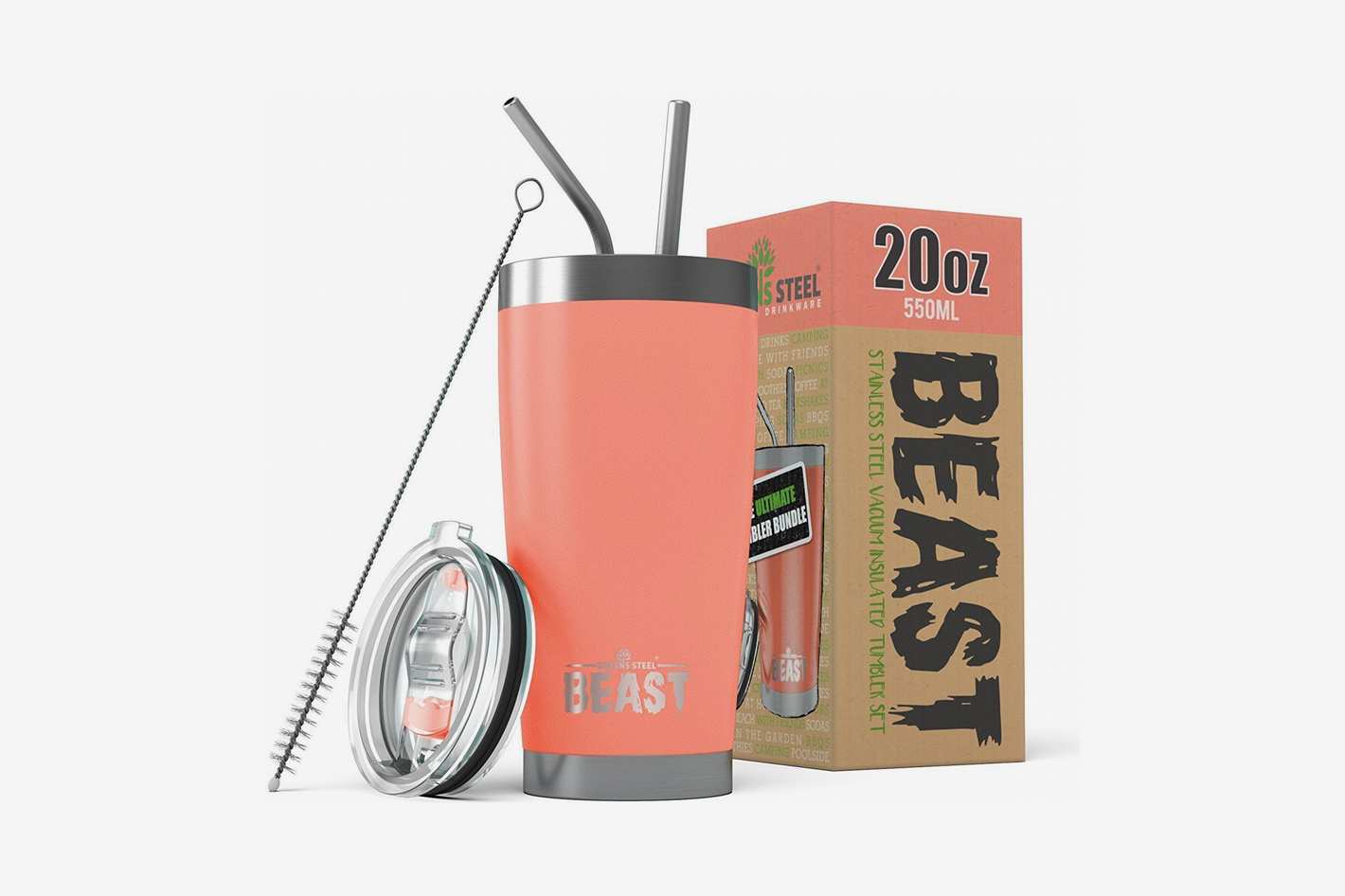 BEAST 20 oz Tumbler
Almost 7,000 reviewers have weighed in in favor of the Beast. "I am kinda a snob about my tumblers and water bottles," writes one reviewer, "but I really like this tumbler. It keeps my drinks cold all day. It also keeps my tea hot for about 6 hours…. Cleaning it is easy." Customers also like the accessories, which include a lid, two metal straws, even a straw cleaner. "I didn't know how refreshing it would be to have such a cold beverage come up through a cold straw," writes one pleased purchaser who was psyched about the extras. People like the shape and feel, especially the 20-ounce version, which fits neatly in most hands and cup holders. A user writes, "The tumbler is easy to hold and has a slightly textured grip so that your fingers don't slip." This buyer also notes that "it keeps the liquid ice cold overnight and in my car in the Houston heat."
Best-rated less-expensive insulated tumbler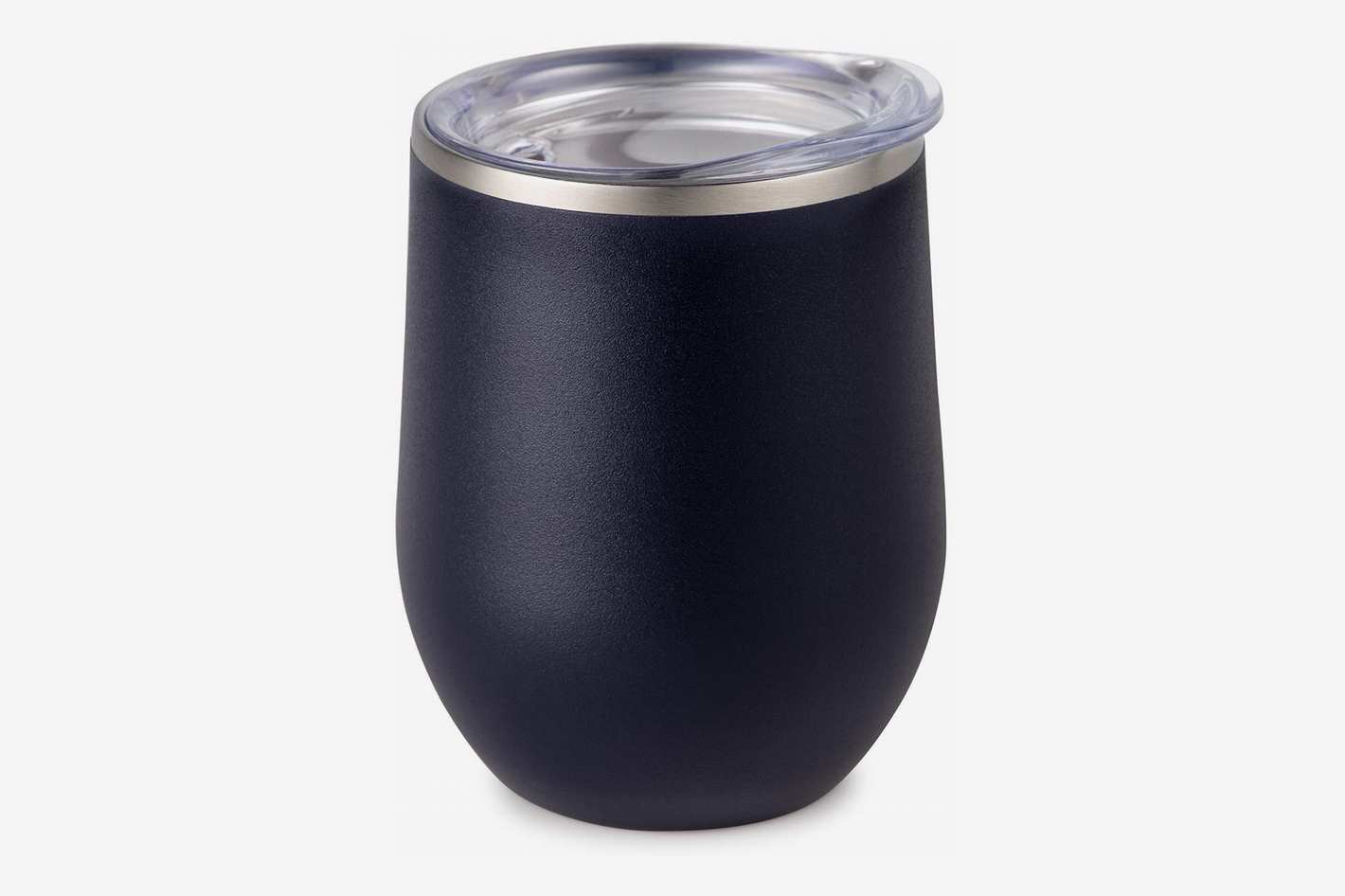 Maars Bev Stainless Steel Stemless Wine Glass Tumbler with Lid
"The perfect 'sippy cup' for adults," one reviewer writes, adding, "the finish is very fine indeed … it has not scuffed, scratched or chipped with fairly heavy, daily use." People love the many color options and temperature control. "With or without the lid on, ice cubes in drinks lasted for hours," says an owner. Dozens are so enamored of this shapely tumbler that they have passed them along as presents, as one fan writes: "Would totally recommend this for a stocking stuffer or White Elephant gift." They also just look like a really cool take on the wineglass: A reviewer says, "These cups are beautifully shaped. The lid fits perfectly." Owners do point out that they are not leak-proof and so not made for lugging while full in backpacks, and the wide bottom means they won't fit into many car cup holders. But another reviewer writes that these "sassy" tumblers are just so stylish: "Used it on a plane and the stewardess took a pic of the bottom and ordered two white ones for herself after we landed."
And now for some micro-picks of every type of insulated tumbler you might be looking for.
Best leak-proof insulated tumbler
YETI Rambler 20 oz Stainless Steel Vacuum Insulated Tumbler
Dozens of reviewers say that this Yeti tumbler is just about leak-proof, and many credit the unique design of the sliding cover. "The magnetic slide top is possibly one of the most perfectly engineered masterpieces I have ever seen," writes a reviewer who's also a convert to Yeti coolers. Another notes, "The magnetic seal is easy to remove and clean, yet solidly stays put. I've even dropped mine and it didn't leak more than a couple drops." Many laud the Rambler's insulation as well. "Keeps beverages HOT or COLD ten times longer than any other insulated mug I have ever used," says a typical reviewer. One even claims that their drink "seems to get hotter as it sits." A number of owners like to keep this tumbler their bedside, replacing easily spillable glasses. As one puts it, "I love that I can keep it on my bedside table and still have ice water in the morning." And it's good for showing your Yeti pride: As an owner who titled their review "Almost too good to use" noted, it "also comes with stickers so that's dope."
Best stainless-steel insulated tumbler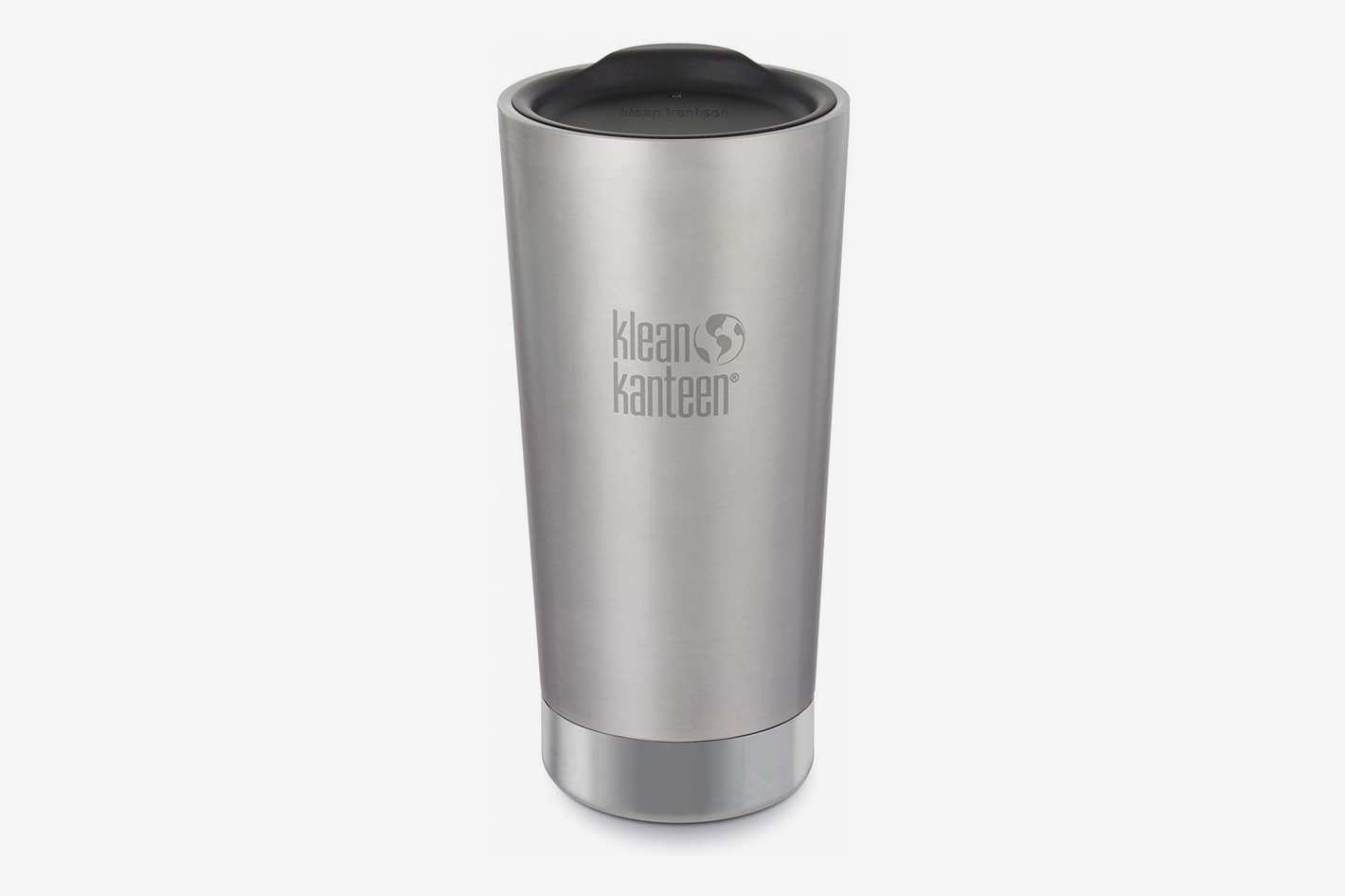 Klean Kanteen 20 oz. Double Wall Vacuum Insulated Stainless Steel Tumbler Cup with Tumbler Lid
Owners really like the shape and texture of this cup, especially the stainless-steel finish. "The feel is superb in the hands, has a nice heft to it but isn't really that heavy, the perfect weight and feel," is how one describes it. "Love this pint glass," a reviewer writes, getting at the appeal of the Kleen Kanteen's shape. "If, like me, you're just looking for a simple cup to keep your drink honestly cold, and cleans up as easily as a standard tumbler, pick this one," says another, summing up its practical utility. One owner even calls it "pure magic" for its heat-retaining abilities. According to many, this is a tumbler of all trades: "This is now my only cup. Coffee in the morning, water all day, beer at night. Keeps hot stuff hot, and cold stuff cold, I couldn't be happier with the engineering, quality, or 'mouth feel' I get when drinking from it." A few users do note that the paint can chip and so recommend the stainless version.
Best insulated tumbler for sports fans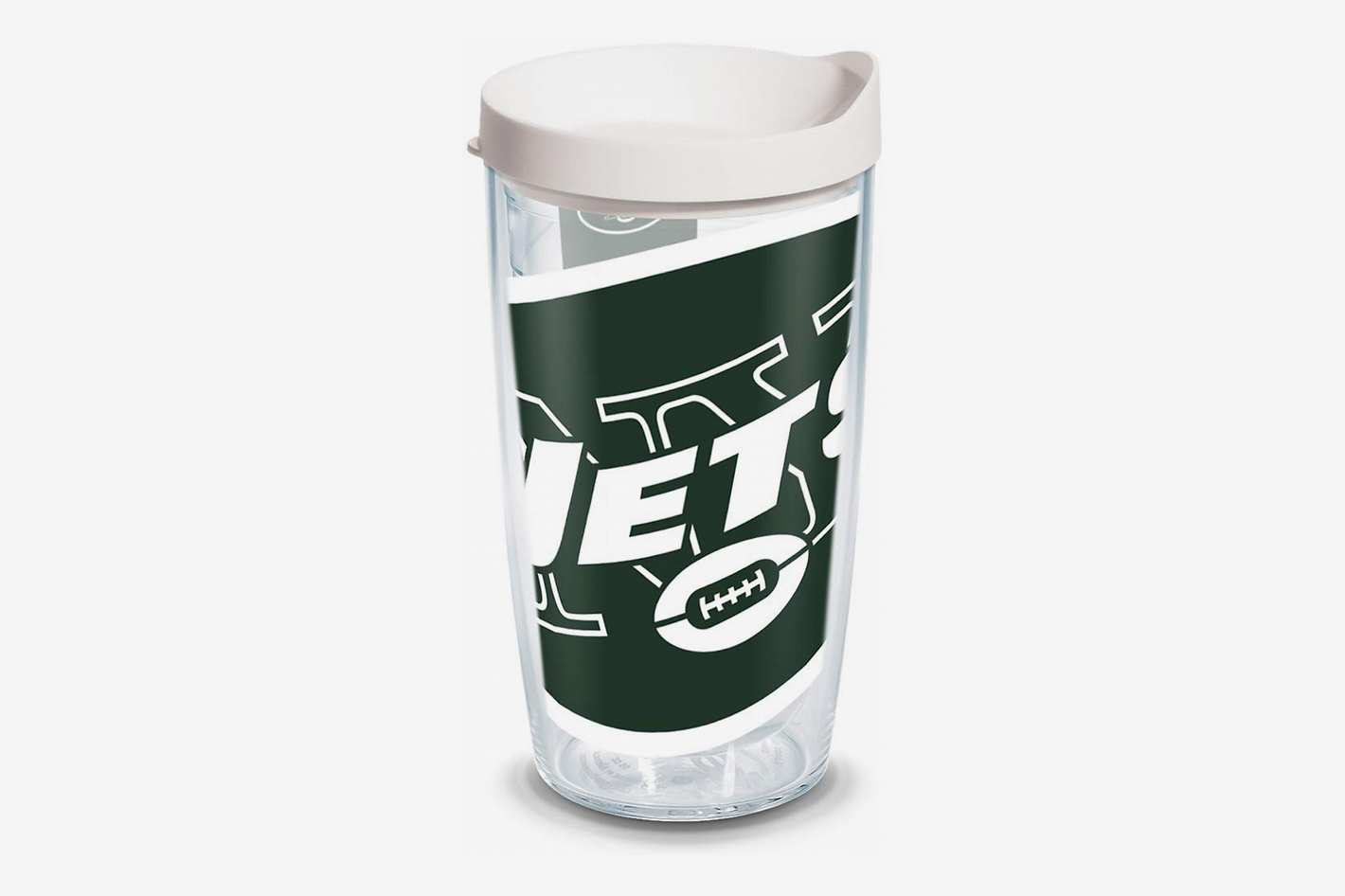 Tervis NFL New York Jets Colossal Tumbler with Wrap and White Lid
Tervis insulated plastic tumblers, while not as high-tech as some others, have a cult following among reviewers for their dishwasher-safeness, their retro picnic style, and these sports options. "Although my team sucks at the moment, I'm still a die-hard fan," writes one reviewer whose New York Giants tumbler can be seen lurking in their photo. "My everything cup! Hot or cold. Work, home, sporting events." Says a Vikings fan: "The graphics are bold and crisp." One reviewer explains their skepticism and subsequent conversion: "I had heard of Tervis, but never understood why people thought they were so great. Big deal, it keeps your drink cold," writes a Dolphins fan, who goes on to say, "But wow! This thing really works. It keeps drinks cold and hot for a very long time; better than a thermos or travel mug. Also, it's pretty."
Best clear insulated tumbler with lid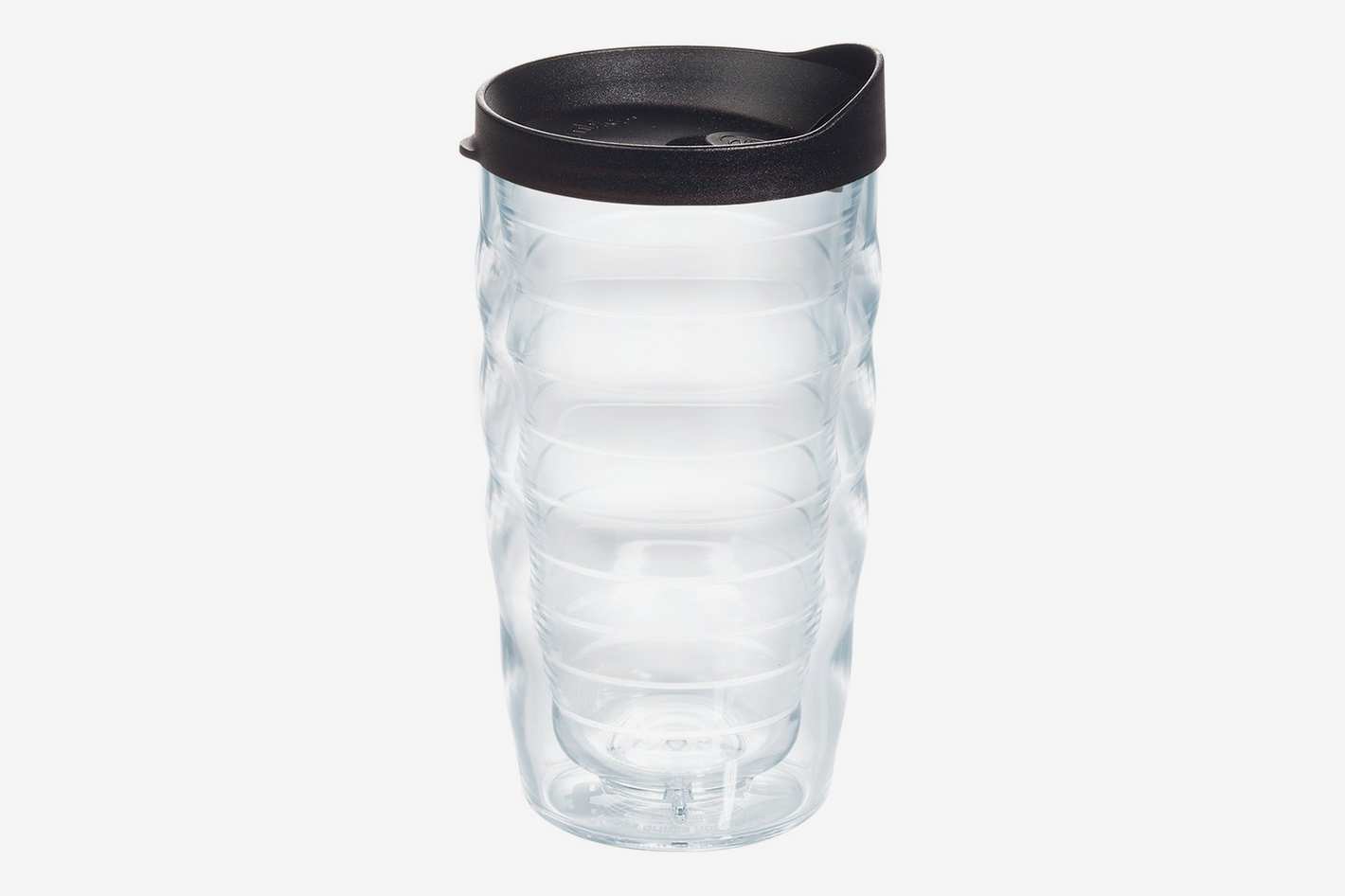 Tervis Clear & Colorful, Clear Tumbler with Black Lid
Dozens of reviewers mention the efficacy of this tumbler's "lid" in keeping beverages from spilling, including one who brought their Tervis on a tubing trip: "On said river tubing trip, I dropped the tumbler into the water. Luckily I had purchased the lid to go with it. With the lip of the lid closed, no water got into the cup or poured out. AWESOME." Lots of others rave about this tumbler's insulation. "With the lid I find the thermal quality is better than anything else," writes one reviewer, who owns three Tervis tumblers, adding, "I have put a beverage in it with plenty of ice, run my errands in and out of stores, keeping my drink in the car in the heat of the summer, to still find my drink very cold with some unmelted ice." And reviewers put all sorts of beverages in these sweat-free tumblers, including ice water, coffee, even scotch. One owner uses it so much they're almost ready to toss their other glasses: "This tumbler is now my go-to glass every day. I might as well retire all my other glasses as they sit in the cupboard gathering dust."
Best insulated tumbler with straw
Contigo Autoclose Shake & Go Double-Wall Tumbler
Hundreds of reviews for this plastic Contigo use the word "love." As in, "I love this and use it every single day. I love that when you take the straw out, the top hole seals, so that if you need it to be leak proof you can just take the straw out." And, "I love the color and I love that I can add water and other powdered ingredients, shake and add straw without a mess." Users also praise how sweat-proof and sturdy this tumbler is. One says, "It probably gets dropped once every 3 weeks, no issues, no cracks." Users agree it's great for drinks that need mixing, like protein shakes, cold-brewed coffee from concentrate, or other instant cool beverage mixes. "No leaks or issues no matter how vigorously shaken," one reviewer observes. The straw is another selling point for many reviewers, and, as one explains, it's sturdy: "When you push the straw through, it pushes the little door down, and the straw is held tightly in place. If you knock it over with the straw in place, it will drip out a little around the straw, but it won't spill all over the place."
Best insulated tumbler for beer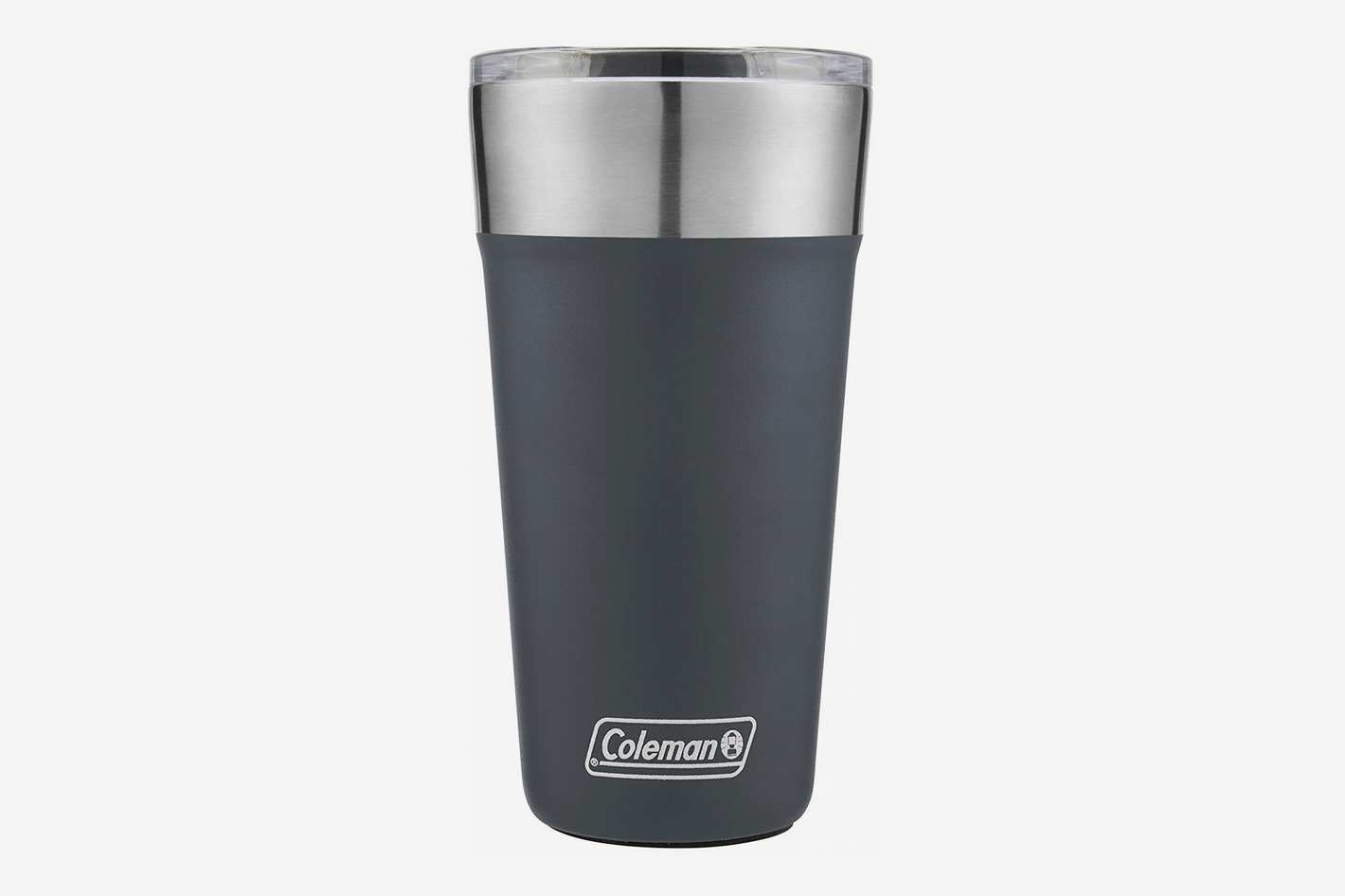 Coleman Brew Insulated Stainless Steel Tumbler
The heft, relatively low price, and hidden bottle opener make this tumbler a favorite for reviewers trying to drink beer while out and about. The Coleman Brew "has a bottle opener on the bottom of the tumbler, which is an AWESOME feature," writes one customer. Another, who uses it occasionally for hot tea, admits, "I bought this more for concealing beer at state park campgrounds." A number of reviewers say that the cup's texture and shape make it especially "comfortable to hold." One fan points out how this product fits in nicely with the Coleman brand's mission, as also exhibited by their beloved coolers and camp chairs: "In a world full of crazy expensive stainless steel tumblers, leave it to Coleman to provide an inexpensive yet high-quality option."
Best insulated tumbler for wine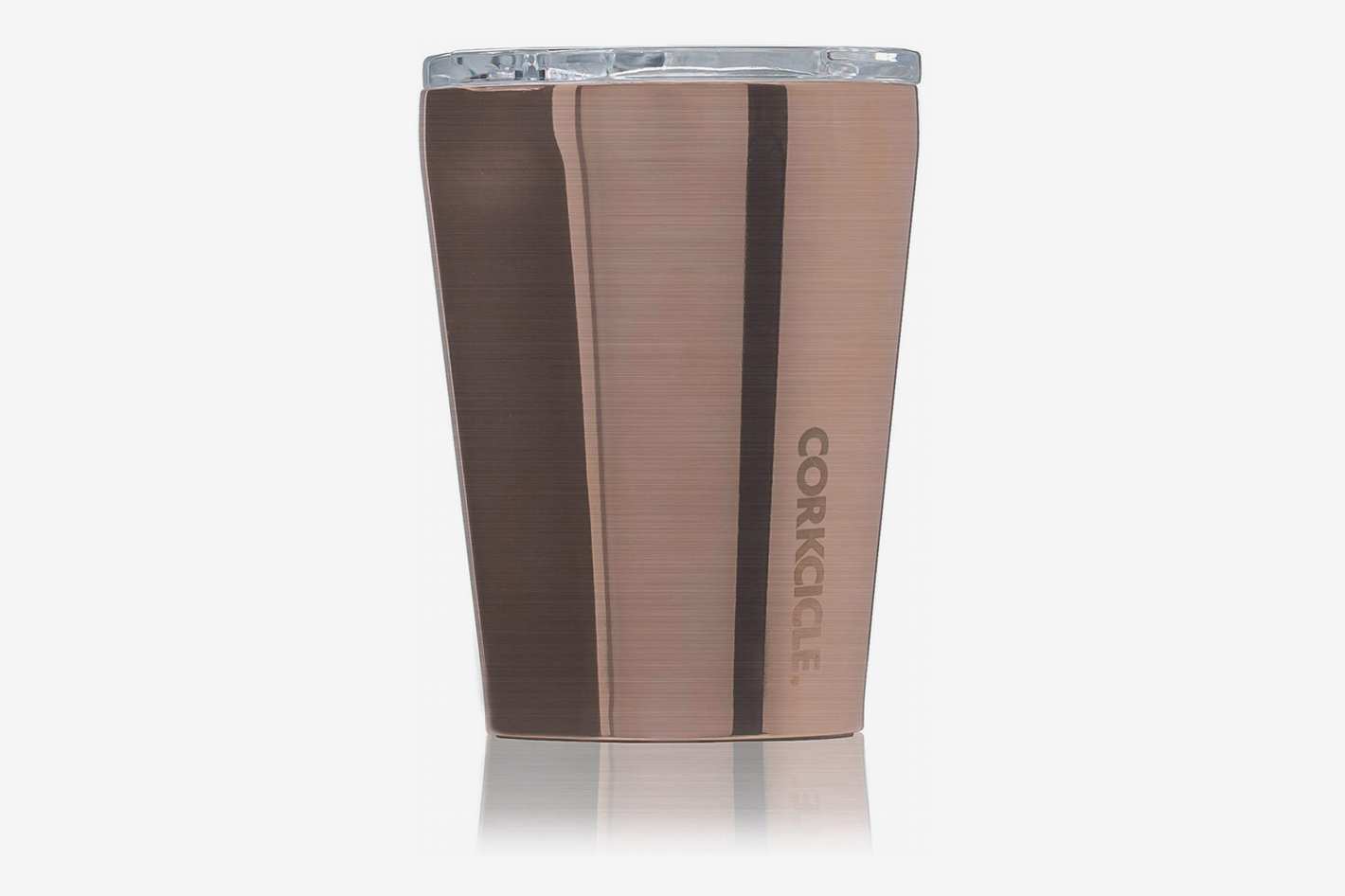 Corkcicle 12 oz Triple-Insulated Tumbler
This triple-insulated tumbler gets equally enthusiastic comments from reviewers who use it for coffee and from those who use it for wine. And many reviewers appreciate this tumbler's opaque stainless-steel finish, which keeps wine cool inconspicuously. "It has been a long hot humid summer here in middle Tennessee. Wine in glasses outdoors is a real bummer. But now I have CORKCICLE," one reviewer raves, adding, "I am SUPER happy. Cold to the last drop." Another reviewer mentions that she "used it a lot over the summer when I had wine and brought it to the beach. It keeps my drink so cold and is so cute." And she's not alone: Many reviewers enjoy the aesthetic of this 12-ounce tumbler, including a self-proclaimed "golfer mom" who aptly writes that it's a "cute little wine cup to go."
Best insulated tumbler for kids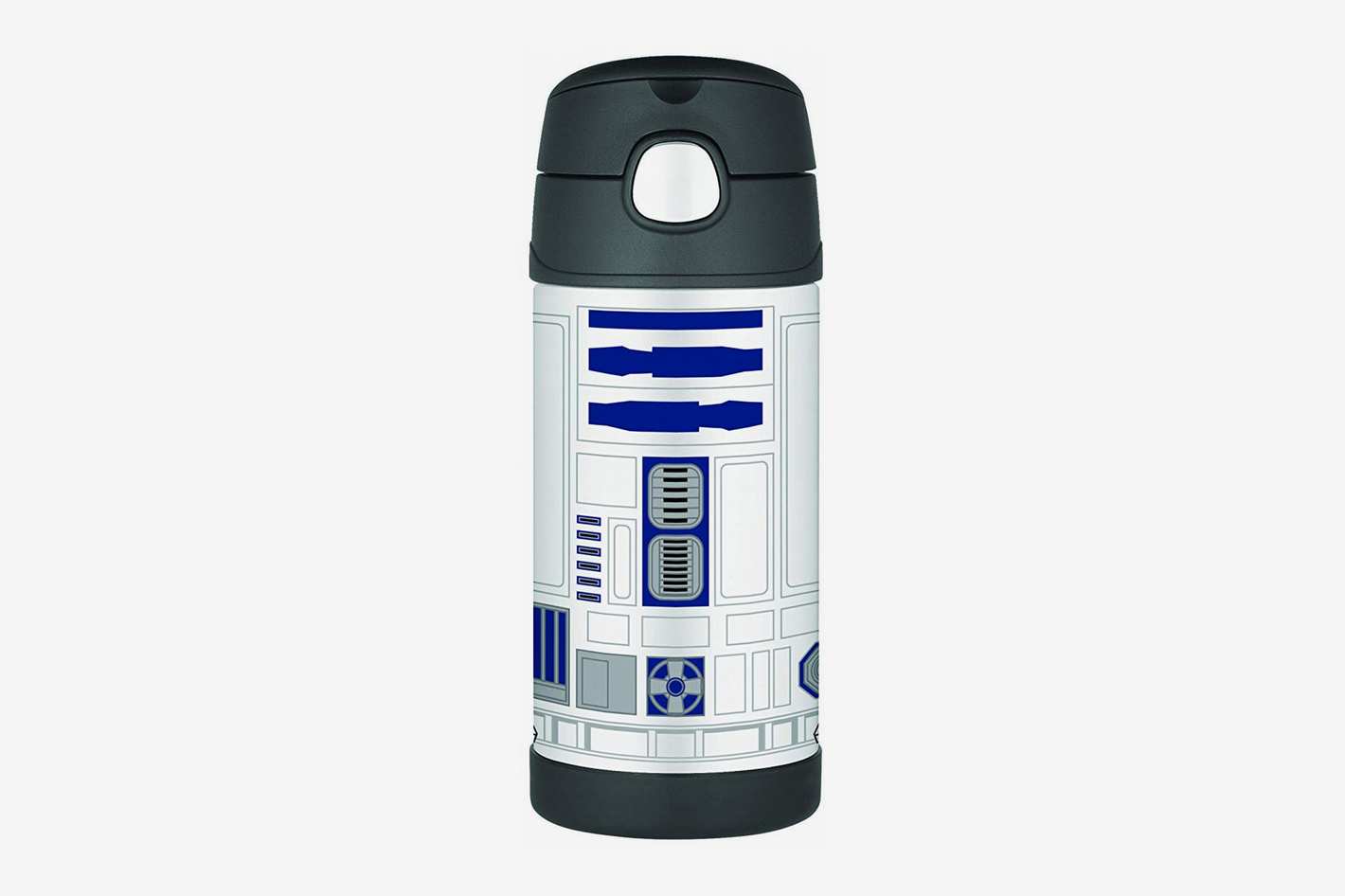 Thermos Funtainer 12-Ounce Bottle
Over 4,000 enthusiastic reviewers love the Thermos Funtainer for kids' lunches and outings. A reviewer sums up its appeal as "leak-proof, sanitary and cute." Hundreds discuss how it's "easy" to clean: "All straw pieces pop out for cleaning," writes one. Another notes that "even chocolate milk is easy to clean out of it." Many users appreciate the action of the pop-top button. "My son loves that they have a button for him to push to open," says one. Another says, "My daughter loves the button and always closes the top so when it's closed it doesn't spill." Since it's made for kids, it has to be sturdy, and dozens of users mention this factor. One says, "It's also shockingly tough, so when my son accidentally drops it, I find myself checking the floors for damage before I check the cup."
The Strategist is designed to surface the most useful, expert recommendations for things to buy across the vast e-commerce landscape. Some of our latest conquests include the best acne treatments, rolling luggage, pillows for side sleepers, natural anxiety remedies, and bath towels. We update links when possible, but note that deals can expire and all prices are subject to change.