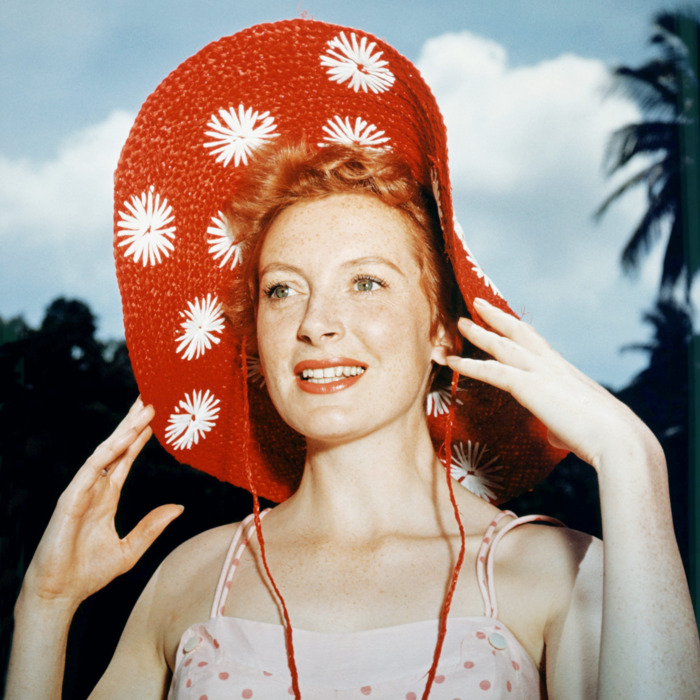 Photo: Silver Screen Collection/Getty Images
Here at the Strategist, we like to think of ourselves as crazy (in the good way) about the stuff we buy, but as much as we'd like to, we can't try everything. Which is why we have People's Choice in which we find the best-reviewed products and single out the most convincing ones. (You can learn more about our rating system and how we pick each item here.)
And while we've written about lots of ways to keep your skin quenched and protected from the sun — including the best moisturizers for dry skin and the best natural sunscreens — here we've rounded up the best moisturizers with SPF, as praised by the most enthusiastic reviewers on Amazon.
Best-rated moisturizer with SPF
Face Moisturizer by Olay Regenerist Micro-Sculpting Cream With Sunscreen Advanced Anti-Aging 50ml
Dozens of reviewers rave about this moisturizer's "silky smooth" texture. "It's a nongreasy moisturizer with 30 SPF that doesn't smell like sunscreen at all," one writes. Another calls it, "the best skin-care product that I've tried." Part of the fervor around the product stems from its anti-aging properties, which one reviewer claims shaved decades off their face. "I used this and instantly looked younger. I am 38 but now I get carded for buying lottery tickets. I try to walk the dog, and people ask where my mom is. People think my husband is my father. Someone asked my 10-year-old if we were twins." Reviewers with sensitive skin also note that this moisturizer has cleared up their skin and prevented breakouts. One explains, "It decreases the look of fine lines and uneven surface of my skin immediately, and most importantly, it doesn't break me out."
Best-rated (less expensive) moisturizer with SPF
Simple Kind to Skin Facial Moisturizer
Take it from one reviewer who has "used this religiously for nearly 10 years," it's the "only moisturizer I've tried that doesn't upset my skin." In fact, hundreds of reviewers with sensitive skin love the lightweight formula that doesn't leave their breakout-prone skin feeling greasy despite the added SPF protection. Reviewers note that there is a sunblock smell, but even one reviewer, who says they "really HATE sunblock," finds that this moisturizer keeps their skin protected all day long. "I went against my initial instinct and rubbed a normal amount of this lotion as part of my morning routine at 4 a.m.," one reviewer wrote. "It is 3:14 p.m. on a particularly sunny day, and I can still tell the lotion is protecting my face." It even has the kids' seal of approval. "My kids hate, hate, hate the stickiness on their face from the common name sunblock … And I am happy I finally find this one they are willing to use on a daily basis!"
And now for some micro-picks for every type of moisturizer with SPF you might be looking for.
Best natural moisturizer with SPF
Andalou Naturals 1000 Roses Daily Shade Facial Lotion SPF 18
This Andalou sunscreen is "GMO-free, gluten free, naturally derived, sustainably sourced, and cruelty-free," according to one reviewer, and dozens more rave about the natural ingredients. "Not only am I protecting my skin from the sun's harmful effects with the SPF, but I also feel I'm nourishing my skin at the same time," one reviewer writes. The all-natural product is also a hit with reviewers who have sensitive skin and is so gentle that it has even converted non-sunscreen users into SPF faithfuls. One reviewer says, "I've never been a faithful sunscreen wearer because many contain toxic chemicals or they are just too thick, don't blend, or they leave a white cast on your face," which they no longer have to worry about. Another reviewer claims, "This product continues to calm my rosacea." While one more writes, "After trying many topical medicines and creams — including high-quality aesthetician facial lines, 'calming' lotion from big-name companies, and prescription topical antibiotics — this seems to be the best daily moisturizer with sun protection for my skin."
Best moisturizer with SPF for dark spots
Aveeno Positively Radiant Daily Face Moisturizer with Broad Spectrum SPF 15
In addition to being "not too greasy yet very moisturizing," this moisturizer has also reduced the appearance of dark spots for dozens of reviewers. "In just a couple weeks time I've noticed that any brown/sunspots on my face have lightened!" one excited reviewer writes, along with having no "reaction to it; no redness, irritation or pain, or drying or peeling skin." This moisturizer even worked its magic on one reviewer who has had large brown patches around their face and ears for years so bad that "my husband always thinks I have dirt on my face." Their results? "No visible age spots or sun damage. I can't believe it. I completely forgot about them." Many reviewers note it also helped reduce redness and blotchy skin. "It has a way of calming the redness and blotches on my face, and I don't think I'll ever stop using it."
Best moisturizer with SPF for acne-prone skin
Neutrogena Oil Free Moisturizer with Sunscreen
This moisturizer has "enough SPF that I can go in the sun and not pay the price for weeks," one reviewer writes, but even with the added bonus of sun protection, the product's loyal customers swear by its lightweight texture that absorbs quickly and never leaves their skin feeling greasy. At least one reviewer calls this a "miracle in a bottle" for their sensitive skin, and it seems to be a favorite among reviewers who have suffered from acne. "I wash my face twice a day and rub this moisturizer into my face and problem areas really well," one reviewer writes. "It's been four days and let me tell you … for the first time in my life I can see the light. All of my obvious blackheads are gone and what's left is rapidly disappearing, and I'm telling you I had a LOT. Hell, some have probably been hitching a ride on my face since 2008. Every day I look in the mirror, I am dramatically close to a completely clear complexion."
Best moisturizer with SPF that doubles as primer
L'Oreal Paris Futur-e Day Face Moisturizer with SPF 15 Lotion with Vitamin E for Normal to Dry Skin
"I purchased this for my boyfriend who refuses to put on anything sticky on his skin … and he loves this lotion!" one reviewer claims. That reviewer's boyfriend, like many others, described the formula as "light, absorbs quickly, nongreasy, and moisturizes well with a pleasant scent." The formula also makes it a smooth base for makeup, a feature that many reviewers point out. "Nongreasy, just the right amount of sunscreen protection and my makeup goes on flawlessly," one reviewer writes. Another says, "It softens my skin as I prepare my skin for my light makeup." With consistent use however many have noticed its anti-aging abilities. "It's not an anti-wrinkle cream, but it does feel like my face is tightened and my pores basically vanish," one user writes. Some are even able to cut makeup entirely out of their routine. "Best moisturizer I have ever used," one reviewer writes. "I am told by many people that I have absolutely beautiful skin and I am 69 years old. I never have to wear makeup."
Best moisturizer with SPF for anti-aging
RoC Multi Correxion 5 In 1 Anti-Aging Daily Face Moisturizer for Skin Discoloration SPF 30
One reviewer simply writes, "I do not look my age." And many reviewers love that this moisturizer tackles many aging-skin needs, from wrinkles to sunspots. "This magical potion has single-handedly done more for my middle-aged, sun-damaged skin than anything else I've ever tried," one writes. After six years of use, one user says they are "48, and you can't see the wrinkles." Another says they see a "noticeable plump," to their skin in addition to fewer fine lines. One compared it to the Neutrogena daily face moisturizer, which they described as "sufficient, but after a few days of using ROC my skin just felt tighter." On a basic level, this moisturizer actually "helps keep my dry skin moist," even with the addition of sunscreen. "So many SPF products dry out your skin," one reviewer writes. "This doesn't."
Best moisturizer with SPF for glowing skin
Garnier SkinActive SPF 30 Face Moisturizer with Vitamin C
One reviewer was "cynical but I started using it and in one week I already saw the effect." They continue, "It really brightens your skin." Many noted the "subtle glow" the moisturizer gives their skin, but it doesn't leave it feeling greasy or looking oily. And several note that its helps to clear up adult acne scars, like one reviewer who says, "It's very effective at managing my acne scars from recent pimples. Skin definitely looks brighter and firmer." Plus, one reviewer found out the hard way what happens to your skin when you stop using this product: "Left it out of my routine after I got another product as a gift and came running back after realizing how dull my skin was without it."
Best matte moisturizer with SPF
CeraVe Face Moisturizer with SPF 30
One reviewer was tired of their face "looking like a glazed Krispy Kreme doughnut," and found sanctuary in this moisturizer that "leaves you almost completely matte!" Another reviewer explains, "Other brands of matte finish sunscreens were too drying and ended up making my skin peel more or balled up … This one doesn't do that at all; the ceramides and [hyaluronic acid] give just enough moisture without making me look shiny AF." In addition to the matte finish, dozens of reviewers note that it doesn't leave a white residue from the sunscreen, making it suitable for darker skin tones. "I have brown African-American skin and there is no trace of a grayish film from the SPF."
Best moisturizer with SPF for hands
Face Moisturizer with SPF 30 by L'Oreal Paris
Reviewers repeatedly write that this moisturizer really does brighten their skin. "I have tried a million lightening potions to reduce the sunspots on my face and never seen any results," one reviewer writes. "I feel like it is actually lightening the spots that bother me." While the product is meant for use on the face, many have found the moisturizer, described as the "BEST in class for brighteners" by one reviewer, great for protecting hands from age spots. "I use this product on the tops of my hands and it has just enough shimmer to diffuse the look of freckles and brown spots while the ingredients work to fade them," one writes. "Plus, it smells really nice and has sunscreen in it to prevent more damage. It also absorbs well and doesn't leave my hands feeling sticky." Another explains, quite simply, "It clears up my complexion, and I even used it on my hands as well for a fresh look."
Best French moisturizer with SPF
La Roche-Posay Anthelios SX Moisturizer with Sunscreen SPF 15
Reviewers, like the one who compared their fair skin to that of a vampire, were happy to find that this French moisturizer included Mexoryl SX for maximum sun protection. "I was looking for a moisturizer with Mexoryl as it is known to be give the best protection from both UVA and UVB rays besides zinc oxide, which leaves a film," one reviewer writes. "Gives good hydration for the skin without being sticky, shiny, and is invisible on the face, plus it doesn't sting on the face like some sunscreens, good basic for every day." Many also note that it's relatively chemical-free, with one reviewer explaining that it "doesn't have the chemical sunscreen soup that most American sunscreens have." It's lack of smell also makes it popular for year-round use. "Though I actually like the smell of sunblock and all the summer connotations I associate with it, I don't appreciate reeking of it every day — especially in the dead of winter when it seems really out of place," says one daily user.
Best oil-free moisturizer with SPF
Image Prevention + Daily Matte Moisturizer Oil Free SPF 32
Whether you find this moisturizer "smells like bananas," "Fruit Stripe gum," or "SweeTarts," the consensus is the "scent is subtle and really lovely" or at least reviewers "don't find it to be an irritating scent." Beside smelling good, reviewers with oily skin are "obsessed" with the matte component. "I have been looking for sunscreen for years that would give me a matte finish because my skin is so oily," one wrote. "I use sunscreen all the time and I have to use oil blotters throughout the day … Ugh! With this sunscreen I don't have to use the blotters anymore." Another mentioned that they "have used a lot of oil-control moisturizers and this one is by far the best." They continued, "It's oil-free but glides on smoothly, unlike other oil-free moisturizers that don't spread."
Best moisturizer with SPF for sensitive skin
Eucerin Daily Protection Face Lotion - Broad Spectrum SPF 30
"It's one of the few products that doesn't irritate my skin," one reviewer writes, echoing the dozens of reviews that say this moisturizer works on sensitive skin. In searching for something that "doesn't clog my pores," reviewers were also happy to find that this has a high SPF. "I'm often frustrated when selecting moisturizers … anything above SPF 15 is either expensive or just regular, old sunblock … and then I found this!" one reviewer writes. "It's reasonably priced and offers SPF 30. Even more importantly, it's 'broad spectrum,' which means it protects from rays that cause sunburn AND wrinkles and cancer." Even for one user who has had "two facial skin cancers removed," after testing many sunscreen samples they found "Eucerin was the best by far."
Best moisturizer with SPF for men
Jack Black Double-Duty Face Moisturizer SPF 20
"You will not be disappointed" by this "man lotion," says one reviewer, and though many note the high price tag compared to drugstore moisturizers, they say the "all-in-one" quality makes it well worth the extra money. One reviewer calls the formula the "perfect balance of effectiveness, low scent, quick to absorb, and definitely not watered down or greasy like some other brands." The moisturizer has been especially popular with bald men who use it from the head down. "I cover my head and neck in it each day and my skin looks pretty great for a middle-aged sports guy," one reviewer writes. The biggest debate around this moisturizer is whether it has "very little to no smell" or smells like baby powder, but according to one reviewer you can rest assured, "it doesn't smell like a girl." Regardless, users can't get enough of this stuff: The universal complaint is the moisturizer doesn't come in a bigger bottle.
The Strategist is designed to surface the most useful, expert recommendations for things to buy across the vast e-commerce landscape. Some of our latest conquests include the best women's jeans, rolling luggage, pillows for side sleepers, ultra-flattering pants, and bath towels. We update links when possible, but note that deals can expire and all prices are subject to change.
Every editorial product is independently selected. If you buy something through our links, New York may earn an affiliate commission.