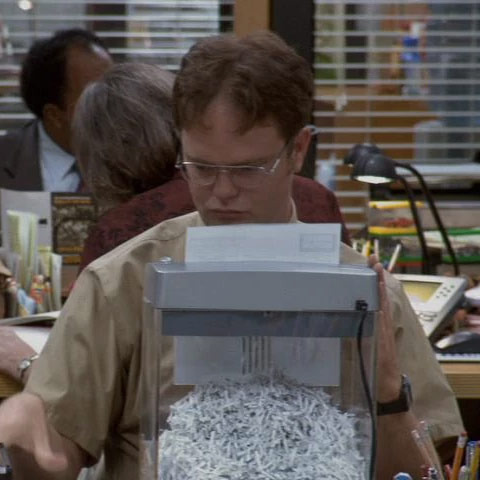 Photo: Courtesy NBCUniversal
Photo: NBC
Here at the Strategist, we like to think of ourselves as crazy (in the good way) about the stuff we buy, but as much as we'd like to, we can't try everything. Which is why we have People's Choice in which we find the best-reviewed products and single out the most convincing ones. (You can learn more about our rating system and how we pick each item here.)
And while we've written about lots of office supplies — including the best desk lamps, a cardboard standing desk accessory, and the best notebooks — here we've rounded up the best paper shredders, as praised by the most enthusiastic reviewers on Amazon.
Best-rated paper shredder
AmazonBasics 6-Sheet Cross-Cut Paper and Credit Card Shredder
With almost 7,000 five-star reviews, customers agreed that this shredder "is great for personal use, either at home or in the office. The shredding mechanism works well and the bin is large enough to hold hundreds of shredded documents before reaching its capacity." Many reviewers praise its compact size. One points out that "the entire shredder is about the same size as my computer tower." And another satisfied reviewer writes, "The device is POWERFUL for its size. It's blades are small but mighty. Seriously, you can hear this thing rev up like a little jet engine ready to gobble paper up." That means it can handle credit cards, as well as staples. "I bought this to shred an ever-accumulating pile of paper. I've gone through it and I keep looking for things to feed it," writes one reviewer, who notes, "it will shred credit cards or similar cards with ease, which is oddly satisfying. I look forward for my next card to expire so I can feed it to this baby. It does choke up a little if you try to fit the 6 sheets for which it is rated, but then again it might be the fact that I've mostly fed it heavy weight paper. It does not, however, care if the paper has staples. It will happily destroy those too."
Best-rated (less expensive) paper shredder
Aurora AS420C Desktop-Style Cross-Cut Paper Shredder
This compact desktop shredder wins praise from many fans with personal shredding needs, or as one reviewer explains, "I refuse to spend a fortune on a shredder when all I need it for is credit card junk mail and relatively few banking [or] confidential documents." And this desktop-style paper shredder is ideal for just that purpose. "If you're looking for a small shredder for light use, this one is well-made and fits perfectly on the corner of a desk. The key words are small and light use," one writes. Dozens of reviewers find it to be a great bargain, perfect for everyday junk mail: "I have used it to shred whole pieces of mail without even opening them and credit cards. It was able to handle both without any trouble … The price-to-value-ratio can't be beat." Others love its compact size, like one who says, "I prefer the small size because I find the big shredders hideous. This I can hide away and bring out when I need it."
And now, some micropicks for every type of paper shredder you may be looking for.
Best micro-cut paper shredder
AmazonBasics 6-Sheet High-Security Micro-Cut Paper and Credit Card Shredder
This micro-cut paper shredder is a favorite among reviewers with low-volume needs, but who value privacy, like one who writes, "I finally broke down and got a shredder, after much research. Since I am single, I kept putting this off, thinking I couldn't justify the substantial purchase for just myself. I thought that I didn't generate enough papers to need one." Other reviewers found more creative uses for the tiny, shredded pieces. For example, one says, "My grandson likes it when I shred a few pages of colored paper and play 'parade.' I let him throw (and pick up) the confetti. Hours of entertainment for under a buck!" Another, a gardener, finds the extra-small size of the micro-cut paper shreds convenient because "all my shredded material gets used as mulch."
Best strip-cut paper shredder
AmazonBasics 8-Sheet Strip-Cut Paper, CD, and Credit Card Shredder
Reviewers were amazed by the strength of this machine, even after putting it to the test, like one who "crunched through about 500 CDs [and] DVDs and several hundred papers," and found "It is still working like it did on day one." Another satisfied customer said, "Amazon should call Shredder Protective Services on me because I was very mean to this machine and it did not let me down. I shredded three months of daily newspapers to make shred for boxes. I separated each section but once folded [it] was the thickness of 8 pages. I had this thing going for an hour straight…I was careful to feed the paper in correctly but there were times when it became a crumpled mess as it fed through … Only once or twice did it stop. Yet a quick push of the feed button, and it finished."
And the advantage of the strip-cut, according to reviewers, is that it's less messy than its crosscut cousins. "What's not to like. I'm not the NSA or the CIA so I don't need anything more than a strip-cut shredder, and crosscut shredders are a true pain; lots of paper dust and fly-away shreds," writes one reviewer, who adds, "It even looks good, nice shiny finish, and shiny is one of human civilization's few triumphs."
Best heavy-duty paper shredder
Aurora AU1230XA Anti-Jam 12-Sheet Crosscut Paper and Credit Card Shredder
A common theme among reviewers was the weight of this shredder, which is "heavier than I would have thought," as one reviewer puts it. "Seems Aurora didn't cheat on quality when they made this unit. The shredding unit is very solid. When I tested it for the first time I was very impressed in the surprising lack of effort it took to shred multiple pages. The noise level and speed were about the same for a single sheet as for three or four." Another echoes, "This little shredder is a powerhouse!" But reviewers generally considered the weight a positive, not a negative, like one who said that it's "moderately heavy for a home shredder, but hope this is a good thing as it may hold up better being made of heavier, more sturdy materials."
Best jam-proof paper shredder
Fellowes Powershred 79Ci 100% Jam Proof Shredder
Many reviewers rave about this shredder's ability to process large amounts of paper without jamming, as one explains, "Overstuffing is impossible — there's an indicator set of lights that will light up when you've put in too much for it to handle." Another echoes, "This shredder is great. I am shredding decades of papers and I must say, with this unit the shredding is going quite quickly and quietly. Oh there is some noise but nothing that makes your brain want to explode (like my other shredder)." Others were happy to find that it stands the test of time, as one writes, "I've had it for a year, and it hasn't jammed once."
Best paper shredder for CDs and DVDs
AmazonBasics 12-Sheet High-Security Micro-Cut Paper, CD, and Credit Card Shredder
Many shredders claim to handle CDs and DVDs, but dozens of reviewers praise this machine's particular ability to shred them with ease, saying things like, "This shredder works great … Credit cards? No problem! CDs/DVDs? No problem. This Cookie Monster of an appliance will eat everything … I just need a set of big googly eyes to make this shredder feel like more of a part of the family." People also love the tiny, micro-cut pieces it creates. One writes, "I bought this shredder because of the micro-cut feature. What do the movies Batman Returns and Argo have in common? Besides the obvious, they both have scenes where shredded documents have been put back together, by penguins and children respectively. With micro-cut, anyone wanting to reassemble my documents will have to employ a lot more penguins, employ a lot more children, or have a lot more patience."
Best shredder with continuous run time
Bonsaii EverShred 18-Sheet Cross-Cut Shredder with 6 Gallon Pullout Basket, 60 Minutes Running Time
Reviewers were pleased that this 18-sheet shredder with a continuous run time of 60 minutes lived up to its promise, like one who said, "Right out of the box I put this baby to the test. It does what it says it can do and more. I ran it for an hour straight with no problems. Let it cool down a bit (but did not need it). I was a bit scared when it hit a dime glued to my junk mail. It kept on going." Others pushed the one-hour run time, saying things like "it goes way beyond the 60-minute run time. It never stalled on me and no paper jams (and yes, I did test the 18-page maximum!)." Another really took it to limit, claiming, "I filled 12 kitchen garbage bags without the machine stopping once. It worked for four hours straight."
Best high-volume paper shredder
AmazonBasics 15-Sheet Cross-Cut Paper, CD, Credit Card Shredder
This shredder impressed reviewers with its high-volume performance, and many took it upon themselves to test its limits, like one who "literally thought this machine would die with what I put it through." Another writes, "The shredder powered through twelve to fifteen sheets at a time, no slow down, no stall. Within a half hour, the shredder had totally devoured a stack of documents that were, 8.5-by-11, and 14-inch page size, plus larger documents that, when stacked, the pile was over ten inches tall." Another impressed customer said, "The shredder just kept on going. While it was not a continuous nonstop feed, it was close to that, and there was never a problem, or time out for cooling off. The only stoppage was for when the basket filled up, and had to be dumped."
Best quiet paper shredder
AmazonBasics 17-Sheet High-Security Micro-Cut Paper, CD, and Credit Card Shredder
Despite the fact that this machine "shreds 17 sheets with no problem," its quiet operating volume surprised many users. One writes, "IT'S QUIET! Not even the cats get alarmed when we start churning." Many reviewers found this high-volume pick to be better than a smaller model, like one who says, "The 17-sheet here is definitely the one to get. If you are looking at smaller AmazonBasics shredders do yourself a big favor and get this one. You know as well as I do that '6-sheet shredder' of just about any brand is probably going to load down after 3 sheets because the motor belongs in a pencil sharpener. Why do that to yourself. Life is too short. Buy this shredder that has some muscle and be happy."
Best high-capacity paper shredder
AmazonBasics 24-Sheet Cross-Cut Paper, CD, and Credit Card Shredder with Pullout Basket
Reviewers with piles of paper to get through found that this high-capacity shredder truly did the job and is "definitely worth the extra cost if you shred in high volumes." One writes, "Five months after purchase, this has never jammed once. The $2,000 shredder at the office jams every day. I shred about 100-200 pages a day, 5 days a week. I remain amazed that this has not jammed even once. I shred about 20 pages at a time, continually … By the time this shredder was delivered I had about 10,000 pages to shred." They continue, "This machine worked like a champ. No jams, no shutting down, everything shredded."
Best high-security paper shredder
Aurora High-Security 8-Sheet Micro-Cut Paper Credit Card Shredder
"I was a little bit afraid to buy a shredder for this price but I am pleasantly surprised. I am not using it really daily, but may be every third day, and it works for already three months without single issue. It shreds credit card without any problems," one reviewer raves, explaining, "Whatever you shred is shredded to such a small pieces that there is no way anybody can put it together. This is [a] 100 percent secure system." Another reviewer likes the extra-fine shreds for another reason: ""My purchase was twofold. I needed to get rid of papers from years back but the shreds will serve as bedding/flooring in my chicken coop. The shred is very fine so it's good for the chickens to walk on." Another very satisfied customer writes, "This thing slices, dices, cuts, and shreds like nothing I've ever seen."
Best paper shredder with two slots
Swingline Paper Shredder
One reviewer with an eye for design describes this shredder as "small and sleek so it seems less obtrusive compared to other shredders … However, it still has quite a sizable capacity. It can shred up to 14 sheets at a time, which is on the high end for personal shredders … It shreds like a lion, but it's as quiet as a cat." Many reviewers also like the windowed basket, like one who says, "The basket or bucket that holds the shredded paper is easy to see into so you can see how much is in there." Others appreciate the second, smaller slot "to run plastic credit cards through," along with other smaller pieces of paper.
Best paper shredder with cooling fan
HSM Shredstar X17 Cross-Cut Shredder
This machine holds up to high volume use thanks to "a little cooling fan that kicks on after cranking through paper for a while," a feature that several users called out in their reviews. One writes, "I shredded a full box of papers (the box was an empty computer paper case). It did not overheat. In fact, as I reached for more papers I could hear a cooling fan kick into action! We plan to keep this shredder for a long time." Nearly a dozen reviewers refer to it as "the best shredder I've ever owned," and others rave about its excellent performance under even the most high-volume circumstances. "If you have a lot of paper and cards to shred, I mean stacks of stuff you have been meaning to get out of the closet or garage for umpteen years, this is the ticket," one writes. "I have run it nonstop only to empty the basket 7-8 times without one problem in one sitting. It has a powerful built-in fan to cool the electrical motor so you can keep shredding."
The Strategist is designed to surface the most useful, expert recommendations for things to buy across the vast e-commerce landscape. Some of our latest conquests include the best acne treatments, rolling luggage, pillows for side sleepers, natural anxiety remedies, and bath towels. We update links when possible, but note that deals can expire and all prices are subject to change.
Every editorial product is independently selected. If you buy something through our links, New York may earn an affiliate commission.