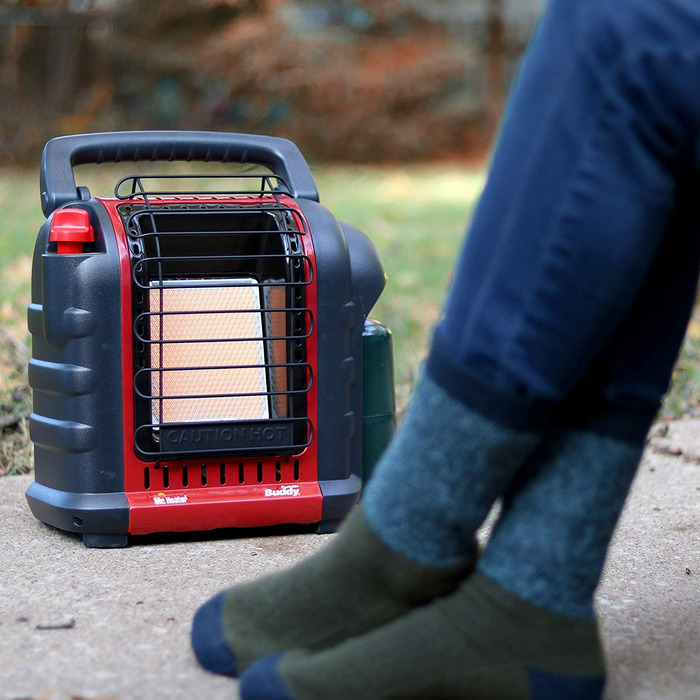 Here at the Strategist, we like to think of ourselves as crazy (in the good way) about the stuff we buy, but as much as we'd like to, we can't try everything. Which is why we have People's Choice, in which we find the best-reviewed products and single out the most convincing ones. (You can learn more about our rating system and how we pick each item here.)
And while we've written about lots of ways to stay warm — including the best infrared heaters, the best outdoor heaters, and the best space heaters — here, we've rounded up the best propane heaters, as praised by the most enthusiastic reviewers on Amazon. 
Best-rated propane heater
Mr. Heater F232000 Indoor-Safe Portable Propane Heater
"Simply put, the perfect portable heater," one reviewer writes, adding, "I've used 1-pound and 20-pound propane tanks to fuel it, and it works splendidly." And though hundreds of reviewers describe this propane heater as "small," one says, "This little thing gives off a tremendous amount of heat." In fact, that reviewer replaced an electric heater in their garage turned playroom with this propane version, and says, "It gives off great heat and warmed my garage up in a fraction of the time. Within 25 minutes I was able to turn it off and didn't have to use it again for the remainder of the day since the garage was able to maintain an adequate temperature for the time I needed it (2 hours)." Many other users think this is the ideal camping heater, too. "Took it camping in Big Bear during winter and the only way we ended up sleeping at all was because we had one of these bad boys," one owner writes, while another says, "This allowed me to get dressed in a warm tent without feeling rushed to beat the cold."
Best-rated (less expensive) propane heater
Texsport Portable Outdoor Propane Heater
"This year as the weather started to change I wanted to get a small propane heater to keep me a little warmer as I work in various locations," one outside technician says, concluding, "Though I wasn't expecting much, this little guy has exceeded my expectations tenfold. Now I will say, it doesn't warm a large area but it you want something to keep you warm in a small place, this little guy will suffice." Reviewers agree that though this portable option from Texsport won't throw heat that far, it's a great choice for smaller spaces. "We used it to get the chill off in our eight-person tent and it worked great," one owner writes. Another says, "Overall, this is a spectacular little heater and will keep you warm in the deer blind with the wind blowing and temp at 35 degrees." Another reviewer also likes that it lasts a long time, saying "On the right one-pound tank of propane using low heat it runs up to 8 hours." Another says, "Run time on low (plenty hot) is 6+ hours." Not only do reviewers like the cheap initial cost, but as one reviewer points out the upkeep is affordable, too. "One tank on low will last about 4 hours," they write, adding, "The best part is I can refill them for cheap."
And now for some micro-picks for every propane heater you might be looking for.
Best patio propane heater
Fire Sense Hammer Tone Bronze Commercial Patio Heater
Reviewers love that this propane patio heater lets them take advantage of their outdoor space year-round. One reviewer who bought this for their father says, "He continues to be amazed at the amount of heat this puts off." They add, "It was unseasonably chilly this weekend and he and his friends were able to sit comfortably on his patio long into the night." Another reviewer writes, "We used it for all outdoor hanging out through the fall and now have them both set up where we enter/exit our hot tub," adding, "Last night we were out there in 20 degree weather (Michigan) and these made it bearable getting in and out." Reviewers are just as impressed by how far the heat reaches, with one reviewer attesting, "you can feel the heat about five feet away." Another says, "Two heaters more than adequately warmed an area of eight 60-inch round tables" for their daughter's backyard rehearsal dinner.
Best propane heater with fan
Mr. Heater Big Buddy Propane Heater
"I feel like I've been cheated," one reviewer professes. "I got this Mr. Heater to try and stay warm while camping during wintertime. What I got was Satan himself in a small box." They add, "You walk into my 8-man stand-up tent in the middle of a blizzard and within minutes you would be begging for cooler weather." One reviewer agrees that this Mr. Heater Big Buddy "Really cranks out the heat." Another even swears, "This will heat up a 1,800-square-foot single-story house in less time than it took to write this review." One feature that gets a lot of praise is the built-in fan, which, one reviewer notes, "makes a bit more noise than I would prefer but it's not objectionable," adding, "The fan helps distribute the heat throughout the room better than without it operating so I keep it ON all the time." Another says, "I love the fan feature, which evenly distributes throughout the room."
Best propane golf-cart heater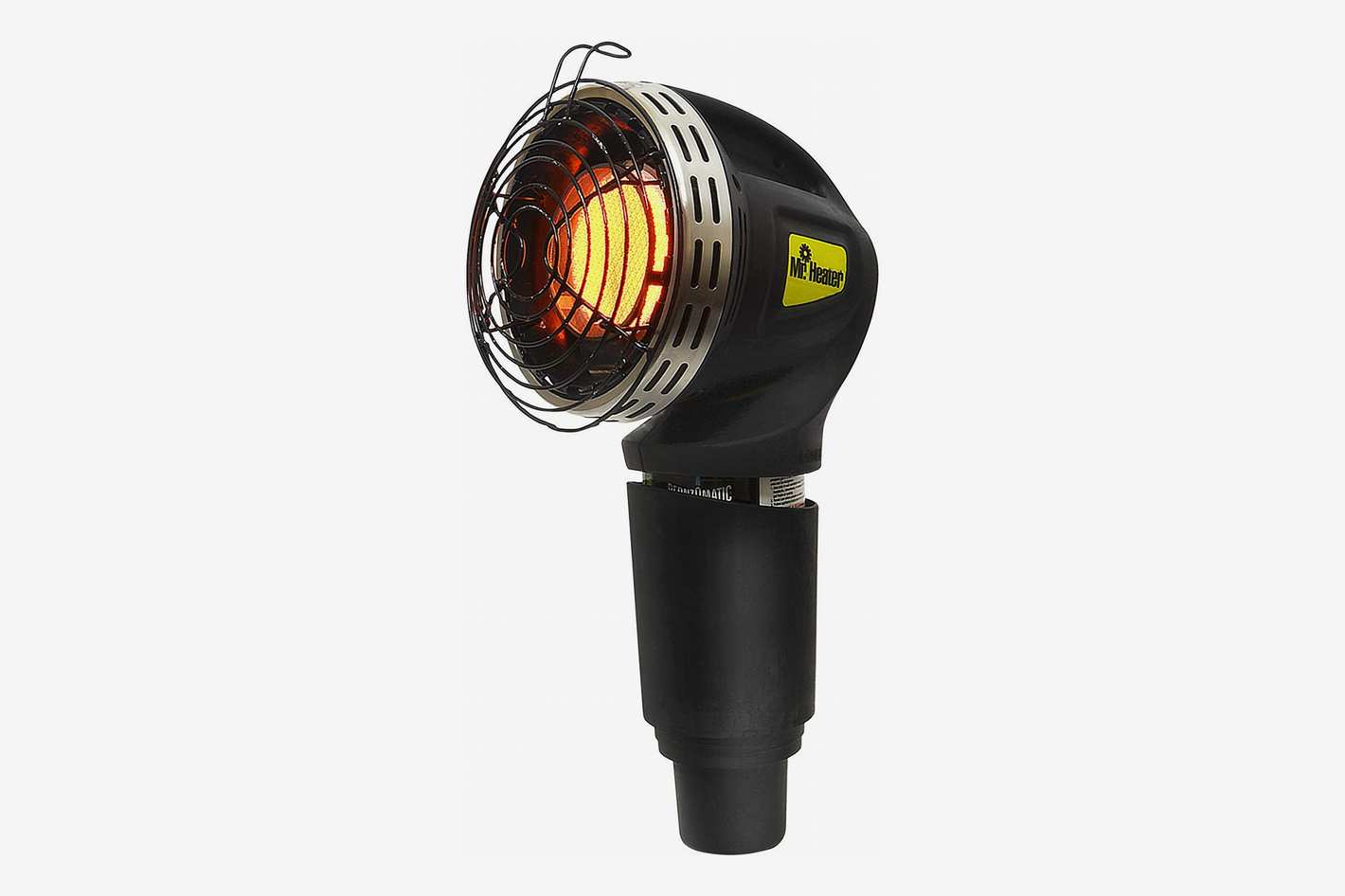 Mr. Heater MH4GC Golf Cart Heater
"This puppy will blow the toupee right off your old bald head as you wheel around your South Florida golf course flinging balls 40 feet in the dead of winter," one reviwer raves. And lots of others agree that they are more than satisfied with the amount of heat this propane heater puts out. One user who lives in a golf-cart community says, "I can tell you that this heater has been a Godsend." They add, "We have a cover on our golf cart, but still needed to have several blankets to cuddle with just to keep somewhat warm in the winter months. Now we are able to ride comfortably with only a jacket and light blanket." Another owner writes, " We ride around the camp ground when the temperature is in the 30s and 40s with no problem." Reviewers also rave about the long-lasting propane tank and safety features, like this reviewer who works in a beverage cart and says, "A tank usually lasts me at least a couple days, and I spend about eight hours a day on the bev cart." They add, "It also cools very quickly so after my shift I don't have to worry about letting it cool down before packing it up."
Best portable propane heater
Texsport Sportsmate Portable Propane Heater
Reviewers refer to the simplicity of this propane heater as a main selling point. "This heater is dependable 100 percent of the time no matter how cold or windy it is," one reviewer writes. "You simply open the valve and hear the gas, put a lighter to it, it almost immediately turns red hot and it keeps you warm." Another who says they "wanted a bare-bones heater with the least to go wrong" admits, "Yes, I have to light it with a BBQ starter, but this I know will work every time." Another reviewer attests that they, "Tried many others and this one can't be beaten for simplicity, ease of use, reliability, and price." Beyond easy, lots of reviewers also note that this propane heater works great in their golf carts. "I purchased this for our golf cart and with the handy cup holder adapter and our cover it kept us nice and toasty on those chilly evening strolls," one writes. They add, "As a matter of fact it will cook you out if you don't turn it down to the lowest possible setting."
Best indoor propane heater
Mr. Heater Radiant Cabinet LP Heater
Reviewers have no problem using this propane heater inside the house. One says it "heats the man-cave space fast from its wintertime lows of about 40F to 70F quickly," while another says "I have bought three of these cause they work so well in heating my living space." One owner even swears, "This heater has truly cut my electric heating in half." And lots of reviewers appreciate that this propane heater is fuel efficient. "Easy to use, puts out good heat and uses little propane," one says. Another notes, "The tanks last a long time," explaining, "I used a 1/4 full tank for 2 weeks on high for about 2 hours a day." As one reviewer concisely puts it, "For indoor supplemental heat it is easy to start, looks real nice and really can sweat you out or just maintain a low heat, whatever you need at the time." They just add one warning: "Be advised that ANY unvented hydrocarbon you burn will produce carbon dioxide so don't be an idiot and use it to heat a small room overnight and sleep next to it unless you want to wake up dead. It is fine to use in 1 room of a house where the carbon dioxide is diluted by the rest of the air in the house."
Best propane heater with thermostat
Mr. Heater Corporation Vent-Free 20,000 BTU Blue Flame Propane Heater
According to reviewers, this propane heater's standout feature is its thermostat. "Do not underestimate the importance of having a thermostat on a heater," one reviewer writes. "I am a Mr. Heater fan and have the Big Buddy and Little Buddy, but you have to be right there to turn it down if it gets too warm. Having the thermostat is great and saves on fuel because it shuts off when it's warm enough." Another says, "I love the thermostat option, it turns off once the sun heats the greenhouse enough," while another notes, "We don't usually have to go above #2 on the dial setting and I love how it shuts off and starts back up with the built-in thermostat." Reviewers also think this heater is powerful. One reviewer even reports that just the first level might be too hot. "After only using it once I can tell you it's gonna work just fine with one catch," they write, adding, "It's way overkill for the size of the camper. I set the thermostat on setting one, and it nearly cooked us out."
Best propane heater for a garage
Mr. Heater 38,000 BTU Forced Air Propane Heater F271350
Almost a third of five-star reviewers bought this propane heater specifically to heat up their garage. "Got this for my fiancé for Christmas so he can work in the garage in the winter," one reviewer writes, adding, "Our garage is roughly 28 by 36 and this heater is perfect. It doesn't get hot in there because our garage isn't insulated or anything but definitely makes it a workable temperature." But users with insulated garages experienced even better results. One writes, "Heats my 20' x 28' insulated attached garage from 0 degrees F to 70 degrees F in about an hour." Another reviewer claims to experience "Tropical temperature in 3 minutes," while another says, "Had me removing layers down to my T-shirt as I worked in my garage!" One says it gets so hot that they only have one complaint: "Just wish it had a way to reduce the heat."
Best forced-air propane heater
Mr. Heater 60,000 BTU Portable Propane Forced Air Heater
Dozens of reviewers give this propane heater top marks for heating their large spaces quickly. "This heater has no problem heating 1,400 square feet on low," one writes, while another says it heats their large garage "within 30 min from 30 degrees up to 55-60 degrees." One reviewer attests, "In 12 degrees freezing temp, this heater will have a person perspirating in an non-insulated oversized two car garage." Many other reviewers also say it's one of the quietest propane heathers they've owned with this much power, like one who writes, "It is so quiet compared to my old torpedo heater, I can talk normally without yelling."
The Strategist is designed to surface the most useful, expert recommendations for things to buy across the vast e-commerce landscape. Some of our latest conquests include the best acne treatments, rolling luggage, pillows for side sleepers, natural anxiety remedies, and bath towels. We update links when possible, but note that deals can expire and all prices are subject to change.
Every editorial product is independently selected. If you buy something through our links, New York may earn an affiliate commission.