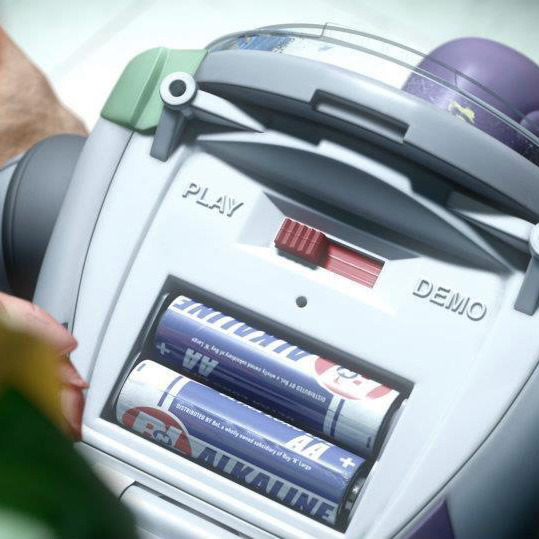 Stay powered up, like Buzz.
Photo: Pixar
Here at the Strategist, we like to think of ourselves as crazy (in the good way) about the stuff we buy (like pillows), but as much as we'd like to, we can't try everything. Which is why we have People's Choice, in which we find the best-reviewed (that's four-to-five-star reviews and lots of 'em) products and single out the most convincing ones. While we've written before about other reusable, eco-friendly goods like metal straws, water bottles, and food-storage containers, here we've rounded up the best rechargeable batteries on Amazon that'll never end up in a landfill. (Note that reviews have been edited for length and clarity.)
Best rechargeable batteries and charger sets
AmazonBasics AAA High-Capacity Rechargeable Batteries and 8-Battery AA/AAA Charger With USB Port Set
"If you have not considered rechargeables since decades back, it is time to reconsider. These newer units last a lot longer. Maybe only half the life of a Duracell, but you can recharge them hundreds of times. Also, we have had these for probably two years and they still charge right up. I use them in everything, and I have not had one die on me yet. We used to go through hundreds of batteries a year. I have probably saved myself hundreds of bucks in that time."
EBL 8 Bay AA + AAA Battery Charger ETL Certified with AA Batteries 2800mAh (4-Pack) and AAA Batteries 1100mAh (4-Pack)
"I researched charging-time reviews before I bought, and found that there are more expensive chargers that do the job faster, but they do it using a higher voltage (a hotter charge), and this can lead to less battery life, which makes sense. It's a trade off. I opted for this slightly lesser voltage charger for longer battery life. Quick charging was not a must have for me because with 8 slots, I'll always have fresh batteries ready to go anyway. The charger and the batteries remained cool to slightly warm during the entire charging cycle. Also, it was completely silent (no hum). The charger has an indicator light for each pair, which is orange when charging, and green when completely charged."
Best rechargeable AAA batteries
AmazonBasics AAA High-Capacity Rechargeable Batteries (8-Pack) Pre-charged
"I can now speak directly to the claim that these cells hold their charge for a LONG time. I bought four in July 2016 for a portable radio scanner. In September 2016, the scanner went missing. Today, when I was using our sheriff's mobile command center, I dropped an item behind the driver's seat. When I reached for the item I also found the missing scanner. I turned the scanner on and the display said the batteries were full! I ran the scanner all day for about eight hours. When I got home I put the cells in my fancy charger which reported they were at 50-percent charge! Amazing!"
Panasonic Eneloop AAA Pre-Charged Rechargeable Batteries (4-Pack)
"Eneloop batteries, regardless of size, as I use several different sizes, are just amazing. While they do cost a little more than other rechargeable batteries, they are worth every penny. They provide solid consistent power through their entire charge and hold their charge in storage amazingly well. I discovered Eneloop Batteries when I was researching batteries for my digital camera several years ago, and found that among people who really understood rechargeable batteries, they all pointed to Eneloop for the ultimate in battery power. I was just amazed at the difference between Eneloop and every other rechargeable battery I had tried previously. They hold more power, which translates to better, longer performance in the device."
Best rechargeable AA batteries
Energizer Rechargeable AA Batteries Pre-Charged (8-Count)
"In my view, you cannot go wrong with rechargeable batteries. I have a garbage can with a battery-powered lid, which is very nice. The problem was, it was going through six AA batteries very quickly. I didn't like throwing them away each time, and even when new they didn't seem powerful or last very long. That all changed with these rechargeable batteries. They are much more powerful and last a lot longer than the store-bought non-rechargeable batteries. I am sold on rechargeables and plan to continue to add more and other sizes as time goes on."
AmazonBasics AA Rechargeable Batteries (8-Pack) Pre-charged
"I was going through 2 AA batteries about twice a week because I like to fall asleep with the TV on, but I don't want the sound to disturb my husband. I love that the newer Roku devices have a headphone jack, but using it drains the batteries very quickly. I bought these, hoping to save some money in the long run and I definitely have. I liked them so much, I bought another pack for my son's battery powered trains that were costing a small fortune to power."
Panasonic Eneloop AA Pre-Charged Rechargeable Batteries (8-Pack)
"Charge them, charge them again, charge them again, and again, and again, and again. I've pretty much replaced every single battery I can with Eneloops because they charge quickly, hold their charge, and don't degrade like many other rechargeable batteries I've used over the years. I know that there's some notable competition in the space, but there's a reason so many professionals that rely on batteries turn to their Eneloops when they need reliability. They're simply great at what they do and they really do pay for themselves quickly."
Survival Frog EasyPower USB AA Rechargeable Batteries (4-Pack)
"These rechargeable USB batteries are so neat! Rechargeable batteries are always handy to have, but being rechargeable via USB makes these so versatile. They take less than an hour to charge fully. The product seems to be of great quality, and the batteries have long lives. Comparable to any good Duracell battery. I would definitely recommend these!"
Best rechargeable D batteries
POWEROWL D Size Rechargeable Batteries (4-Pack)
"I was shocked when I received the package in the mail because of the weight. These batteries weigh almost 1/3 of a pound! They are beefy and have some weight to them. I bought them for use in my stick pump to transfer diesel for my heater. I charged these all the way and have pumped almost 500 gallons and they are still going strong! I can't believe how much power these bad boys hold! They do tend to "dog down" a bit in the cold (-20 degrees), but just a hair. Regular alkaline batteries would get me about 20-30 gallons before the batteries were shot. I am actually going to place another order to get more of these."
Best rechargeable 9-volt batteries
Tenergy 9V High Capacity Rechargeable Batteries (4-Pack)
"If you're toying with the idea of making this kind of investment and have any gadget that's eating your batteries, I'll gladly push you off the battery-buying cliff and tell you that these are absolutely better than I'd ever expected. The charge actually lasts longer than the standard run-of-the-mill Energizers and Duracells, and when you run low, drop 'em back on the charger, and you're ready to go in a few hours."
Best rechargeable battery combo pack sets
Panasonic Eneloop Super Power Pack 12AA, 4AAA, 2 C Adapters, 2 D Adapters, "Advanced" Individual Battery Charger and Plastic Storage Case
"Eneloop are the best rechargeable batteries on the market. My advice is to throw out every non-rechargeable battery you have and buy this power pack. As your battery-powered devices run out of juice you will replace the batteries with these and eventually you will have an entirely rechargeable-battery-filled house. From there on out the process is simple: When a device runs out of batteries, take them out, put them on the charger immediately, and put some already-charged Eneloops from your stockpile in the device. When the old batteries are done charging, store them in your stockpile and you're good to go. These batteries last longer than any other rechargeables I've used. They are like gold in my house."
Tenergy Rechargeable Battery Combo Pack (24-Pack): AA (8-Pack), AAA (8-pack), C (4-Pack), and D (4-Pack)
"I loved this buy! With multiple kids at home, it means I have A LOT of things that need batteries in all sizes. Rechargeable battery's are life. So this deal is great, being that you get so many different sizes in one deal. My husband was thrilled with this find and purchase. From flashlights, Xbox controllers, toys, etc. It's perfect. Batteries have all charged well and work great! Will definitely buy Tenergy batteries again."
The Strategist is designed to surface the most useful, expert recommendations for things to buy across the vast e-commerce landscape. Some of our latest conquests include the best acne treatments, rolling luggage, pillows for side sleepers, natural anxiety remedies, and bath towels. We update links when possible, but note that deals can expire and all prices are subject to change.
Every editorial product is independently selected. If you buy something through our links, New York may earn an affiliate commission.