Here at the Strategist, we like to think of ourselves as crazy (in the good way) about the stuff we buy, but as much as we'd like to, we can't try everything. Which is why we have People's Choice, in which we find the best-reviewed products and single out the most convincing ones. (You can learn more about our rating system and how we pick each item here.)
And while we've written about lots of ergonomic office furniture— including the best laptop stands, office chairs, and standing desks — here, we've rounded up the best standing-desk converters, as praised by the most enthusiastic reviewers on Amazon.
Best-rated standing-desk converter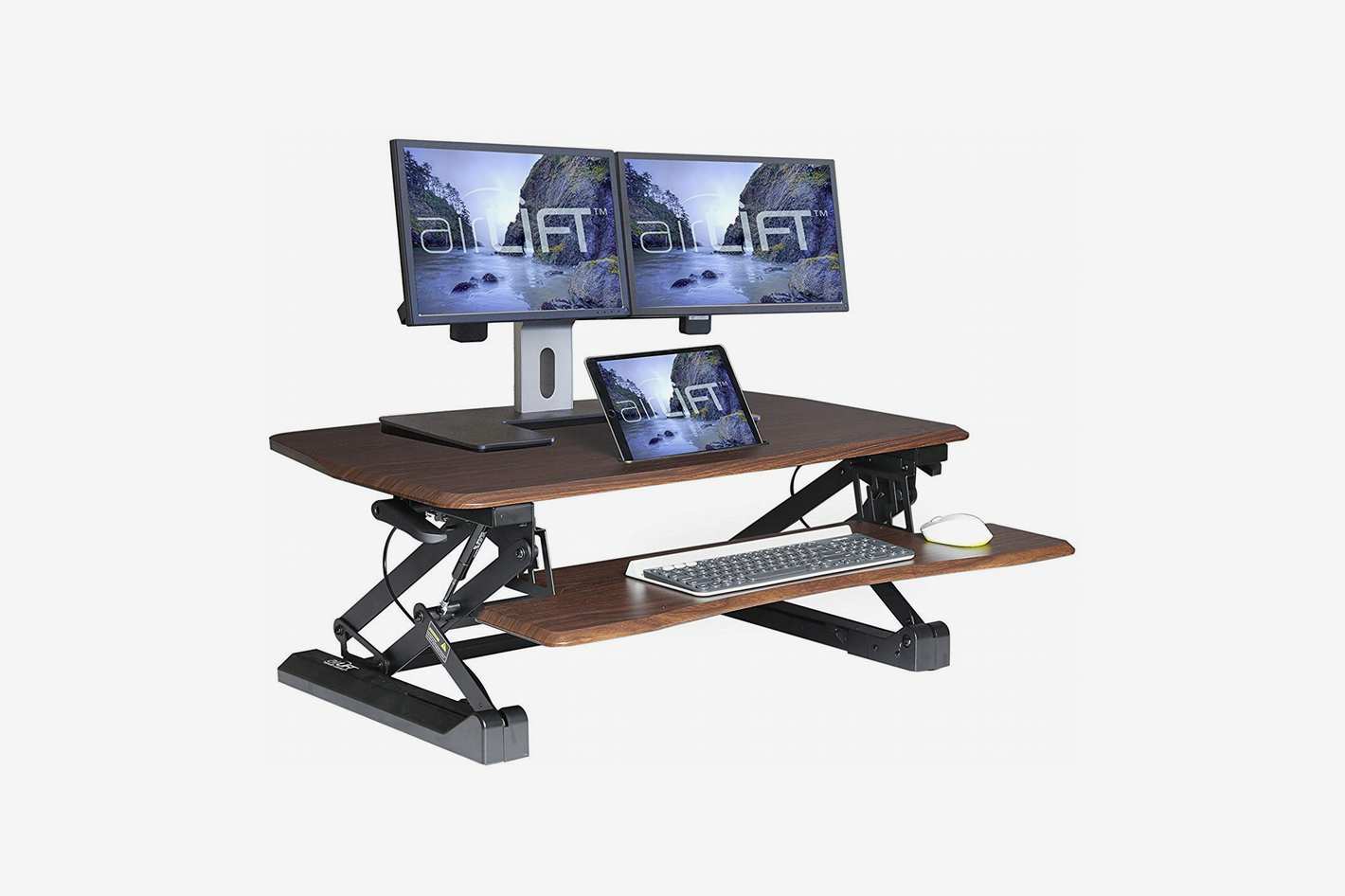 Seville Classics AIRLIFT 36" Gas-Spring Height Adjustable Standing Desk Converter
Hundreds of reviewers describe this standing-desk converter as "easy to assemble" and rave about the adjustable height. "Fits my laptop, laptop stand and monitor with plenty of room left for notebooks, phones, etc.," writes one reviewer, who says they "hate sitting at my desk all day." They add, "With previous standing desks I used, I could only lock it in at their pre-set heights, which wasn't ideal for me. This airlift standing desk lets me adjust it to any height I want, so I can view my computer screens at my exact eye level, which is great for my neck and posture." Another reviewer, who works "at a resort call center and am in close quarters with coworkers all day long," calls this standing-desk converter "a godsend for saving my back as I get aches and pains sitting all day long in the office." One self-described "very active guy that has had back issues flare up because of past basketball issues" calls it "a much-needed addition to my home office, as I can stand up to half the day and the tightness in my back is much less at the end of the day. The unit is (almost) too sturdily built as it weighs a good 45 pounds. … Also, there is no annoying whooshing sound that comes from gas. All in all, I'd do it again."
Best-rated (less expensive) standing-desk converter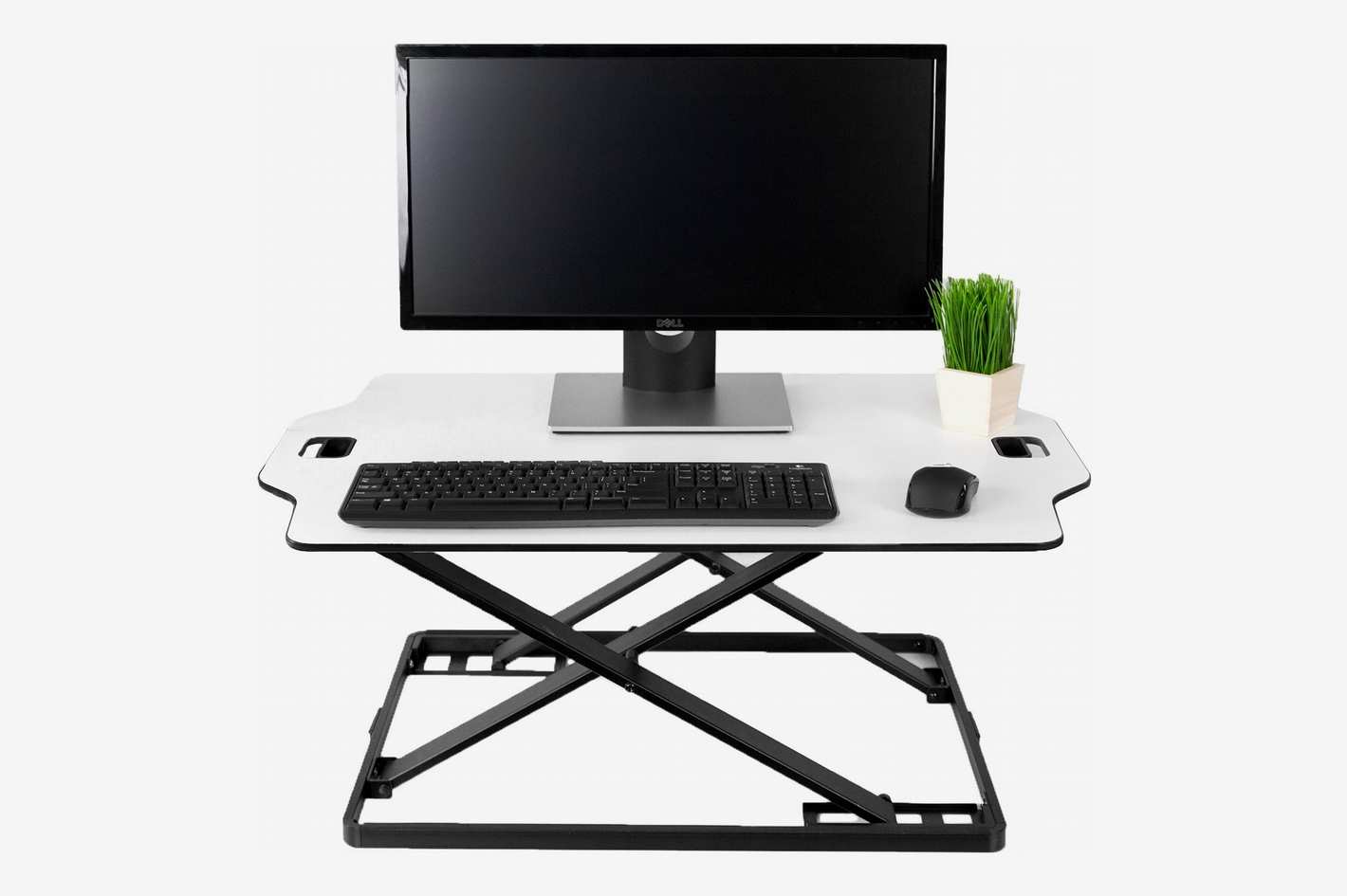 Vivo White Height Adjustable Standing 32" Desk Sit Stand Converter
Reviewers are happy to find a sturdy standing-desk converter that costs significantly less than other brands. "Don't spend hundreds more on other standing desks. This thing is awesome," writes one, adding, "For $99 it's a steal. Plenty of room and easy to adjust." Another shares, "I was a bit cautious because the price was so great — I figured it couldn't be as well-made as the expensive brand. So glad I bought it! It is a solidly built desk with a sturdy platform and base, and perfect for my dual-monitor (it holds up to 22 pounds)." One reviewer was also surprised by its solid construction: "I had an adjustable standing desk at my old job that cost nearly $1,000, but despite this one being only one-tenth of the cost, I actually like this desk a lot better!" They note that "after using it daily for a few months now, it seems to be good quality and sturdy. The surface is stable when raised and does not shake or shift at all. I even lean on it, and it is still very stable."
And now for some micro-picks of every type of standing desk converter you might be looking for.
Best heavy-duty standing-desk converter
Vivo Height Adjustable Standing Desk
Several five-star reviewers note that this standing-desk converter is a little hard to move up and down. As one writes, "It takes a minor bit of strength to actually lift it, but the result is worth it. I am 5'10" and at full standing height this is a perfect fit. I am able to stand and be more productive on a daily basis." And many are willing to make that trade-off because it is so heavy-duty: "Everything feels super-sturdy. It is pretty heavy with it being so sturdy, but obviously you don't want your computer to tip over. My coworkers are jealous and keep saying they are going to get one." Another five-star reviewer bought this for his wife, explaining, "This is a sturdy product that was easy to put together. My wife has no problem moving this riser to the appropriate level several times during her workday even though she has two standing monitors on the top surface. We are very happy with this durable, sturdy and easy to adjust gas spring riser and highly recommend it to others."
Best dual-monitor standing-desk converter with small footprint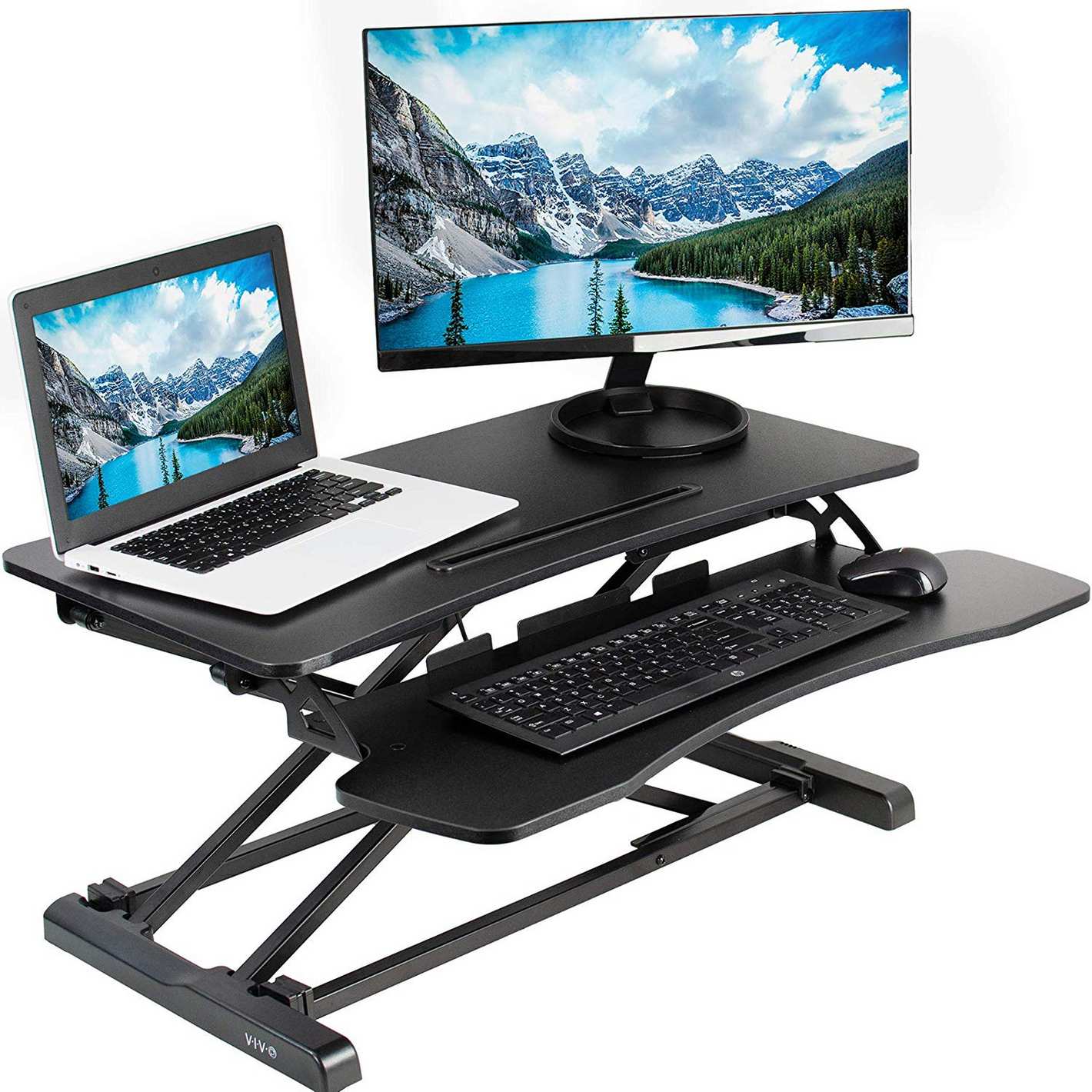 Vivo Height Adjustable Standing Desk Sit to Stand Gas Spring Riser Converter
Many of the reviewers who like this standing-desk converter are in need of something with a small footprint, like one who writes, "My credenza is only 16 inches deep so I needed a standing desk that had a narrower footprint than most on the market." And though they were concerned that it might be a little shaky, "I set it up (which was very easy out of the box) and placed two 22-inch monitors on top along with a wireless keyboard and mouse on the keyboard shelf. I raised it up to accommodate my 6' height standing on a 2-inch Topo floor mat and confirmed right away that this desk is solid as a rock. Highly recommended." Another reviewer notes that the motion of the desk makes it great for small spaces: "In my relatively tight workspace, I like that this unit moves straight up and down instead of swinging forward like some other sit-stand desks do. Having the hole for a grommet-mount monitor stand makes my whole workspace so much more useful!"
Best dual-monitor standing-desk converter with removable keyboard tray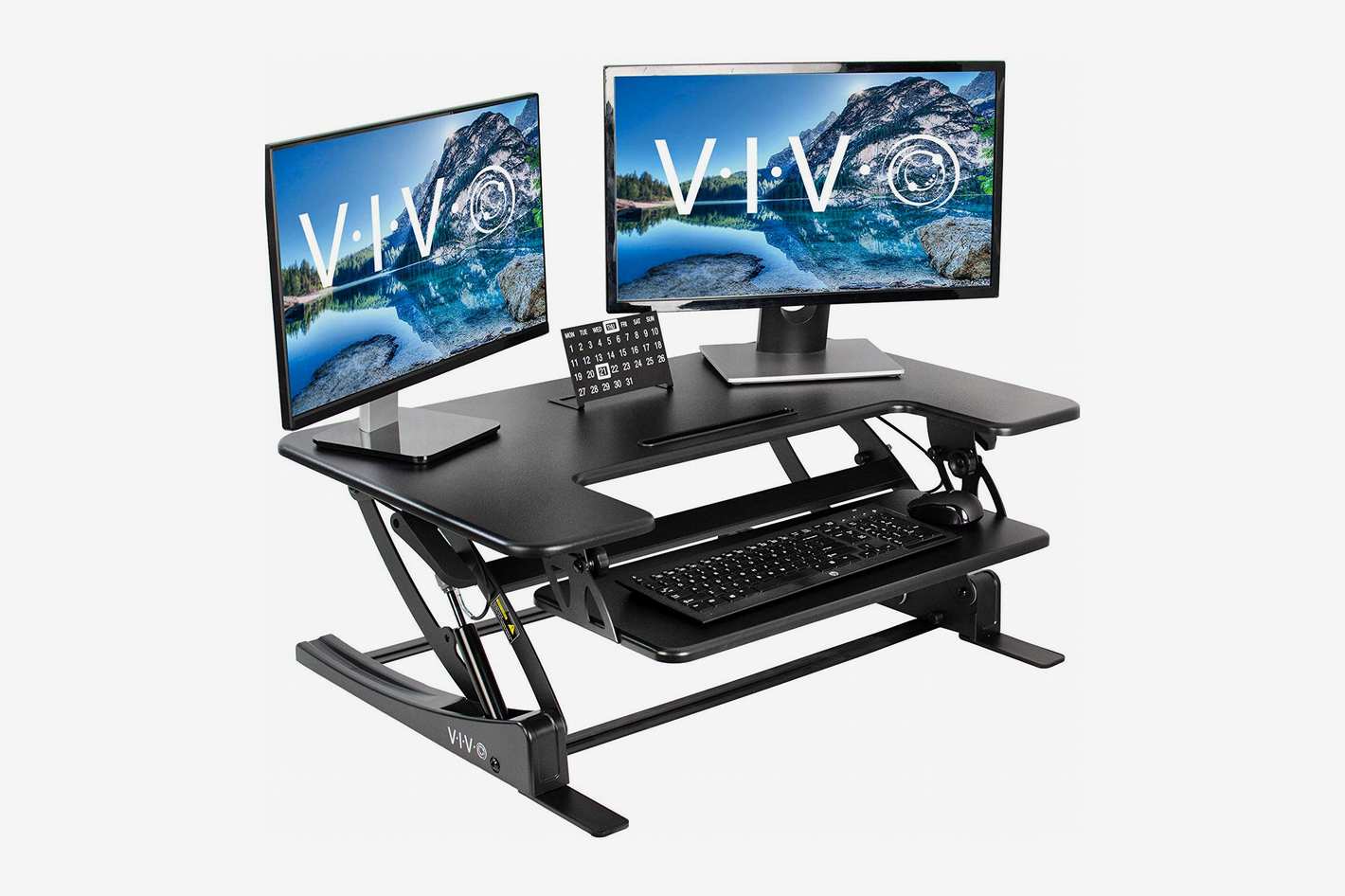 Vivo Black Height Adjustable 36" Stand up Desk Converter
Over 50 five-star reviews agree they had an "easy" time putting together this dual-monitor standing-desk converter. "Total assembly time is just under 5 minutes," one writes. "This time includes distracting conversations the ergonomic beauty of this majestical piece inspires among your workplace peers. I'm a solid 6 feet tall, so I need to have a desk that rose high enough to be comfortable. I can honestly say that I believe this desk would be just as comfortable even if I were to suddenly grow to 6'2"!" Commenters are divided about the removable keyboard tray. Some say the built-in keyboard tray, which is "practically flush with the desk," is a huge plus, while others "wish it had some 'in and out' movement capability." Still, many say it is "well made and very sturdy" and "was a cinch to assemble."
Best extra-wide standing-desk converter
FlexiSpot M3B Standing Desk
"The 47-inch M3B model holds my two Dell Ultrasharp 24-inch monitors just fine and doesn't feel crowded. The keyboard shelf holds two Logitech wireless keyboards side-by-side with ease, although I usually leave one keyboard on the monitor shelf with two mice laying on the keyboard shelf," writes one reviewer of this extra-wide standing desk. They continue, "There is also ample space on the roomy monitor shelf for cell phone, papers and other things you might need to access." And many other reviewers with lots of gadgets in their workspace agree that this standing-desk converter is big and sturdy enough to hold them all. "So far, this thing is awesome. It holds both of my 24-inch monitors, numerous notebooks and papers, and of course the keyboard and my trackball/mouse reside on the lower deck just fine," says one. "It's the largest desk platform I could find. I have two 27-inch monitors on it and still have room on the side of my desk for my iPad," writes another reviewer, who notes, "The base is not as wide as the top so you can save space by setting this against the edge of the desk. Now my husband wants one too!"
Best no-assembly standing-desk converter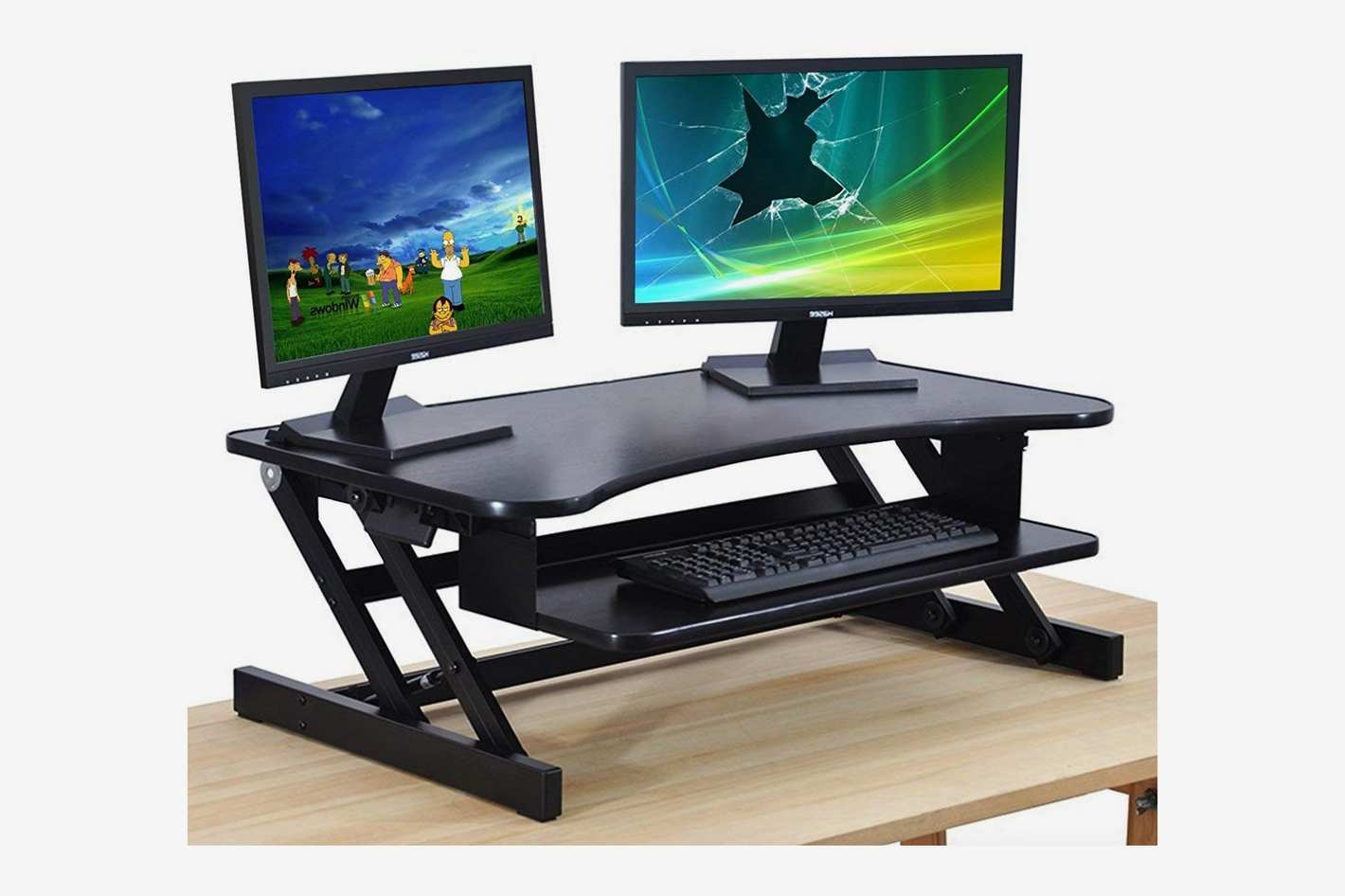 The House of Trade Height Adjustable Sit to Stand Up Desk Riser
This "highly recommended" standing-desk riser comes fully assembled, a fact that impresses lots of reviewers. "It arrived completely assembled so it took me longer to clear my desk than it took me to set it up," writes one. Another enthuses, "It's been ages since I've been this impressed by any company. I mean, these folks mean business, and they show it in the tiniest of details. The packaging was unbelievably well thought-out. It lifts and lowers easily, smoothly — impressively so. Surfaces are spacious, sturdy, and strong. Every part of it was just as described." Others are surprised by this converter's durability. "The desk is strong enough that it supports the weight of my computer tower plus the weight of the two monitors when fully extended," writes a reviewer who owns a "2002 behemoth manufactured by Compaq." "The mechanism which allows you to raise and lower it moves very smoothly, and isn't difficult at all to move even with the extra tower weight," they add.
Best compact standing-desk converter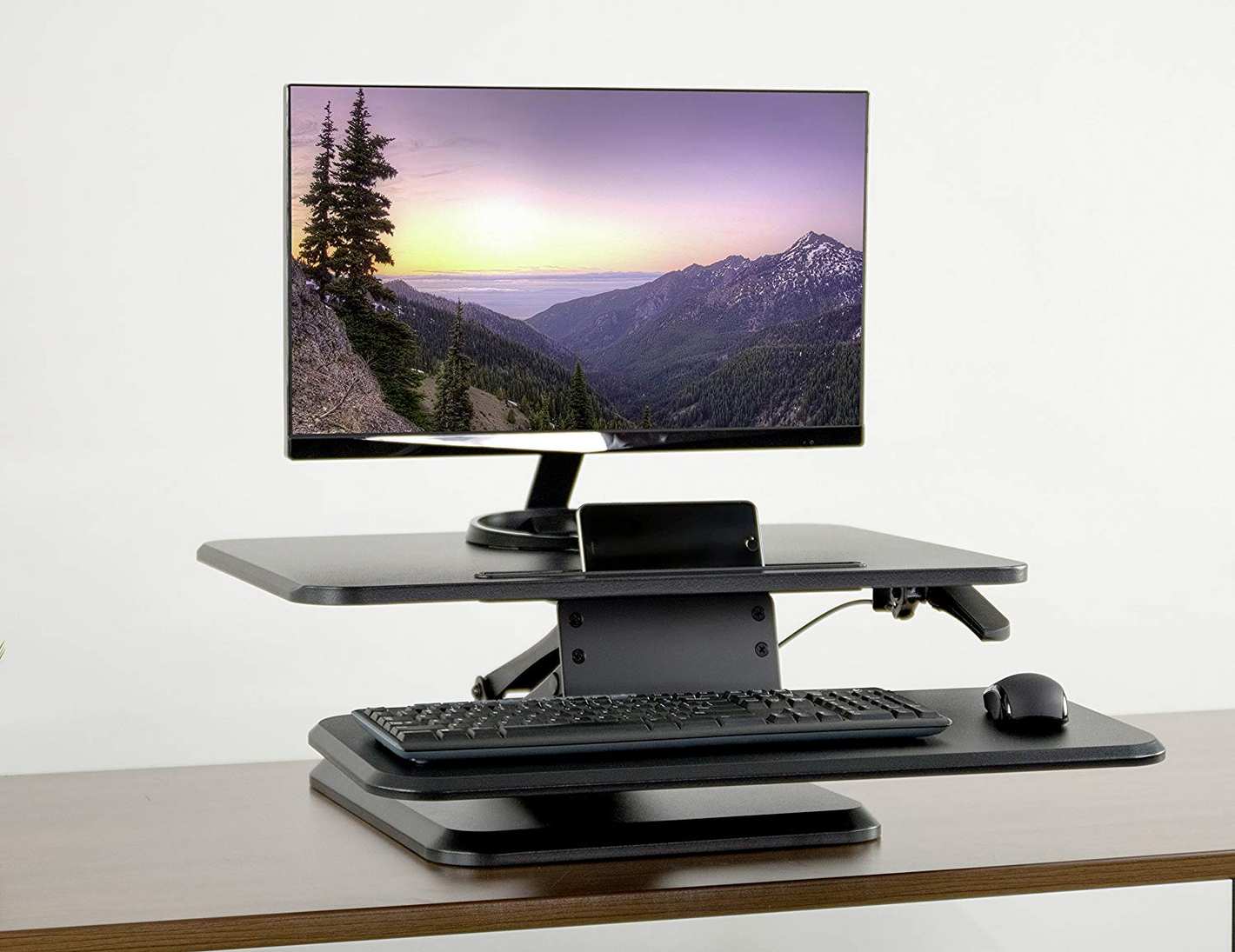 Vivo Black Small Height Adjustable Standing Desk Monitor Riser
Reviewers celebrate the "small footprint" of this 25-inch riser, with one explaining, "It doesn't take up my whole desk space." Many of the commenters on this standing-desk converter complain that other models like the popular Varidesk "were just too dang big," but this one provides the same durability for "half the price of the alternatives." One commenter says, "I will buy it again for all new hires." Its easy-to-lift gas spring is another perk of this pint-sized standing-desk converter. "This adjustable stand lets me move from standing to sitting with a slight press on the gas lever, and allows minute adjustments at many levels," writes an arthritis sufferer. "Paired with a monitor with adjustable height — bliss!"
Best standing-desk converter with full-size keyboard tray
Fancierstudio Riser Desk Standing Desk
Lots of reviewers appreciate that this standing-desk converter has "plenty of room" for all of their desk accessories. "I placed my TWO large computer monitors on the desk along with my desk accessories (calculator, pens, clock, paper, stapler, tape, etc.), and there was PLENTY of room," one raves. "Then I placed my wireless keyboard on the stable keyboard area with my wrist guard and my large mousepad and wireless mouse. Again MORE ROOM THAN needed!" Plus, the FancierStudio sports a full-sized keyboard tray with "little wings on the side just right for a mouse and are approximately the same size as a mouse pad," writes one reviewer. Another raves, "I am soooo happy with this desk riser because I was sooo tired of sitting all day. I would even stand up to work at times before I bought this. It comes already assembled so all you have to do is position it on your desk and make sure your cords for your computer are long enough when the riser is at the highest. I am 5'4", and the height is perfect."
Best standing-desk converter for tall people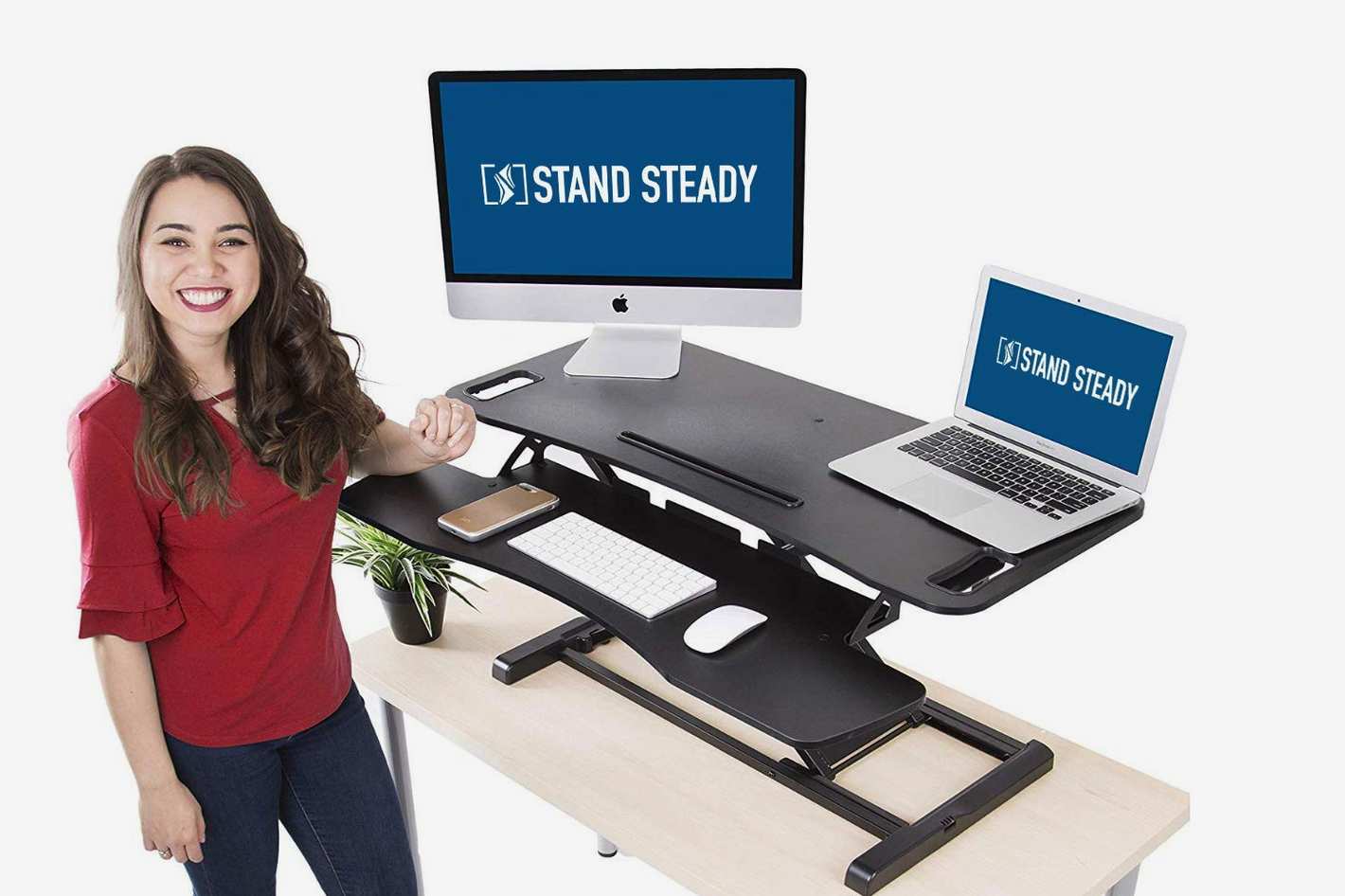 Stand Steady Flexpro Hero Two Level Standing Desk
Customers over six feet tall flock to this incredibly ergonomic standing-desk converter. "My desk is about 28 inches tall and when I set this on top of it and raise it all the way up it feels very nice (I am 6 feet tall). Even at the tallest point, this doesn't even feel like it will tip over," writes one. Another tall reviewer, who was looking for a "better alternative for people over 6 feet tall," calls this standing-desk converter "the best fit. It is sturdy, well weighted and easy to lift and lower. A great option for the price!" The spacious 37-inch two-tier work space is another big advantage. One reviewer raves, "This was more than tall enough for me, and my co-worker got one too and he is 6'4". It's large enough for two keyboards and two monitors. Love this product!"
Best single-tier standing-desk converter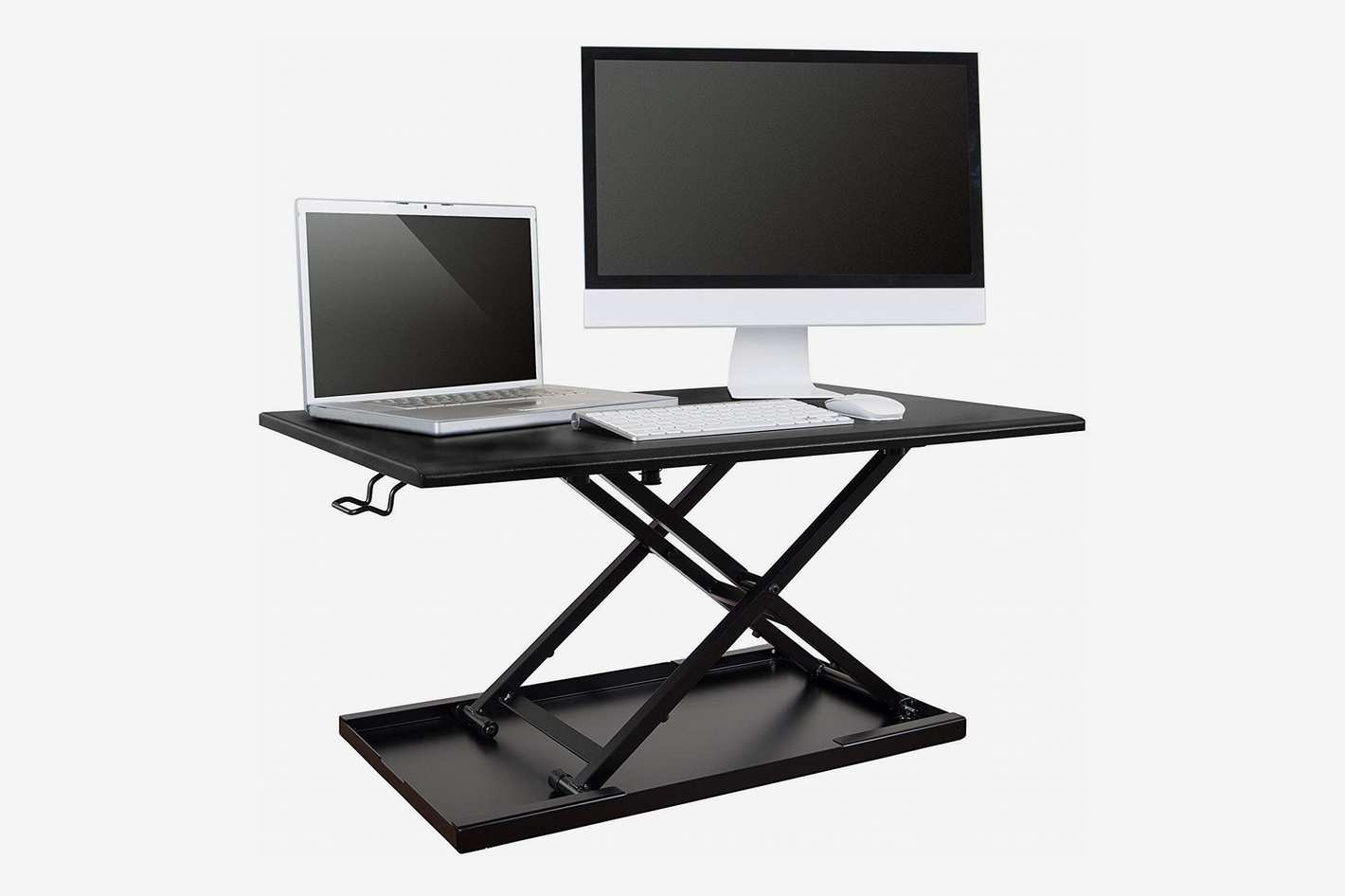 Stand Up Desk Store AirRise Standing Desk Converter
Many reviewers appreciate that setting up their new desk was so easy. "I love love love this desk," writes one, continuing, "It looks great on my desk and best of all my neck and back pains are gone as I get to stand most of the day and work. Everyone in my office and floor is asking for one. It looks very expensive for the price paid. Our company is planning on purchasing some more for the other 'jealous' employees!" Another reviewer who purchased one for the office says, "The size is perfect: deep enough for a 17-inch Dell monitor and 13-inch notebook directly in front of it, sufficient writing space, and a lamp, but not so huge that it cramps the cubicle. It is sturdy enough in the high position and not wobbly at all." Plus, it's still big enough to fit everything reviewers need to get work done, like one who writes, "There is plenty of room for my keyboard and trackpad, a notebook, pencil, and a cup of Bulletproof coffee."
Best standing-desk converter for laptops
Stand Steady X-Elite Pro Standing Desk
Dozens of five-star reviewers talk about raising their laptops on this space-saving standing-desk converter. "I have a large laptop and so no extra keyboard hanging around. So many of the standing desks are built with an extra shelf for a keyboard. This desk, however, is just one 'big' flat shelf, so I have my laptop and some supplies on it. Very good choice!" writes one commenter. Another really likes the ease of the stand's pump-assisted lift. "I'm really glad to have this product at the office. The height is working great for me. I like the extra support bar that easily slides in and out when you lift up the tray, it gives extra support and confidence that it won't slam down on you." Its well-built steel frame is another feature that attracts customers. "It is a solidly built unit that will not slip or slide easily on the desk."
The Strategist is designed to surface the most useful, expert recommendations for things to buy across the vast e-commerce landscape. Some of our latest conquests include the best acne treatments, rolling luggage, pillows for side sleepers, natural anxiety remedies, and bath towels. We update links when possible, but note that deals can expire and all prices are subject to change.