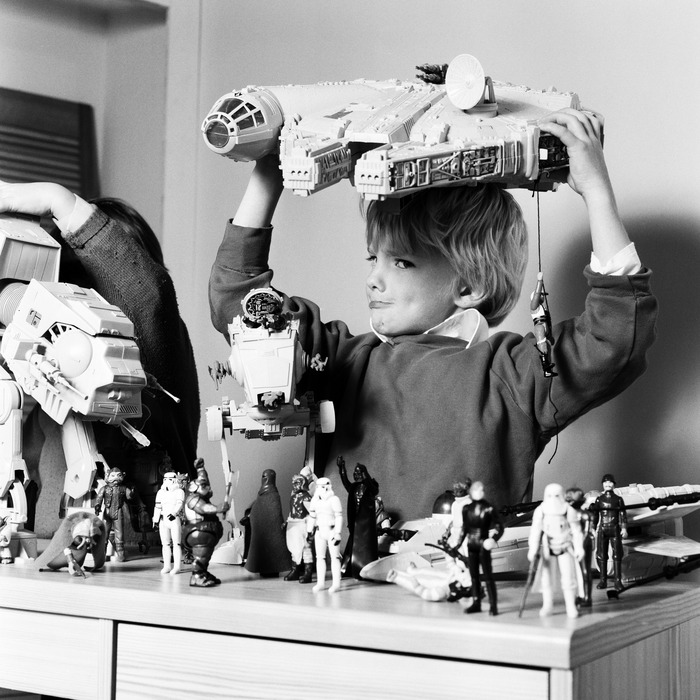 Here at the Strategist, we like to think of ourselves as crazy (in the good way) about the stuff we buy, but as much as we'd like to, we can't try everything. Which is why we have People's Choice, in which we find the best-reviewed products and single out the most convincing ones. (You can learn more about our rating system and how we pick each item here.)
And while we've written about lots of toys before — including the best toys for kids, the best board games, and toys projected to sell out before the holidays — here, we've rounded up the best Star Wars toys, as praised by the most enthusiastic reviewers on Amazon.
Best-rated Star Wars toy
Star Wars Roaring Chewbacca Mask
"I'm sure you've all seen the YouTube video of the woman in this mask, just loving life," one reviewer says, referencing the 2016 viral video of "Chewbacca Mom." "As soon as you put this mask on, it makes SO MUCH SENSE why she was so thrilled. The eye holes match up to my face just right, and the sound effects are amazing." Not only does this mask look like the hairiest Star Wars character, but it sounds like him too. "When you open your mouth, it triggers sounds from the speakers located in the forehead of the mask," one user explains. "What's fantastic is that the sound byte doesn't cut off if your mouth remains open — it continues to emit noise just as long as you have your jaw pressed into the sensor. It's fantastic." And while many note that that this is a kid-sized mask, it's proven to be fun for all ages. "Our 2-year-old loves wearing it while she has tea parties," says one reviewer, while another writes, "My 58-year-old mother wearing it and dancing around as Chewbacca was one of the most hilarious things I have seen in a while."
Best-rated (less expensive) Star Wars toy
Star Wars Bop It Game
One bold reviewer called this R2D2 Bop It, "So much fun, even better than the original Bop It if that is even possible." But gameplay is basically like regular Bop It. "Just like the original, you have to pull and twist and bop," one reviewer explains. "Only it's pulling and twisting and hopping on R2D2." Reviewers with kids four and up mention how much of a hit this is. One parent who says their kid plays for hours loves that "it has 2 volume levels as the lower sound level is what saved me from 'losing' the batteries." But adults love it, too. "I bought it for my 5 year old and the grownups have been playing it every night after the kiddo is in bed." Once your kids grow out of it, one user reports this toy can have a second and third life: "He [can] also use it as an action figure. When he is done, it's a cute little desktop decoration for his room."
And now for some micro-picks for every type of Star Wars toy you might be looking for.
Best lightsaber
Star Wars The Black Series Kylo Ren Force FX Deluxe Lightsaber
"The Black Series Kylo Ren lightsaber is a true-to-the-movie replica," one reviewer writes, and about 15 percent of reviewers are impressed with how detailed it is. "It subtly emulates the instability of Kylo's lightsaber in the movies, and when you 'ignite' it the main blade is first and the crossguard blades on a slight delay," writes one, adding, "It's heavy in a way that makes it feel believable also." Lots of reviewers comment on the sound effects, as well. A few note that it's quieter than other sabers, but one user notes, "Kylo Ren's lightsaber does not make the same sound as the other lightsabers." It's all of these details that lead 15 percent of reviewers to refer to this lightsaber as a collectible. Like this user, many "wish I could duel with it, but I like it too much as a collector's piece to risk damaging the blade!"
Best Star Wars LEGO toys
LEGO Star Wars Y-Wing Starfighter 75172 Star Wars Toy
"The Y-Wing Starfighter has the light gray color scheme that makes Star Wars what it is (was): the gray ships fighting on a background of stars," writes one "'original trilogy' hardliner." But he's just one of many fans who's pleased with how this Y-wing Lego toy came out. "I've had a fondness for the Y-wings ever since they made their inauspicious debut in Star Wars; not as glamorous as the X-wings, they still played their part in the Rebellion's early victories – and this kit captures it in all its stripped-down glory," another reviewer writes. "The kit accurately captures the rough body behind the faired-over forward cockpit, and the engines are a great representation of the screen version. The bomb-dropping feature is amusing and the figures and loading crane are a great plus." And while all these intricate details mean this 700-piece set is a "little more complicated than your average LEGO Star Wars set to assemble," one user, who got this for his son says, "This set was super fun to build, super fun to play with, and the best part of all is that it looks cool on my desk when he's not playing with it."
LEGO Star Wars Episode VIII First Order Heavy Assault Walker 75189 Building Kit
One reviewer warns that you "NEED TO BE A 'LEGO NUT' TO UNDERTAKE THIS ONE … OVER 1,300 PIECES, BUT A JOY TO HAVE COMPLETED." Another says, "this set is large enough to turn the most patient person to the dark side," but really, it's easy-to-build, albeit time-consuming. Some reviewers think the difficulty level is part of the fun. "This is by far one of the coolest designs Lego has created," one reviewer writes. "My son is an AVID Legos fan and usually whips right through a build. This took him 1.5 weeks and he was building most of every day. Lego has really outdone themselves with this model. We couldn't be happier. It was definitely worth the extra money we spent on it." Another parent of a 6-year-old avid Lego builder says, "He put this one together within 3 days and has used it to wage many battles against his other sets."
Best Star Wars action figures
Star Wars Galactic Heroes Galactic Rivals Action Figure
"Have you ever seen a chocolate frosting-coated stormtrooper with only its head sticking out of a child's mouth? I have," writes one of the handful of reviewers who used these action figures as cake toppers. But whether they are withstanding birthday cake or regular play, these toys are described by dozens of reviewer as durable, particularly for toddlers. "Just the right size for little hands, but still great detail on the cartoon-styled characters," one reviewer writes. "These are perfect preschooler /toddler sized. No small parts for choking on. They are colorful and detailed. The characters look more friendly in their expressions than the typical Star Wars figures you see." Another says their six-year-old "really likes that each action figure has its own light saber or gun and that their arms move so they can fight with the other figures."
Best Star Wars smart watch
VTech Star Wars First Order Stormtrooper Smartwatch
The consensus among reviewers is that anyone under the age of 10 will be thrilled to receive this Star Wars smart watch. "From the moment my grandson put this watch on all his other presents were forgotten," one reviewer writes. "He was taking pictures of everyone and having a ball with his new watch … it was a perfect gift for him!" The camera is only one of the many features this watch has. Another reviewer with a five-year-old says, "he really likes the things he HAS figured out, like light saber noises, the three games, and changing the watch face pictures." Others call out the voice-morphing feature, the step counter, and the calculator. And while a few note it's no Apple Watch, one grandparent still says it "seems pretty sturdy for a 6-year-old."
Best Star Wars collectible
Star Wars The Black Series Emperor Palpatine Action Figure with Throne
"The love for this Star Wars black series Amazon exclusive is strong with me," writes one reviewer who like many are impressed with how good Emperor Palpatine looks here – almost too good. "The figure looks fantastic, disgustingly perfect, let's face it it, he's not a pretty looking guy and this figure captures the character perfectly, the lightning hands look a little weird but still fit the bill really well," writes one user. Another is impressed by all the details. "The definitive figure of Sheev 'The Senate' Palpameme, with his throne to sit on, UNLIMITED POWER hands and excellent articulation including double jointed elbows," they say. "Cloth robe is great quality as well. He even comes with the cane he used to walk with in Episode VI as an added bonus." One also appreciates that he "can be put in the 'fire at will, commander' pose!"
Best stormtrooper toys
Bandai Hobby Star Wars 1/12 Plastic Model Stormtrooper "Star Wars"
Unfortunately for this user, they "didn't read the fine print so I was surprised that when it came, I had to build it myself." Lucky for them, more than 25 percent of reviewers describe the set-up of this model as easy. Users do recommend keeping an X-acto knife on hand which one user says "was perfect for trimming the edges where the pieces connected to the part sheet." Once it's assembled though, nearly one-fifth of reviewers comment on the articulation of these models. "The plastic is glossy, the sculpt is perfect and the articulation is more than adequate," one reviewer writes. And while they aren't toys, one user who thinks they are pretty durable says when they dropped theirs on hardwood, "Nothing broke, the head popped off, but that went right back on."
The Black Series Rogue One: A Star Wars Story Imperial Stormtrooper Electronic Voice Changer Helmet
This stormtrooper helmet does come with a voice changer, but, simply put by one user, "It's trash." Another says, "I just kind of sounds like a bro with a cold." So that is why one reviewer writes, "Most of us use it as a display piece and it's wonderful for that." In fact, more than 15 percent of reviewers intended to display it, and for that, many think this is a great value. "Simply put, this helmet gives those big $$$ boys a kick where it hurts the most," says one reviewer. "SAVINGS without sacrificing quality and nearly 95 percent absolute perfection in design." Another comments on how "realistic looking" it is and even though it comes in three pieces one says that it's "Easy to put together, fits my giant head, and breathable."
Best Baby Yoda toy
Star Wars The Child Plush Toy
The Strategist is designed to surface the most useful, expert recommendations for things to buy across the vast e-commerce landscape. Some of our latest conquests include the best acne treatments, rolling luggage, pillows for side sleepers, natural anxiety remedies, and bath towels. We update links when possible, but note that deals can expire and all prices are subject to change.