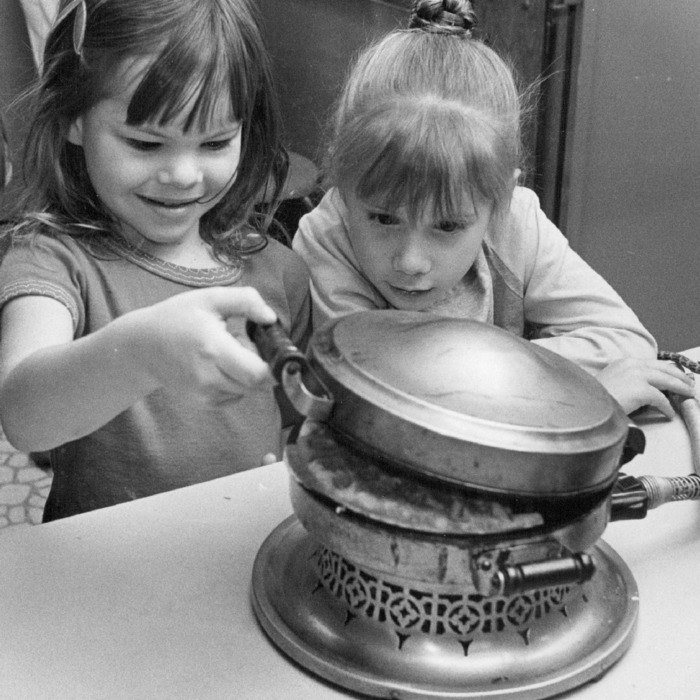 Photo: George Crouter/Denver Post via Getty Images
Here at the Strategist, we like to think of ourselves as crazy (in a good way) about the stuff we buy, but as much as we'd like to, we can't try everything. Which is why we have People's Choice, in which we find the best-reviewed products and single out the most convincing ones. (You can learn more about our rating system and how we pick each item here.)
While we've written about plenty of kitchen countertop appliances, including the best coffee makers, electric griddles, and panini presses, here, we're going deep on the best waffle makers on Amazon, according to hyperenthusiastic reviewers.
Best-rated waffle maker
Presto 03510 Ceramic FlipSide Belgian Waffle Maker
Earning more than 4,300 five-star reviews, this Presto waffle maker gets top marks for being easy-to-use, easy-to-clean, and hundreds agree that it makes great waffles "every time." This machine makes waffles that are "thick, fluffy, and so easy to make," with "deep pockets for butter and syrup," notes one reviewer. "After four minutes my waffles come out easily and are a crispy brown golden piece of deliciousness on the outside with a soft cozy inside," echoes another. "I love that I can prepare other breakfast items while the waffle cooks because I know that this waffle maker is going to make an almost perfect waffle every time," attests another happy owner, speaking to its near-foolproof usage. Even veteran wafflers love it: "I have been making waffles since I was a young boy more than 60 years ago," notes one reviewer. "Although I purchased my Presto just a few months ago, its reliable performance has already given me tremendous pleasure and promises to continue to deliver quality for many more years."
Best-rated (less expensive) waffle maker
DASH Mini Maker
"I had no idea what a small waffle maker could do for my life," says one reviwer, who goes on to say, "This silly little thing is perfect … I set it up and within one day I had more waffles than I've had in a year." Reviewers say this surprisingly compact model "is small enough to fit in one hand," with one admitting that "at first, I laughed [and] thought it was too small to really do anything," before going on to describe it as "an amazing little waffle maker." Another calls it "especially nice because it doesn't take up a lot of room to store." That's also what drew Grub Street writer Nikita Richardson to this little waffle maker. As she wrote for the Strategist, "The ad copy calls this thing mini, and it really is — the palm-size waffle-maker is so small, it can easily fit into a purse — but no matter how much I worried that I would overfill the iron, the Dash just kept spitting out tea-plate-size waffles that were perfectly browned and fluffy."
And now for some micro-picks of every type of waffle maker you might be looking for.
Best round classic waffle maker
Cuisinart Round Classic Waffle Maker
"That sound you hear is the angel choir when I finally sat down to golden crisp waffles," says one reviewer of this Cuisinart's output. " I am so looking forward to many more waffle-shaped goodies." Its output is "perfect, from the very first waffle that comes out," as another reviewer notes. "We use it 1-2 times per week. It has never burned a waffle," asserts another owner. "They come out crispy on the outside and soft on the inside" Reviewers also say that this "heats up quickly in a minute," and "cleans easily with just a wipe." Or as another puts it, "I made quite an overflow mess and even with that, clean up was a snap." However, if you're looking for something to make thick, Belgian-style waffles, this probably isn't the right machine. As one 60-year-old reviewer explains, "This Cuisinart round classic waffle maker makes the 'classic' thinner regular size waffle. Other waffle makers make the 'Belgian' waffles which are big, thick, cake like waffles. We prefer the classic old school waffles and this Cuisinart classic waffle maker fits the bill for us."
Best non-stick Belgian waffle maker
Oster Belgian Waffle Maker, Stainless Steel
"Man when they say non-stick, they are NOT KIDDING," notes one reviewer, while another notes that they "have never had an issue with anything sticking." Its "Teflon-coated surface performs as it should," says one reviwer, adding that this makes for "the first nonstick waffle maker I've owned that really does NOT stick." Another reviewer observes, "Even if you don't use pam or non-stick spray to grease it, the waffles slide right off."
Reviewers say it performs consistently, too. "I used this waffle iron to write a keto-friendly waffle cookbook. For months on end I made waffles every day and for every meal with this mighty little beast," attests a happy owner of this Oster model. "It cooked consistently through all the greats and even the, 'Good golly that's awful' waffles." Another frequent user notes "It has made such an improvement in the convenience of preparing breakfast before work." But even casual reviewers are unanimously "amazed at how easy, quick and delicious the waffles were."
Best flippable Belgian waffle maker
Hamilton Beach Flip Belgian Waffle Maker with Removable Plates
"I have never previously used the word 'fabulous' to describe another product, but there it is," says a satisfied reviewer. "This is my fourth maker as all the other ones before it were effectively jokes." Another reviewer, who works "at a large hotel and serve breakfast every morning," says they bought this waffle maker "shortly after starting work because I kept thinking about waffles. Honestly? I like this one even better than the ones at work… The waffles don't burn or get over crispy, and I have never had one underdone either." Ease-of-use another common reason why reviewers pick this waffle iron: "I never really liked making waffles because it was so messy and hard to use but this waffle maker has made it unbelievably easy." Another reviewer adds, "The drip pan is what sold me."
Best double Belgian waffle maker
Cuisinart WAF-F20 Double Belgian Waffle Maker
"This is a legit machine that can make crisp exteriors with fluffy soft insides," says an "extremely pleased" owner of the Cuisinart double Belgian waffle maker. Reviewers also "love the two sides" which let you "cook two big waffles" in "about five minutes." When it comes to the waffles, "the consistency is very reliable for both sides of the maker, regardless of whether it's the first or the fourth of the morning," notes another reviewer. Another bonus is that the iron "beeps to tell you when to take out your perfect waffles," as one reviwer explains, creating an "audible alert that's perfectly timed and hasn't missed yet." That's why one owner describes it as "priceless if you want to do things in the kitchen other than staring at the light so you don't burn the waffle."
Best Belgian waffle maker with removable plates
KRUPS Belgian Waffle Maker with Removable Plates
"If you want a waffle maker that you can keep perfectly clean and that makes awesome waffles this machine is for you," says one reviwer. That's due to the removable plates, which "come off easily with the push of a button" yet "still feel secure when in use," as one reviwer explains. They're "easily cleaned in the dishwasher" or, according to another reviewer, "washed with a soft brush and soap" in the sink. Plus, another reviewer notes, "If you over-pour, the plastic sides are easier to clean up than an all stainless unit would be." It all adds up to what one reviewer describes as "cleanup that is just plain cheatcode easy."
Best ceramic waffle maker
Oster Titanium Infused DuraCeramic Belgian Waffle Maker
"NOTHING sticks to the ceramic surface" of this Oster model, raves one reviwer. Another writes, "The ceramic coating works so much better than traditional non-stick coatings," in part because it "releases waffles with ease" and "cooks waffles quickly" and is "easier to clean than stainless steel." For what it's worth, reviewers also mention their preference for this "non-toxic coating" over Teflon. This super non-stick maker is also "super simple to use," so much so that one reviewer insists that "if you can't make perfect waffles with this simple appliance, please just give up and move on to pancakes." Even another "pretty hopeless cook" found that "much to my amazement, every batch I've made so far has been perfect and yummy."
Best square waffle maker
Proctor Silex 26051 Belgian Waffle Maker
"I've bought three of these over the last five years. One for my mom, one for my cousin, the one for me," says a frequent purchaser of this "easy to use and reliable" Proctor Silex model. And that ease-of-use is reported by many reviewers, including one who says, "from the first waffle, it performs like a champ." Another reviewer says, "I wanted something compact, not a countertop show off item - just a plain ole' waffle iron to make an occasional once-in-a-blue-moon waffle or brownie or corn muffin base thing — This does it all." One reviewer accidentally purchased this waffle iron, but notes, that it works better than their more-expensive rotating Belgian waffle iron: "This model, for a third of the price, works just as well. Really like it and it is much smaller. We like that it makes square waffles. Nonstick, warms quickly, very easy to use."
Best no-drip waffle maker
Chefman Anti-Overflow Belgian Waffle Maker
Reviewers of this "idiot-proof" model are near-unanimous in their praise of what one reviwer described as "the deep well to catch overflow," which means there's "no dripping down the sides… no fuss, no mess." Another reviewer likens this signature feature to "a moat that literally keeps the batter from overflowing on the counter." And at least one reviewer says this waffle maker grants peace of mind: "it's so nice not having to worry about overflowing batter." "It is not always that a product fulfills the billing that the manufacturer puts forth," concludes a reviewer of Chefman's Anti-Overflow model. "This waffle maker does."
Best square no-drip waffle maker
DASH No-Drip Belgian Waffle Maker
Featuring "channels on the edges of the waffle iron that catch any excess batter," as one reviwer describes it, this DASH no-drip waffle maker is, "No mess, no fuss, super easy clean up no excess gooey mix leaking out," another reviewer says. "THE OVERFLOW WELLS WORKED PERFECTLY," raves another reviewer, adding that no batter is wasted: "No overflow on to our countertops, and the wells will cook the overflow for what we called 'waffle nuggets,' or in one case, 'waffle breadsticks.' Dip them in maple syrup. Yum." Adds another: "I'm a fan of the overflow trays. So is my dog. She gets all the little goobers that get left off the waffles." In short, this "easy to use," "no mess, no fuss" waffle maker "has helped me to enjoy making waffles now," as one satisfied reviewer puts it.
Best waffle stick maker
Hamilton Beach Belgian Waffle Maker, Mess Free
Owners of this Hamilton Beach waffle maker describe the waffles it cooks as "cool-looking" and "nice and cute." As one reviewer notes, "for the little ones, it makes great, yummy, fun finger food with the option to break the waffle into finger sized pieces." Another parent explains that this machine is, "great for my kids who may not finish a whole waffle (you can break into small dippers)." And others note that the mess-free design means there's very little cleanup. As one reviewer explains, "There is simply no way to have a spill over mess with this waffle maker, and for a slob like me, that is great news." Another reviewer with a "husband notorious for overflowing waffle makers… has yet to flood it," and it's also "durable enough for a klutzy family."
Best waffle stick maker for kids
Babycakes Waffle Stick Maker
Reviewers frequently mention that waffle maker is "easy to use," with one reviwer explaining that it's "a lot of fun, works pretty well, and kids love it," maybe because, as another notes, "Kids had fun eating sticks instead of a cut up waffle." "This has saved my life as a single mother of three picky kids," says one thankful owner. "It makes a fast and easy breakfast for weekends and busy mornings." According to reviewers, the unique shape is part of the appeal: "I love that the waffle it makes is actually four sticks so I don't have to cut anything up for my son," one reviewer says. "He can just dip them and no mess after." Another happy reviewer says this waffle maker has become part of their morning routine: "I use it almost exclusively when making breakfast for my daughter … I haven't used my regular waffle iron in months because this one is so much faster."
Best Scandinavian-style waffle maker
Chef'sChoice 840 WafflePro
This Chef'sChoice model is a "modern, fast machine that works great" that one reviwer says "really does make waffles faster than you can eat them." Many people buy this machine because of the delicate heart-shaped pattern, but many reviewers warn that this waffle iron doesn't make American-style, thick and fluffy waffles. "The truth is that it makes Scandinavian-style waffles that are common in Nordic countries and usually feature (you guessed it) a heart-shape pattern," explains a reviewer, noting, "Best served with sugar, jams, honey, berries, whipped cream, etc." As a result, reviewers say there's more to it than just a fun shape: "In terms of performance and results, this waffle iron beats anything I've owned," says one owner who attests that "this product turns out one perfect waffle after another."
Best stovetop waffle iron
NordicWare 15040 Cast Aluminum Stovetop Belgium Waffle Iron
"I didn't even know there was a stovetop option for waffle makers until I stumbled onto this," recalls one reviewer of this Nordic Ware item that another owner describes as "way better than the crappy old electric waffle maker I used to have." While not a conventional waffle iron, this stovetop model gets high marks for being easy to story, due to its slim profile. As one reviewer explains, "It is great that there are no cords to deal with and the compact design means I can stick it in my cabinet without any problem at all. Actually, it fits nicely right in my cutting board section of the cabinet." And, as another reviewer says, "not only is it thinner and more compact than those hefty plug-in models, it's also much easier to clean and put away."
Reviewers like how it performs, too. It makes waffles with "nice deep squares," remarks one who adds that "you get more of a crisp exterior and soft interior with this flip iron." "I am so relieved to have this waffle iron," says a reviewer who describes it as "so far superior to electric ones that there's no comparison."
Best Mickey Mouse waffle iron
Disney DCM-12 Mickey Mouse Waffle Iron
"I love this, and my 2 year old grandson loves it too. He had a big smile on his face when he saw it on his breakfast plate," says a reviewer. "I bought it to make Mickey waffles for the grandkids before a big trip to Walt Disney World, and they were thrilled," adds another grandparent. This waffle maker is "so much easier than trying to make Mickey Mouse pancakes," another parent notes — and fast, according to one reviwer who says, "I made three perfect, adorable Mickey faces in about 7 minutes … They tasted awesome, like really great." If you happen to have a kid who "loves helping in the kitchen, this is something they can easily operate," says another reviewer, while another attests, "This is now a tradition at our house whenever our grandkids have breakfast with us. The detail of Mickey's face makes the kids smile."
Best vertical waffle-maker
Cuisinart WAF-V100 Wafflemaker
"Who would've thought you could make waffles vertically?" muses one owner of this unique Cuisinart model. "Surprisingly, it works great." As one reviewer explains, "Vertical design lets gravity fill the plates evenly and the filling cup takes the guesswork out of making a perfect waffle." One owner of this "great buy" postulates that "it's way better than flat waffle makers because this one doesn't leak at all," which means you "just brush off the leftover waffle bits" to clean up. In addition to "consistent and tasty" waffles, reviewers like that it "has a smaller profile and is easy to move to the counter," which is helpful in smaller kitchens. Simply put, according to one reviwer, "If you are thinking about purchasing this waffle maker, you should do it."
Best waffle bowl maker
Presto 03500 Belgian Waffle Bowl Maker
"Seriously, this thing is AWESOME," raves just one of many ecstatic Presto reviewers. "I got it in the afternoon and immediately used it to make waffle bowls that night for dinner. And the next morning for breakfast. And then for lunch. And then for dinner." "Fun" is a word repeated in dozens of reviews, and at least one reviwer notes that the waffle bowls "come out consistently cooked, release decently, and look great." Reviewers have also used this waffle bowl maker to cook flour and corn tortilla bowls," "divine" brownie bowls, even waffles that serve as a vessel for everything from "scrambled eggs to chicken and gravy to ice cream." Essentially, "everything that comes out of this thing tastes delicious," as one reviewer puts it. "Buy this and never look back," implores another thrilled owner. "Shoot, buy four and feed the neighborhood every morning. Your neighbors will start washing your cars and doing your lawn maintenance."
Best waffle maker with interchangeable plates
Cuisinart WAF-300 Belgian Waffle Maker with Pancake Plates
"Words can't say how much I love this waffle maker. Why on earth aren't they all made with removable plates?" muses one reviewer, who has used the flat, pancakes on this waffle iron to make "from start to finish, 12 breakfast sandwiches in 11 minutes." Versatile is a word that comes up a few times in reviews, because of the interchangeable plates, and many reviewers use the griddle function for pancakes, breakfast sandwiches, and eggs. But, as one reviewer notes, "The Belgian waffles are OUTSTANDING. They are thick and fluffy and quite delicious. We used the waffle recipe on the Bisquick box and they turned out just like a 5 star restaurant's breakfast waffle — I kid you not."
Best combination waffle maker and sandwich press
T-fal EZ Clean Sandwich and Waffle Maker
Featuring "wonderful" removable plates that are dishwasher safe and "super easy to clean" one "this machine does a great job of evenly cooking everything you throw into it." Another reviewer, a mother of five kids, uses this thing to make quick and delicious lunches for her family: "This thing toasts so fast, it's easy to find the time! Makes perfect grilled cheese sandwiches too, edible even to my picky eater." Another reviewer admits, "So far I've made everything but waffles." But others attest it "makes waffles that are crisp as you bite in but soft in the middle, with squares big enough for butter and syrup." Or as another reviewer simply states, "it makes a darn tasty waffle."
The Strategist is designed to surface the most useful, expert recommendations for things to buy across the vast e-commerce landscape. Some of our latest conquests include the best acne treatments, rolling luggage, pillows for side sleepers, natural anxiety remedies, and bath towels. We update links when possible, but note that deals can expire and all prices are subject to change.
Every editorial product is independently selected. If you buy something through our links, New York may earn an affiliate commission.