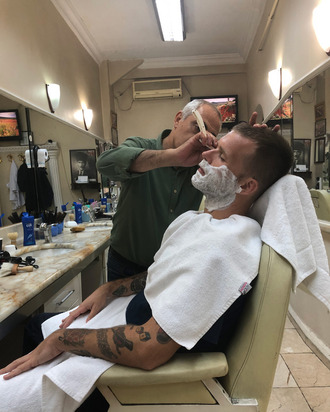 The author, who is currently in Istanbul, keeps it fresh with a "traditional Turkish shave."
Photo: Alix Rutsey
If you're looking for the most powerful hair dryer or the handiest chef's knife, those things can be easy enough to find. Other objects of desire are a little more taste-based. What's the next status water bottle or hand wash, for instance? Chris Black (he's a partner at brand consultancy Public Announcement) is here to help, in the form of a regular column. If you have a burning question about the next fanny pack or Noah rugby shirt, drop us an email with the subject line "Ask Chris" at strategist@nymag.com.
If you were forced to wear business-casual attire to the office, what would your work wardrobe look like? 
Absolutely, positively, could not be me, TBH. But for the sake of this column, we can pretend. This is an excellent opportunity to flirt with uniform dressing. Keep the palette simple and the cuts flattering, baby!
What are your thoughts on leather jackets?
They seem to work well for basic girls that work in "marketing" and have unlocked black status on the Sweetgreen app. They also work for anyone who rides a motorcycle or has a personal shopper at John Varvatos. For me, I can't. I don't own a Harley or a Telecaster.
I realized I have no beanies for the coming season. What are some good options outside of the par-for-the-course Noah logo beanie?
Ah, yes, the beanie — or as our friends from Canada call it, the toque. An essential part of anyone's winter wardrobe. The fit is crucial as we all must avoid the dreaded Saggy Beanie™, popularized by Los Angeles–based club promoters and out of work actors. Allow me to assist.