Velvet Dandies Take Over Milan's Runways
Velvet, and its softer cousin velour, graced the runways of Armani, Burberry, Ferragamo, and more.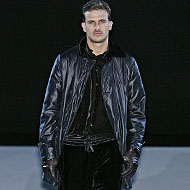 Did you get lost in all that black at Milan? Then perhaps you missed the comeback of a material best suited for the Chuck Basses of our lives: velvet, and its even softer cousin, velour. Salvatore Ferragamo and Dolce & Gabbana showed fuzzy jackets and blazers in brighter-than-bright colors. Burberry and Gucci did just the opposite, showcasing head-to-toe velvet in natural hues. And Giorgio Armani went for a velvet revolution: Both his collections had velour on just about everything, from green pants to gray vests to tracksuits. For more velvet and velour looks, click ahead for the slideshow.