The Opening Night of Stephen Jones's Exhibit Was Like the Met Ball for Hats
See a slideshow of the fancy British people who showed up in even fancier hats.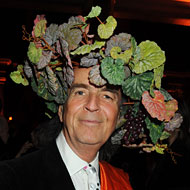 Last night, the Victoria and Albert Museum in London fêted the opening of the exhibition curated by famous milliner Stephen Jones. Jones has created all kinds of hats for designers like John Galliano, Marc Jacobs, Vivienne Westwood, and Giles Deacon. A third of the hats in the exhibition are his, a third are from the V&A collection and a third are from private collections; they include everything from a sixteenth-century jester hat to Darth Vader's helmet to My Fair Lady bonnets. The opening party was like the Costume Institute Gala for hats, and those foolish enough not to wear hats deeply regretted it, according to British Vogue; and attendees kept saying we should wear hats more often. After looking at our slideshow of the hats that turned up last night, we think you'll agree.

Milliner Stephen Jones' explains his forthcoming exhibition at the V&A [Telegraph UK]
Hats Off To Mr Jones [British Vogue]