What Will Michelle Buy From the Collections?
Ikram, we don't mean to step on your toes here.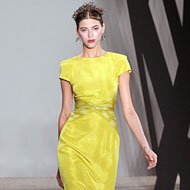 The No. 1 surprise guest of Fashion Week, Michelle Obama, has been a no-show. Sure, we're disappointed, but we suppose she has better things to do right now. And just because she didn't grace us with her presence (and we'd probably break our fashion-cool persona and get an autograph if she had) doesn't mean she isn't shopping the runways. Ikram Goldman, the stylist-store-owner behind Mrs. Obama's closet, was seen at Thakoon with White House Social Secretary Desirée Rogers. (Goldman was also at another Obama favorite, Zero + Maria Cornejo.) We thought we'd lend a helping hand and pick out some outfits that were potential First Lady–wear. Click ahead to see what Mrs. Obama might be wearing soon.