Video: Fittings With Oscar de la Renta
The legend himself let Harriet Mays Powell behind the scenes.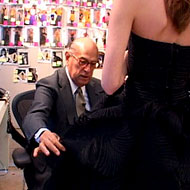 Harriet Mays Powell stopped by Oscar de la Renta's studio as he finished the fittings for his fall 2009 runway show. He said he decided to open the season with black, which he hadn't done in the past. "Give a woman a hundred choices and 99 percent of the time she will wear black," he explained. Oscar also told us a recent CFDA meeting felt like "doomsday" in this economy. Watch the video to hear more on that and see what happened backstage before the show.