Feel the Need to Embellish With Milan's Top Accessories
Designers breathed new life into bags, gloves morphed into statement pieces, and jewelry was meant to be seen.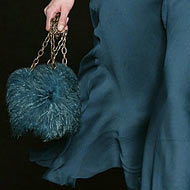 Milan's accessories made the outfits this runway season. Designers breathed new life into bags: Prada's bags took on fur, Dolce & Gabbana's used fringe, and Emporio Armani's featured silver studs. Gloves morphed into statement pieces: Giorgio Armani opted for patent leather, Marni tacked on fur, and Jil Sander's two-tone pair almost hit the shoulder, proving gloves just might be the new sleeves. As for jewelry, it's meant to be big and bold. Bottega's necklace looked like a jeweled wreath hung around the models' necks, and Marni mixed flowers and chains in a gold-accessorizing montage. (Bling isn't out after all!) So if you feel the need to take a break from the retro eighties clothes and neon boldness, make your statement with accessories. Come fall, it's time to pile them on. Click ahead to check out our favorite bags, gloves, and jewelry.