Thom Browne Says He's Not Close to Bankruptcy
Hooray! We can end our Save Thom Browne campaign.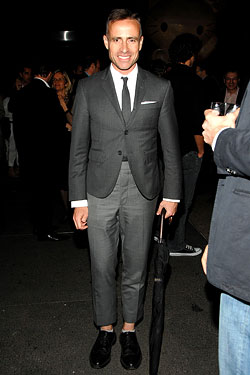 Yesterday the New York Post reported that ankle man Thom Browne was thisclose to filing for bankruptcy, after demand for his flood pants dwindled dramatically in the wake of Wall Street's collapse. Today the designer tells WWD that things are as spiffy as one of his signature shrunken gray suits. He denied cash-flow problems and says he's not considering bankruptcy but would love to find a financial backer so he could further grow his business. However, he doesn't want to sell a majority stake and is being very careful about choosing the right partner.
Though his eight-year-old business hasn't been immune to the retail slowdown, Bergdorf says Browne shipped his spring line on time. Also, after his fantastic show in Florence a couple of months ago, Browne says he picked up ten new stores in Europe and Japan. The designer added that wholesale business as of January was up 117 percent. And here we were worrying that short pants had fallen out of favor in this economy. When things get better soon, like they say it will, Browne can sell even more flood pants. Bare ankles forever! We suppose this marks the end of our short-lived Save Thom Browne campaign. So we'll turn to our next cause: Project Man Skirt, You Know You Want One.
Thom Browne Denies Financial Straits, Still Seeks Backer [WWD]