Michael Jackson Saves His Diamanté From the Auction Block
This must make Beyoncé very sad.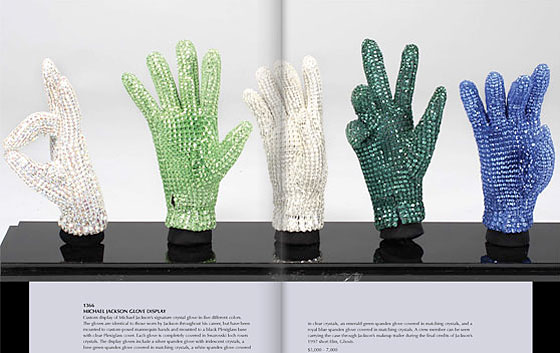 Darren Julien was supposed to auction items from Michael Jackson's Neverland Ranch next week, including hundreds of very shiny articles of clothing. But Jackson has succeeded in stopping the auction. The auction was expected to fetch about $10 million. Julien said he spent about $2 million preparing for it, a good chunk of which may have been spent on specialty diamanté dry cleaning. Jackson filed a lawsuit last month to reclaim unspecified items. A judge in L.A. ruled that the auction could proceed, but Jackson and Julien continued talks and reached a settlement out of court. Since the items have already been gussied up for the auction block, Julien will display them through April 25 in Beverly Hills. As lovers of shiny things, we cannot blame Jackson for wanting to hang on to a collection that could light up the North Pole in winter. Maybe he wanted some of the outfits for his 50-show comeback in London in July. Or maybe he just wanted to keep Beyoncé's paws off those gloves. Their similar tastes include not only a love for the shiny, but also for Balmain.
UPDATE 1-Michael Jackson auction canceled, exhibit continues [Reuters]
Related: Michael Jackson's Wardrobe Archives Predictably Shiny and of Questionable Cleanliness