Ports 1961's New Store Surprises Us With Its Bounty
The Ports 1961 flagship is filled with cute little dresses, sculptural jewelry, and perfume we want to wear.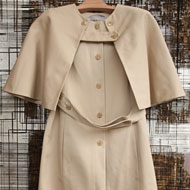 Tia Cibani's Ports 1961 was an editors' favorite from the start. The label debuted to major buzz, and Cibani earned a following with starlets and socialites. But we, shockingly, didn't get a store here until just recently. The new flagship threw open its doors during Fashion Week (on Friday the 13th, no less). Located in the meatpacking district, the store surprised us with the level of cuteness on tap — sculptural jewelry, chic little dresses, and perfume that actually smells good. And the floor-to-ceiling skylight makes the space warm, bright, and welcoming. We picked some of our favorite pieces in the store.
3 Ninth Ave., nr. Gansevoort St.; 917-475-1022.