Fall Trends: Defining the Waist
This fall, the waist will be more cinched than ever.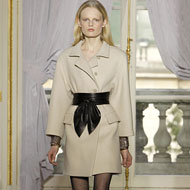 The waist is in for fall. Belts will come large, thin, and corseted — a little something for everyone. Balenciaga's waist is sashed, feminine, defined, and girlie. Lanvin showed a skinny belt that was a nice color contrast with the dresses. Ann Demeulemeester's corseted version has a twinge of S&M: slightly naughty and dangerous. If you needed any confirmation, Michelle Obama's already wearing buckled belts frequently.


Check out the rest of our top fall trends.