Maison Martin Margiela's Home Line Just As Kooky As You'd Expect
The avant-garde designer showcased his new home collection in Milan. All-white cotton desk items? Yes, please!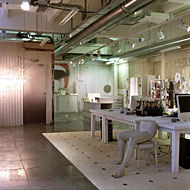 Martin Margiela has, for the past two decades, wowed the fashion world with his avant-garde designs. Who doesn't love the hairy coat from spring? But now, he's making it a bit more personal: His brand is launching a line of home-design items, which will very much reflect the deconstructionist, often slightly surreal look we've come to expect of his clothes (plastic shoulder pads with bare breasts for fall 2009, anyone?). The upcoming line of lamps, rugs, furniture, and other home pieces has not yet been produced, but was on view late last month in Milan. The Salone was a re-creation of the company's Paris atelier and included several elements of the Margiela universe. In one room was a replication of the architects' office, where everyday office items (phone, computer, water bottle) were covered in white cotton fabric, making it look like a super-modern ghost town. In the large open space, there were installations from several Margiela stores and models based on various projects — a pyramid of plastic Champagne glasses from the Los Angeles boutique, for example, or a replica of the birthday cake from the twentieth-anniversary show. There were also the more surreal elements, like a chair suspended from the ceiling to make a swing, a disembodied pair of white plaster legs near a table, and trompe l'oeil pictures on the walls. Check out more from the home line in our slideshow.
BEGIN SLIDESHOW