Ryan Wilde Will Customize Your Hat With Parakeet Wings and Butterflies
The wild milliner opens a new shop in Brooklyn.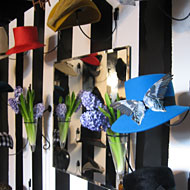 Ryan Wilde, the milliner behind the glamorous toppers at Williamsburg boutique Tria, launched her own custom-hat shop in Brooklyn this weekend. Wilde began studying millinery during a four-year stint at Chanel, eventually splitting to launch her own line in spring 2006. The tiny ten-by-ten-foot space reflects her gothic, punk-inflected aesthetic, with walls papered in bold black-and-white stripes and a red rug underfoot. Low shelves are lined with antique-inspired brass, gold-plated and sterling-silver jewelry by Tria co-owner Georgia Varidakis. Wilde displays her seasonal ready-to-wear collections and builds customized cocktail hats in-store for no added charge — each hat takes at least twelve hours to make from start to finish. The elaborate toppers incorporate her signature darkly decadent materials, like sinuous fans of coral, preserved butterflies, pheasant and quail wings, mink skulls, dried berries, and small animal bones. New trimmings are introduced regularly: For spring, straw styles are decked with golden bunches of natural wheatgrass, and the upcoming fall collection includes felt fedoras topped with parakeet wings (the birds died of natural causes, sourced from a bird farmer in upstate New York). Prices generally range from $150 to $350, though Wilde's complex, one-of-a-kind styles for editorial shoots can top out at $700.
Ryan Wilde Millinery, 109 Broadway, nr. Berry St., Williamsburg, Brooklyn
BEGIN SLIDESHOW