Dossier Shop Mixes Art and Fashion in Fort Greene
The brains behind 'Dossier Journal' have opened a retail space featuring men's, women's, and vintage attire.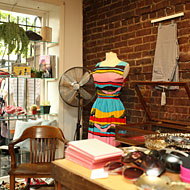 When the ladies of Dossier Journal, Skye Parrott, Katherine Krause, and Molly McIver, launched their biannual art-and-fashion magazine last year, they never predicted that they would soon be the proud owners of a retail space, as well. The Dossier Shop, which opened this spring, reflects not only the journal's creativity, but also its wide-ranging appeal. With a variety of highly edited vintage fashion pieces, several new designer items, and a large assortment of art books and publications, the small space has a rotating selection of goods carefully chosen by each owner. They have jewelry from Anna Sheffield, rompers from Samantha Pleet, and a collection of amazing vintage men's ties. The women are working on designing an e-commerce site and hope to have it up and running this summer, but for now, head over to the Fort Greene storefront (located on the bottom floor of a small apartment building) to check out the goods. We hung out in the bright and cozy shop on a rainy afternoon and picked out some standout items.
BEGIN SLIDESHOW