The CFDAs Are Here! Do You Know Your Nominees' Work?
Stumble Upon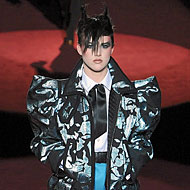 Fashion's annual CFDA awards are Monday night, and we'll be spending most of the day sitting on our hands, trying to control ourselves — will Marc win for both womenswear and accessories? Or could this be Rodarte's year? And will there be kudos for Jason Wu? The tension as is as thick as bouclé. To pass the anxious hours, let's review the fall looks from some of the men's, women's, and accessories nominees.
Earlier: And the CFDA Nominees Are...