Can Women Over 50 Pull Off Ironic Fashion?
Cathy Horyn thinks not. We take a look at nine who try to pull it off.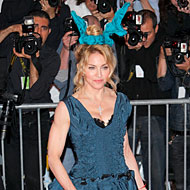 New York Times fashion critic Cathy Horyn suggests that women should leave ironic fashion statements in the dustbin along with their miniskirts when they turn 50. She cites Madonna's Met-gala getup as an example of how ridiculous ironic runway looks appear on older women. Horyn, who is in her early fifties and has been spotted in a skullcap herself on occasion, clearly doesn't appreciate this ridiculousness. We do. And many other ladies in their fifties who gravitate toward irony in their wardrobes do. Some pull it off, some don't. But do they prove Madonna is the exception? Let's assess, with a look at some of our favorite ironically dressed ladies over 50, in the slideshow.