Madison Harding's Shoes Won't Break the Bank
Hilary Rosenman and Barri Budin chucked their fashion gigs to become shoe designers. The rest, as they say, is history.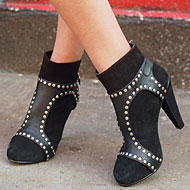 It's the kind of story toiling fashion girls dream about: Two friends, one a market editor at Manhattan File magazine, the other working away at a showroom, chuck it all to become shoe designers back in 2007. And success follows. Sure, they're not at Manolo level but Madison Harding is known to hipster gals and industry types. Not to mention La Lohan, who scooped up some pairs a while back. "Lindsay started wearing our shoes because of our friend, Samantha [Ronson]," said Hilary Rosenman (she and her best friend from college, Barri Budin, design the line together). And Rihanna is also a fan, we hear. Good connections helped the fledgling label get off its feet, but Madison Harding is filling a void in the market: shoes that can compete with the higher-end lines, but at slightly more accessible prices ($100 to $300, as opposed to $500 to $800). Each shoe, from the seventies-inspired Mulberry sandal for spring to the grommet-studded Tina flat debuting for fall, is drawn from local references. "For fall, we were really inspired by this photo of kids hanging out outside of Max's Kansas City in 1980," Rosenman explained. "It's such an iconic image of the city at night and we wanted the fall collection to capture that grittier, more rock-and-roll downtown vibe." And the rock vibe is right on trend: Fall runways were dominated with eighties studs and bootees. The shoes are sold at Blue & Cream and Free People, and the girls just landed at Nordstrom; they're also teaming up with Scoop on a private-label shoe out in September. Check out our favorite shoes from the line.
BEGIN SLIDESHOW