Sergio Rossi's Resort Collection Inspired by Art, Architecture
The new collection is full of bright colors and sexy styles and references Zaha Hadid.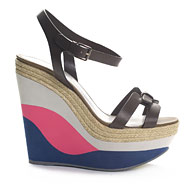 There's nothing we like to look at more than shoes. Seriously, we could do it all day, people. So imagine our bliss at being able to preview the Sergio Rossi Resort collection, which will be available on the designer's website and at Saks Fifth Avenue come fall. Creative director Francesco Russo was inspired by art and architecture, citing Zaha Hadid as a reference. The super-skinny stiletto heels (the reps swore they were very stable and easy to walk in) are ultrafeminine and sophisticated for night, while the thick wedges with soft napa leather straps are more graphic and practical for day. Of the vibrant collection, we especially love the hot-pink suede slingbacks (a big color this season) and the towering sky-blue leather platforms with sexy double ankle straps. The prices are steep ($450 to $925), but there's no harm in looking (and lusting!).