Flutter's Jill Golden Finds Inspiration in Dior-Clad Hipsters
The jewelry collections are based on the designer's world travels. Yes, we're quite jealous.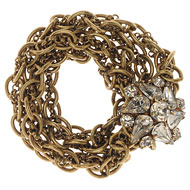 Jill Golden from Flutter travels the world, gleaning inspiration from each city. And in so doing, she has made us seethe with envy. We only half kid. Flutter, named for Golden's passions in both travel and design, is a metal- and stone-based jewelry line with prices ranging from $95 to $365. Her fall collection, which is inspired by the Boulevard St. Germain in Paris, (specifically "the Dior-clad hipsters walking next to the Parisian ladies click clacking down the cobble stone streets") has a more grown-up feel than previous ones. "It is inspired by Paris, which is definitely the most sophisticated of the locations inspiring collections to date." (She's also based collections on Barcelona, Greece, Capri, and Buenos Aires.) Mixing raw cut stones (quartz, carnelian, amethyst, blue topaz) with gold, brass, silver, and gunmetal, Golden's combinations run between styles: from earthy boho to cool rocker. And that versatility has served her well: Brooke Shields has worn her pieces and Golden worked with Wren to design oversize pearl necklaces for fall '09. Flutter is carried in Sucre and Thistle & Clover, on Shopbop.com and of course, Flutternyc.com. Check out our favorite pieces from fall (hitting stores later this summer).
BEGIN SLIDESHOW