Funky Watches and Silicone Accessories in Nooka's Pop-up
The cheery timepiece company takes over Den.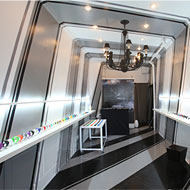 Futuristic watch company Nooka is the latest brand to pop-up at East Village concept shop Den this Friday, with an installation titled "Time. Scent. Space." The interior is among the most impressive Den transformations to date, with neon-hued watches set against bold black, white, and gray striped walls. Though Nooka is known for its mod timepieces, the brand is venturing into new territory, premiering a line of silicone wallets (er, "Asset Organizers"), bendy polyurethane belts, and a signature scent with notes of Japanese yuzu, pink pepper, and leather. The lightweight, rubbery wallets tout flip-up tops and various card slots, and the spring-loaded belts were inspired by plastic packaging ties. Apart from the new wares, the 350-square-foot shop is packed with the full line of unisex watches, from candy-colored, bangle-like bands to a higher-end selection of leather-and-stainless steel styles. Click ahead for a preview of the goods.
"Time. Scent. Space." 7/10—8/8. At Den, 330 E. 11th St., nr. Second Ave. (212-475-0079); M—S (noon—9), Su (noon—8).

BEGIN SLIDESHOW