Shareen Vintage Opens in Unmarked Chelsea Location
This hidden store is only open two days a week and nothing is over $100.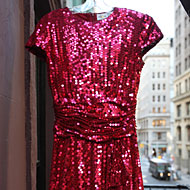 After a long acting career began to dwindle, Shareen Mitchell focused her energies on thrifting, and began selling her bountiful finds at an old warehouse in Los Angeles. Word of her huge selection and amazingly low prices spread quickly and soon the demand spread to the East Coast. So Shareen has opened an unmarked second-floor space in Chelsea, jammed with racks of clothing, as well as some bins of bags, belts, and jewelry. The long and narrow apartment-style shop is divided into categories — party dresses, hippie dresses, fur coats, leather jackets, rompers, gowns, etc. — and almost everything sells for under $100. Until September when her regular hours start, Shareen is only open on Wednesday and Thursday nights from 5 p.m. to 10 p.m., but she serves wine and snacks to the faithful shoppers that come to scour her constantly rotating goods. We spent an afternoon with Shareen, who has kept her NYC shop fairly under the radar, and picked out our favorite vintage pieces in stock now.

Shareen Vintage, 13 W. 17th St, nr. Fifth Ave.; 212-206-1644.


BEGIN SLIDESHOW