Outlaws of the Border Is Already Making Waves
The fledgling label already boasts a 'WWD' cover and a famous fan: the Klumster.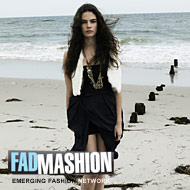 Husband-and-wife team Gautier Pellegrin and Lindsay Jones founded Outlaws of the Border just a season ago (their first-ever collection debuted in spring 2009), and already the response has been tremendous. On top of a WWD cover, rack space in a slew of stores (Eva, Collective Hardware, In God We Trust, to name a few), and a feature on FadMashion.com, the duo has a notable fan in their corner: Heidi Klum. The label, named for a book about Jesse James, is heavy on draped, romantic looks and dark fabrics. "I have always been drawn to Romantic imagery and beautiful objects," Lindsay explains. "The fall collection is set to an overall moonlit theme so that the collection appears to be silhouettes under moonlight." And if the line sounds a bit too Edgar Allan Poe for your liking, the tailoring should win you over. The pieces are simple, elegant, and well constructed — even when trendy (like harem pants). "The goal is lasting pieces with elegant silhouettes." Check out some of our favorite pieces from the fall collection.
BEGIN SLIDESHOW