Exclusive: Daniel Vosovic's Full Spring Collection
And he thinks 'Project Runway: All-Star Challenge' was a "mindfuck."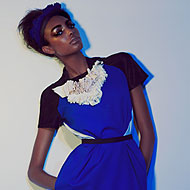 Daniel Vosovic may have won the $100,000 grand prize on Project Runway: All-Star Challenge last Thursday, but when we caught up with him this week, he told us the experience wasn't what he expected. "It was a mind fuck," he said. "It felt like a weird summer camp. Four years later everything was the same — same stage, same crappy lights, Heidi's pregnant again. It's like I had never left." But his life now definitely isn't the same. He's moving to an official studio in October, and preparing for the "hard-core" launch of his eponymous line in February, which will include some form of presentation, by launching a capsule collection for spring. "I didn't win. I've been working for four years to get my own money. Project Runway really was a way for me to say this is a reintroduction. This is what I'm doing whether I win or lose; you can see a lot more of me in the next few months. It took the pressure off and let me design," he said. "I'm trying not to feel guilty about taking a moment to fully be immersed in ideas." His eight-piece collection for spring, which will only be sold on his website, DanielVosovic.net, is inspired by athleticism — particularly gymnastics, since the designer is back taking classes twice a week at Chelsea Piers after studying the sport for twelve years as a child. "There is a whole fashion group of gays that go. For at least an hour and a half it's my therapy. When you see the 6-year-old girls walking by with their six-packs and chiseled triceps, it makes you want to be even better," he said. Paris-based designer Maryam Keyhani created the accessories to match the clothes for the look book, adding an intricate twist to the sporty vibe. "Being exposed to other sports like rock climbing and soccer influences where I'm at right now, and I didn't want to shy away from that. That's how this capsule collection was created. I wanted to show this confident, edgy, urban woman," he said. "And what's more aggression-reducing than being able to jump on a trampoline into a big foam pit?"
Check out Daniel Vosovic's full spring 2010 collection in our slideshow.
Earlier: Daniel Vosovic on His Namesake Line, Project Runway, and Tea With Tim Gunn
BEGIN SLIDESHOW