Project Runway Designers Have Some Astonishing Ideas About Pregnancy
Revisit each look in our recap of last night's episode.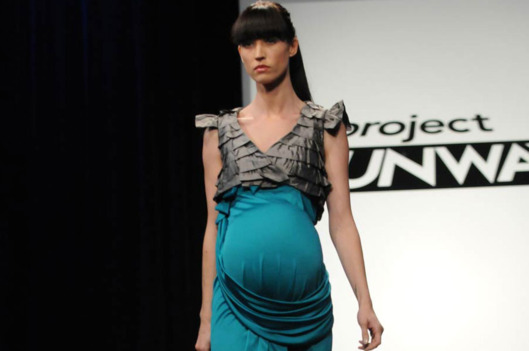 If you watched the first episode of Project Runway without the commercials and any Lifetime logos on the screen, you might have easily thought you were watching Bravo instead of the "number one network for women." But on last night's episode, that wouldn't have been the case. The challenge was to design an outfit for Rebecca Romijn, who was pregnant with twins. It was like slow motion when Heidi Klum summoned her to the stage. "OH MY GOOOOOOD!" someone breathily exclaimed. She sauntered, belly first, to the side of her fellow blonde supermodel, who has already had a few babies and appeared on the cover of Redbook. Their frizz-free blonde-framed smiles felt like a shockwave of estrogen emanating from the screen, sending our eyes rolling back into our head, from where they seldom returned for much of the hour. Not only that, but the judging panel was all women. Monique Lhuillier subbed for Michael Kors, and she is lovely, but without his puns we found ourselves asking, "What is the point?" Yet the clothes, readers, are the point. And this week, so are the fake bellies they made the models wear; some were truly astounding in their awkwardness. Revisit each look with our commentary in the slideshow.
BEGIN SLIDESHOW