Spring's Accessories Take a Walk on the Wild Side
Bondage is in this season. Better get your safety word handy.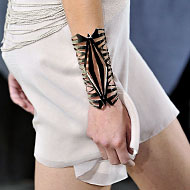 The predominant theme of spring accessories was bondage, which peeked through in the details. Naughty elements appeared at several shows: chains, spikes, lacing, and ties that bind. Heels were tougher, especially at Vera Wang and Rodarte (watch for spikes), and the va-va-voom factor was upped at Narciso Rodriguez, Derek Lam, and Phillip Lim. On the other end of the spectrum, Calvin Klein showed easy-to-wear platform wedges, and Marc Jacobs, shockingly, had flats. Bags were colorful, beaded, chained, roped, and tasseled. Check out all these accessories and more.