Project Runway Designers Don't Go to the Beach Much
Their challenge: to make surf-inspired outfits. The outcome? Oh so comical.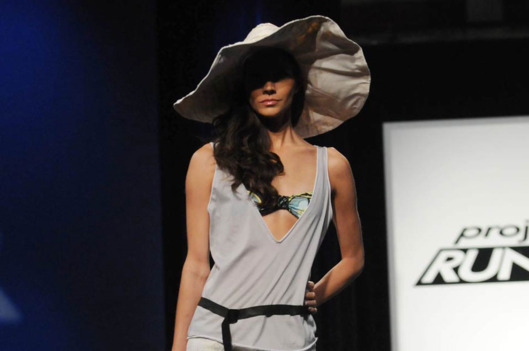 This week, the designers took an exciting, far-flung field trip! Which ends up being to a local beach about seven minutes' drive away. Thrilling. We're treated to the sight of Tim Gunn's impeccably groomed toes (he's wearing flip-flops … and a blazer), and he explains that this week's challenge is to create a "fun and fashionable surfwear look." Like multicolored Roxy shorts and striped Billabong bikinis? Apparently more like poufy ballgowns and homemade hats, but more on that later. The designers are broken up into teams of two, and they get to speak to real surfer girls for inspiration: sunsets, comfort, tropical reefs, hoodies! Though, according to Nicholas, "hoodies are not for the runway." But full-lace bodysuits are. So here comes the twist: The designers have to make a second avant-garde look to accompany the surfwear look. Epperson and Qristyl start fighting at the beginning of the challenge, and never stop. Epperson: "I need some Tylenol." So do we. And Mitchell decides not to work, like, at all, so Ra'mon is left to do everything himself. Side note: Does anyone else think Mitchell looks exactly like Corey Haim before he got old and creepy-looking? Google it, we're so right. Our guest judge is Rachel Bilson, whose style we love, though she should have toned down the orange foundation. Blame it on Lifetime's shoddy makeup artist. And herewith, the results of the challenge!
BEGIN SLIDESHOW