Project Runway Designers Go to the Movies
The challenge: costumes! Shouldn't be too hard for our contestants, but, of course, it was. Find out what happened in our recap.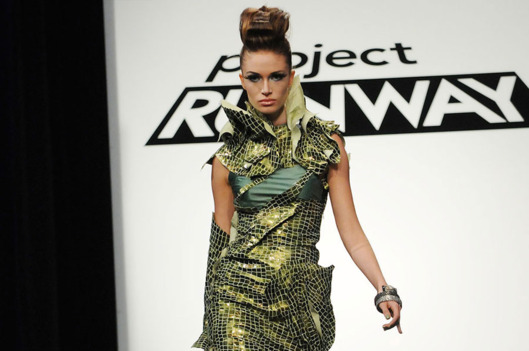 Let's go to the movies! Let's go see the stars! Well, sort of. This week's Project Runway is all about moviemaking ("It's what this town is known for!" says Heidi. Yes, that and Uggs), and the designers get to go to a real, live Hollywood soundstage, which looks sort of (a lot) like a parking lot. Here, Tim and makeup man Collier Strong explain that the challenge will be to create a character from a certain movie genre — Tim pronounces "genre" with a French-inflected throat gargle. The choices are action, sci-fi, film noir, period piece, and Western, and the two poor designers who pick last — Shirin and Epperson — are stuck with the fugly Western theme. In constructing the backstory for their movie characters, we find out interesting tidbits about the designers' inner lives. For instance, Ra'mon is a "die-hard Trekkie," a quirk he uses as inspiration for his lizardlike "hot green mess" (according to Heidi). And Nicolas, well, Nicolas has intricate fantasies involving evil queens who rule the universe from a perch on Orion's Belt. Seemingly mellow Epperson has dark daydreams about tattered, sexy women defending their farms from men who want to rape and kill them. And Louise? Louise is a vacuous hole with no imagination at all. Moving along to the runway show, judged by John Varvatos, Zoe Glassner (again), and costume designer Arianne Phillips, who, according to IMDB, designed the wardrobes for The Crow, Hedwig and the Angry Itch, Swept Away, and Walk the Line, among others. On to the looks, which ranged from boring flapper to insane cat woman.
BEGIN SLIDESHOW