JF & Son Prepare for LES Stardom
The design duo is opening up a new store tomorrow.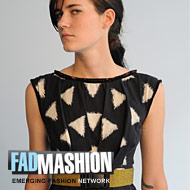 There's a name that seems to be on everyone's lips right now: JF & Son. Don't know them? Oh, you will. The design duo, made up of Jesse Finkelstein and Katie King, launched in 2007, and they've been doing so well, they're opening a new store tomorrow on Kenmare Street. The designers, who own their own studio and factory in India, do everything in-house, which allows them a certain level of freedom most new designers don't have. "We can control the quality of the clothing; we can control the environment in which people work; we can offer things at a fair price, since there are no middlemen; and, most importantly, we can create a space for ourselves, for the people that work for us, and for our collaborators that is open to experimentation and innovation," Finkelstein said. India, which he describes as their "second home," is also a source of inspiration to the two, as they use traditional beading methods and embroidery. (And yes, they do utilize fair labor practices.) The fall collection, which you can see in-store starting tomorrow, was "inspired by ways of interlacing fabric to create texture and depth." But don't expect that for spring 2010. "Each collection is an experiment." As far as the store, JF & Son has teamed up with other artists, like Ulrike Muller and designer Ellen Koenigsberg, and will host a pop-up store for K8 Hardy's MFT (My Favorite Things). The two are also featured on FadMashion.com. Check out some designs from their recent collection.
BEGIN SLIDESHOW