Paris Once Again Proves It's the Best of All Fashion Weeks
We picked our favorite shows from Paris.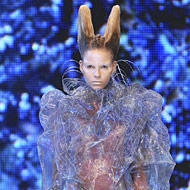 As always, the best Fashion Week is last! The shows in Paris gave spring 2010 its defining trends. From harder couturelike construction at Balenciaga and McQueen to the feminine froth of Chanel and Nina Ricci, it was a season of choice. From the tattered tees and frayed jackets at Balmain to the exquisite draping at Lanvin, this city proves that it's in a class of its own. Narrowing down to the top twenty best shows was hard, but we made our picks. Click ahead to see our choices.