Karl Lagerfeld's Spring Chanel Barnyard Spectacular
Highlights from today's show: Baptiste Giabiconi, Lily Allen, and a model threesome!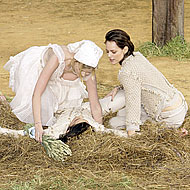 The barnyard has had plenty of moments in fashion spreads, but far fewer on the runway. In the spirit of not being a snob, Karl Lagerfeld presented his spring 2010 collection for Chanel in a barnyard constructed in the Grand Palais. The barn, branded with a Chanel logo, was the label's version of Marie Antoinette's. Karl reminded critics this was merely a return to youth: "I spent part of my childhood on a farm," he said. And now his favorite model, Baptiste Giabiconi, can say the same: He took three turns on the runway today, including one that resulted in a Chanel threesome in the hay. At the sound of a rooster's crow, Heidi Mount opened and other girls followed by popping out of a haystack. During the show, Lily Allen, wearing the new collection, rose up through the hay on a wooden platform with her band and performed. Prince sat in the front row, motionless. See those and more highlights in the slideshow.
See the full Chanel spring 2010 collection.