Hamish Bowles Thinks Anna Wintour Would Make a Great Camper
André Leon Talley? Not so much.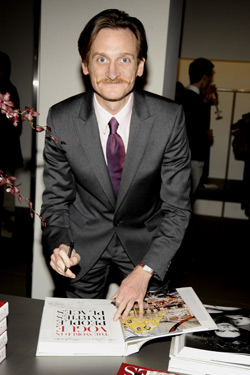 What exactly possessed Vogue editor Hamish Bowles to rough it in the Utah wilderness for the November "environment" issue? "I think a couple of facetious editors thought it would take me out of my comfort zone in a way that would cause some abstract amusement from a distance," he explained last night at a party for his new book The World in Vogue: People, Parties, Places, which he put together with his colleague Alexandra Kotur. He doesn't think he's the only Vogue staffer who could survive the excursion: "It would be certainly fun to see Anna, of course," he mused. "She would have a steely purpose. I imagine she would be quite unwavering." But he was quick to add, "I imagine it would be more of a challenge for André [Leon Talley]."

Vogue model Caroline Trentini thought the magazine's fashion director, Tonne Goodman, would make a good outdoorswoman. Who might have a hard time? "Let me see," she thought aloud. "I don't know. I don't want to get in trouble."
Earlier: Hamish Bowles Ate What He Thought Was Bear Crap in the Woods